The FreeMotion 790 Interactive
Overview
The FreeMotion 790 Interactive is a high-end treadmill that reproduces an entertainment center right in your living room. For this model, the company really invested a lot of energy and money in making it as desirable as possible. And it is. It has lots of programmable options, touch screen control and diverse workouts that you can adjust to your own needs.
Specifications
Click Specifications to see detailed model info
Speed : 0 - 12 mph, When you start the treadmill, speed is set to 1 mph. When you use speed up/down buttons, speed changes with 0.1mph increments. If you hold the arrow buttons for a few seconds longer, speed changes with 0.5mph increments. If you use the Quick Speed buttons from the console, speed changes gradually until it reaches the speed selected. If you press two Quick Speed buttons in succession (let's say 2 and 5), than you change speed to 2.5mph. Easy, right?
Incline : 0 - 15%, Remember to Calibrate the incline before you start working out (and repeat this once a week).  Read how to do this here.
Decline : -3% - 0%
Motor : 4.2 CHP Commercial Pro36
Commercial Grade Belt : 20" x 60"/ 51 cm x 152 cm
Cushioning system : SRS (Surface Response Suspension) Cushioning, SRS is an advanced cushioning system that reduces impact on the joints and replicates outside running as much as possible (a little better than its predecessors). This was the first time we tried it and we enjoyed it very much.
Folding options : Yes, with SpaceSaver Design and EasyLift Assist With the EasyLift it's easy to fold the treadmill, even if you're a petite size.
Maximum user weight : 375 lbs/ 170.45 kg
Power requirements : 120-volt circuit capable or carrying  15 or more amps. The treadmill is not compatible with GFCI-equipped outlets. You must make sure that the power cord is plugged into a surge compressor and the surge compressor into a grounded outlet. The surge compressor must be UL 1449 listed as a transient voltage surge suppressor (TVSS).
Warranty : lifetime for frame and motor, 5 years for parts and 2 year for labor.
Features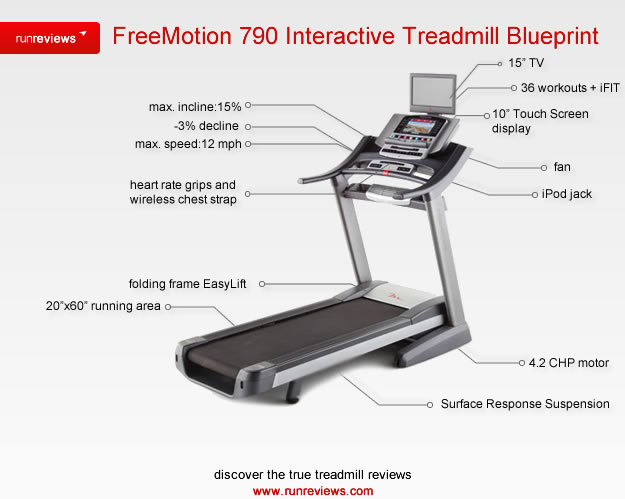 Display info
The 10″ full-color touch screen with Browser powered by Android shows info on incline, time elapsed, time left, approx no of burned calories, approx no of calories you're burning/ h, distance, no of vertical feet, speed, a ¼ mile track, your pace in min/ mile, current lap number, heart rate. Does it work properly? See in conclusions.
Heart rate info
Either use the included wireless chest strap or the two hand grip heart rate sensors built into the handlebars. The wireless works the best though.

Programs
There are 36 workouts for you to choose from. Preset workouts include 8 calorie workouts, 8 intensity workouts, 8 speed, 8 incline and 6 iFit Live demo workouts.
To use a preset workout, press Calorie, Intensity, Speed or Incline buttons or touch the runner icon on the screen to select the Workouts menu. Select your workout and you'll be shown name, duration and distance, plus the approx no of calories you're about to burn. Touch Start Workout button and begin walking.
This treadmill is iFit compatible and you can log in into your account from the treadmill's console. Once you're logged in, select the workout from your iFIT account and schedule it for download. There are several other features you can enjoy with this interactive option. Read more about it here.
2 HD Workout videos, accompanied by a personal trainer are included in the workouts available.
Settings menu
This menu allows you to select a certain language and unit of measurement, to turn on and off the display demo mode and to enable or disable the key. To use it, start the treadmill, insert key, select the main menu and touch the gears button near the lower right corner on the screen.
Maintenance menu
This menu allows you to update console firmware, calibrate incline and the screen, view technical info and view a button's keycode. The menu is available in the settings menu.
Wireless network mode
In the settings menu, touch the Wireless network button to enter the wireless network mode. From here you connect to your wireless network (mandatory if you want to use the iFIT module).
Internet browser
You need a wireless network active in order to use the browser. To open the browser, touch the globe button near the lower left corner of the screen. From here, the world is your oyster. Read the news, watch videos, follow your friends activity on Facebook or share your status updates.
Stereo sound system with iPod compatibility
15 Digital TV
This treadmill is uniquely designed to get you in front a TV while you workout, even if your treadmill is placed in the basement.
You have control buttons on the console or you can use the remote control.
If you don't have a cable or an Antenna available to connect the TV, choose as source a DVD or Blu-ray player, or even a VCR.
CoolAire workout fan
included
Conclusions
FreeMotion 790 Interactive is an impressive machine, for anyone interested in running. It's got lots of workouts, it's easy to work with, it features a powerful motor and entertainment thrills that are always appealing. But are they all really necessary considering that some of these flashing gadgets don't even match the reputation? Continue reading to find out.
Pros
Yes, FreeMotion 790 is a treadmill that delivers. The powerful motor is an insurance you'll be getting what you pay for. It's definitely got the power to complete the most difficult workouts, while keeping you comfortable. And safe. You can't build a motor this powerful without making sure you add 5 star cushioning. This treadmill is baked up and really keeps us going, without feeling any stress on our joints. This is something we've always known about FreeMotion treadmills. They are safe and they take good care of our joint.
Even so, FreeMotion doesn't have an irreproachable reputation. Lower-end treadmills have serious bugs and we're not that allured towards this category. On the flip side, higher-end treadmills are much more reliable. No matter your height or weight, rest assured the running belt will accommodate you successfully.
Once you're on, there are lots of workouts for you to choose from. Either you want to lose the extra kilos or become a cardio proficient, you'll have one workout for each day, which you can program to meet your own needs and goals. If you still don't get enough motivation, you can always resort to iFit workouts which you'll be able to monitor from your account anytime. This monitoring feature allows us to be permanently aware of our performance, so we can correct routine faults. And we like it.
Having a personal trainer is always a good thing, so that's another plus.
The console is easy to use, feedback is easy to read, which makes workouts so much easier.
Plus, the warranty is good enough to gain our trust.
Main attraction
Browser powered by Android, iPod compatibility and a TV make the thrills and whistles of the 790 interactive treadmill. But unless you need them badly, check out another FreeMotion treadmill, like 750 or 770 units. A slightly smaller motor and fewer preset workouts, but you won't be paying all the extra bucks on the touch screen and TV.
Drawbacks
Brand new this machine was a bit pricey, but now you can get the FreeMotion 790 Interactive treadmill at Amazon for just over $2000 which is a great deal for a machine of this caliber.
Bottom Line
You can't go wrong with a FreeMotion, as they make some of the best machines in the industry. This is why they are featured in so many high end gyms. The fact that you can get this particular model for such a discount makes it a wise choice.