Best Incline Treadmills - 2023
Here are the best incline treadmills on the market today. NordicTrack leads the category with a specialty line dedicated to both incline and decline training, something few other companies offer, especially at those affordable prices.
Any of these models is a great choice, and will help you burn up the calories and target different muscle groups effectively, without having to run or even jog (unless you want to).
You can see all of these top models on sale now or continue reading below for more information on incline training.
The Best Incline Treadmills – What To Expect
Incline training is becoming more and more popular these days, as it gives you the opportunity to ramp up your routine (no pun intended) and get the results you want in a much shorter period of time. Although you can certainly run on an incline if you want, most people prefer to walk briskly, as it is a bit easier to do.
You can burn more calories as opposed to working out on a flat surface, as well as hit muscle groups in the lower body that you wouldn't normally be targeting. So it essentially takes your workouts to the next level.
The best incline treadmills will typically give you up to a 40% incline, which is very steep and great to work up to as you get used to this type of training. Compare this to the typical 15% ramp on a traditional machine and you can really see the difference.
Sometimes you will even find decline capability up to -6% on some machines, which enhances your training even more. Decline is extremely rare, and can only be found on a handful of treadmills outside of the NordicTrack Incline Trainers.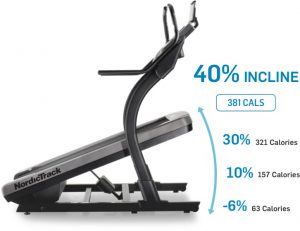 Here are some of the other features you can expect on some of the better machines:
1. Generously Sized Tread Belts – You want to be comfortable during incline training, so a larger deck is preferable. Some treadmills offer 60″ long and 22″ wide decks, ample space for all sized users.
2. Power Incline – The last thing you want to do is adjust all of your incline levels manually. That takes all of the fun out of your training. The best incline treadmills will have power adjustability, where you can change your levels with just the touch of a button. You can work your way up to the highest levels over time, or just stick with what you are comfortable with.
3. Enhanced Cushioning – Just like you want a nice sized belt, you also want one that's easy on the knees and joints. The better machines will have advanced cushioning that minimizes impact significantly. You may even find adjustable belts that allow you to choose between firm, mimicking a street run, and soft, giving you the least amount of resistance possible.
4. Heart Rate Monitoring – This is an important feature of incline training, as it helps you stay within your target zone. You'll definitely see grip heart rate on most treadmills, but the better ones will also have wireless capability for more accuracy, and may even include a chest strap for free with the machine.
5. Extra Features – On top of a large belt, power adjustability, advanced cushioning and heart rate monitoring, the better incline treadmills will also feature a variety of built-in workouts, strong motors, fans and even sound systems.
All of our choices for the best incline treadmills have these features, which is why they made it to the top of the list. Check them out today and see which one appeals most to you.
Which Best Incline Treadmill Should You Choose?
Choosing an incline treadmill is a lot easier than choosing most other types, as there are not a lot of options. When you are looking for incline capability beyond 15%, the only real choice is one of the NordicTrack Incline Trainers.
So you only need to choose between the three models: the base X11i, the mid range X22i and the top of the line X32i.
The main specs on all three machines are identical, except that you get a stronger motor on the X22i and X32i as well as larger touch screens. As such, if you have the budget for it, opt for one of the two more advanced incline treadmills.
If budget is a concern, the base X11i still gives you full incline and decline capability for under $2,000. That is a great option as well.
Compare all 3 models and get special sale pricing on all of them here!