NordicTrack X22i Incline Trainer Review
Overview
The NordicTrack X22i is one of the newest Incline Trainers from the popular company, joining the top-of-the-line X32i treadmill. (Note that the base X14i was recently discontinued.)
With a huge 22″ Smart HD touchscreen and loads of extra features and capabilities, this treadmill is taking the home workout to a whole new level.
It has incredible incline up to 40% and decline to 6% so you can really amp up your training, with tons of built in programs and access to on demand workouts with personal trainers all across the world with Google maps.
UPDATE: The X22i is now on sale at a special discounted price and one FREE month of iFit! Don't miss out on this limited time offer.
Specifications
Click Specifications to see detailed model info
Speed : up to 12 mph 1-Touch
Incline : up to 40% 1-Touch
Decline : -6-0% 1-Touch
Motor : 4.0 CHP DurX Commercial Pro
Belt : 22" x 60"
Cushioning System : Reflex system
Heart Rate Monitoring : Grip and Wireless (free strap included)
Maximum User Weight : 300 lbs.
Footprint : 70.2" L x 39.6" W x 71.6" H
Warranty : 10 year motor, frame and deck, 2 years for parts & electronics, 1 year for labor.
NordicTrack X22i - Best Features
Huge Vibrant Display
Of course it is all about the workout. But we had to start off with mention of the new 22″ Smart HD Touch Screen Display.
It is one of the largest screens we have ever seen on a treadmill, besides the 32″ screen on the X32i, and the picture is crystal clear and vibrant.
It offers all of the relevant workout stats, and you can go online or tap into the endless workouts of iFit technology, including Google maps putting you anywhere in the world you choose to train.
Seeing it unfold right in from of you on such a large screen is a real treat.
Incline/Decline Capability
One of the most attractive features of the NordicTrack X22i is the fact that it not only inclines up to 40%, but also declines up to -6%.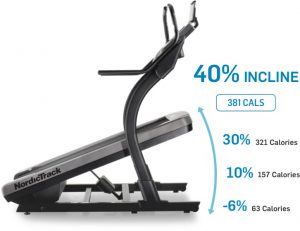 With this flexibility you can really target all the different muscle groups in your legs, giving you an extremely challenging workout. Not to mention the huge amount of calories that you burn at the highest incline levels.
Note that both Incline Trainers now offer the same -6% decline.
Advanced Cushioning
The NordicTrack X22i has the unique Reflex cushioning system, which is more advanced than you find on other NordicTrack treadmills.
It provides the ideal amount of cushioning and support where you need it, helping to keep you in the ideal position and minimizing impact on your knees and joints.
iFit Technology
As we mention above, the X22i is equipped with the latest version of ICON Fitness' popular program, iFit.
Choose from a library of customized workouts and work out anywhere in the world with Google maps. You can watch daily videos, get meal programs to help you reach your weight loss goals and work out right in the gym with actual classes led by top trainers.
There is a monthly subscription fee, but it's well worth it for all of the features you are getting.
(Note that they often give you one month for free as part of the purchase price)
Other Great Features
The X22i Incline Trainer also has a powerful 4.0 CHP motor, a generously sized 22″ x 60″ deck, Bluetooth technology, a music port, grip heart rate monitoring, easy assembly, dual AutoBreeze fans as well as a very generous warranty.
NordicTrack X22i - Pros and Cons
Pros
There are a lot of pros on this machine, as you can see from the list of best features above.
You get a very strong motor, incline capability, decline, tons of built in workouts, a huge touch screen display, iFit technology, commercial-grade cushioning and a large deck for a comfortable workout.
There really is nothing missing from the X22i, as they have packed everything you could ever want in a treadmill into this one.
From the workout to the design to the functionality and entertainment, the X22i has it all.
Cons
There are not too many drawbacks to mention here. If we had to choose something, it would probably be the price tag, which may be out of reach for some people.
The sale price is around $3,299, which is definitely very good given all of the features and capabilities, but it may not be within your budget.
Still, if you can afford it, it's one of the best treadmills on the market, with everything you need for a great workout.
Summary
The new ordicTrack X22i Incline Trainer is a real beast of a machine, and the new screen size is really something special. It's like having a flat screen TV built right into the treadmill, with intuitive touch screen capability.
Although it is on the expensive side, with incline, decline, iFit and everything else, it's well worth it if you have the money.