Schwinn Treadmill Reviews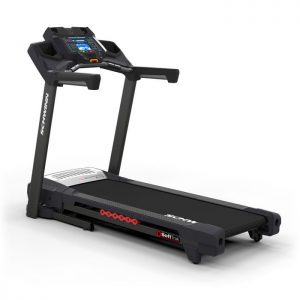 Schwinn first started way back in 1895, when the fitness company launched their very first bikes. 
Today they have 2 main divisions: Schwinn Bikes and Schwinn Fitness, and are owned by Nautilus, Inc., as are the popular Bowflex and Universal brands.
The first Schwinn treadmills were launched on the market around 1998, when they bought Hebb Industries, a well known treadmill manufacturer. Today, the company doesn't focus much on their treadmills, offering just two models currently: the 830 and the 870.
Check out both of these treadmills at special discounted prices now!
Let's take a look at both of them…
Schwinn Treadmill Reviews – A Look at the Models
Both current machines have a nice array of features and capabilities, and cost around $1000 or less when they are on sale.
830
The base Schwinn 830 has a 20″ x 55″ running area, SoftTrak cushioning, 2.75 CHP motor, up to 12 mph, up to 12% incline capability and 22 built in workout programs.
Extras include a sound system, water bottle holder, fan, USB charger, tablet holder and transport wheels.
870
The more advanced Schwinn 870 has a 20″ x 60″ running area, 3.0 CHP motor, up to 15% incline capability and 26 built in workout programs.
It also has a more advanced display as well as Bluetooth workout tracking, the Schwinn Fitness Score and a thicker belt.
Both the Schwinn 830 and 870 have grip and wireless heart rate monitoring, 4 user profiles, 2.5″ crowned rollers and similar 10 year frame/motor warranty.
You can read in-depth reviews below of scroll down for more information on Schwinn treadmills with buying recommendations…
Are Schwinn Treadmills Worth Buying?
You can find some great deals at Amazon, where both new models and some of the older ones are available for under $1000. The ratings are decent so check out the specs and see if these treadmills will work for you.
Schwinn makes decent home treadmills, with a neat and ergonomic design. They offer you basic preset exercises, but they are extremely effective, especially since you can save personal information for accurate reports.
We can say that the Schwinn 870 did give us a good workout. When we tested this machine a short while ago, the motor performed remarkably well, even after running for 3-4 hours continuously. The cardio preset workouts were smart and well built. Anyone can get started with relative ease, and the system tracked target heart rate based on personal age and weight.
The 830 has a smaller belt, and the motor is less powerful, but the main components are the same. You still get the user profiles, the folding system, the reliable cushion system and the workout selection. For your daily 30 minutes – 1 hour daily runs, you do not need anything more.
There are some things you will not find on Schwinn treadmills, such as entertainment feature, touch screen display or voice trainer to guide you through the workouts. We hope to see new models on the market with this brand as the old ones are obsolete compared to the most current options out there.
Also, the warranties on Schwinn treadmills are subpar compare to similarly priced treadmills. You only get 10 years on the frame and motor, as opposed to the lifetime coverage you find elsewhere. The parts and labor coverage are not as bad.
Although there are certainly better options, the 870 is a good choice if you're not concerned about the warranty. It gives you plenty of workouts, good incline, solid cushioning and Bluetooth tracking capability that the 830 does not have.

Back to Top