Sole Treadmill Reviews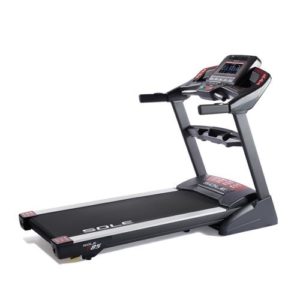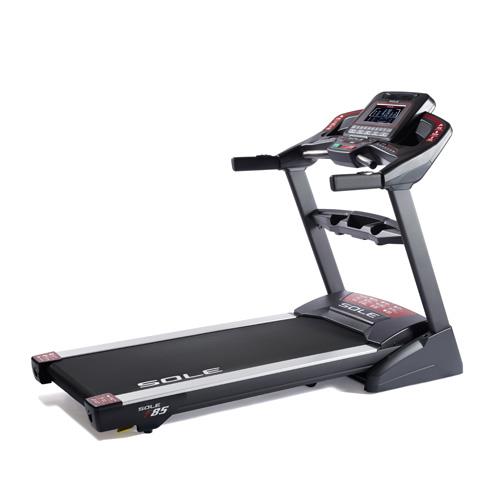 Sole treadmills offer the perfect combination:the quality of a high-end machine and the price of an entry level one. The company has made a name for themselves by providing real value for the customer, and user reviews have been overwhelmingly positive.
Sole is a 30 year old brand that manufactures and sells high quality treadmills, ellipticals, exercise bikes and rowing machines, all for residential use.They sell all of their products online, direct to the customer so you can save a lot of money.
The Sole Treadmill Sale is On With Savings Up to 45%! Click here to save big on your purchase.
Sole is well known in Canada and the USA, but they also have dealers in Dubai, India, Thailand and China, so it's a well-established international brand.
Sole Treadmill Reviews – A Look at the Models
There are currently seven treadmills in the Sole lineup, with a model for every budget and fitness level.There are four models that fold, and three that do not.
It starts out with the entry level F63 and finishes with the top of the line TT8, a new commercial-grade machine with decline capability in addition to incline.
All of the Sole treadmills feature the company's patented impact-reducing suspension system, grip and wireless heart rate monitoring, 10 built in programs, up to 15% incline capability and rock solid warranties. These are features that are typically found on much more expensive treadmills, so you really get a lot of value here.
Even the base F63, at around $1000 or so on sale, is just packed with great features. In addition to everything above, you get a large 20″ x 60″ cushioned running surface, free chest strap, cooling fans, sound system, Bluetooth workout tracking, a strong 3.0 CHP motor and easy folding capability.
Check out our Sole treadmill comparison charts
As you move up in the lineup, the Sole F65 gives you a wider 22″ x 60″ running surface, a larger display and a stronger motor than the F63.
The Sole F80 is perhaps their most popular treadmill, with a large 9.0″ display and a strong 3.5 CHP motor.
The F85 is another step up, with a unique touch screen display and strongest motor of all of the folding treadmills at 4.0 CHP.
As far as the three non-folding models, the S77 is nearly identical to the F85, the TT8 as we mentioned is a light commercial treadmill for heavy use, and the ST90 is a slat belt treadmill similar to what you might find at your local healthclub.
There was an even more advanced model called the Sole TT9, but it was recently discontinued. It was a step up up from the TT8, with a club quality AC motor, 450 lb. max weight capacity and a new 10″ touch screen display, the first touch screen the company had ever had on one of their cardio machines.
There was also a new treadmill desk called the Sole TD80 for those that want to work and work out at the same time, but that model was discontinued like the TT9.
To keep up with the growing demand for interactive workouts, Sole recently teamed up with Studio to offer access to more than 3,000 trainer led classes, community leaderboard and other features, helping them compete better with NordicTrack, Bowflex and other brands already offering similar capability.
If you have a particular model in mind, you can read the reviews below. Otherwise scroll down to learn more about the brand and how to find the very best deals.
Why Sole Treadmills Stand Out From the Rest
Sole treadmills are a very solid choice for your home gym, as they offer quality and construction that you simply don't find at the price level. It is this quality that has won the company numerous industry awards over the years.
There are hotel chains such as Omni Hotels that feature Sole treadmills in their guest rooms as part of the In Room Fitness program. This shows that these machines can stand up to heavy usage, even though they are meant for the residential market.
Let's look at some of the distinguishing features of the Sole brand…
Strong Motors
Sole pays attention to the motor quality, which is the most important component of any treadmill. All of their machines have continuous duty motors, from the entry level F63 treadmill all the way to the top of the line TT8). They are strong, silent and provide years of solid performance.
Impact Reducing Belts
Sole's Cushion Flex Whisper Deck is not only comfortable and quiet, but it also reduces impact on your knees and joints up to an impressive 40%. This is great for those who have any injuries in the past or are just generally concerned about putting to much stress on the body.
Industry Leading Warranties
All of the Sole treadmills come with lifetime coverage on the frame and the motor, as well as at least 3 years on the deck, electronics and parts and at least one year on labor. This is a very impressive warranty, and something you typically don't find, especially at this price range.
Wireless Heart Rate on All Models
You typically find grip heart rate monitoring on low to mid price treadmills and sometimes wireless capability on the higher end machines. But Sole gives you wireless heart rate monitoring and a free chest strap on all of their treadmills, allowing for a much more accurate reading for your cardio workouts.
Bluetooth Technology
As we mentioned, Sole stepped it up and added Bluetooth technology to all of their treadmills, allowing you to track and share your workouts through various popular fitness apps. This is great for those who like to monitor their workouts and gauge their progress over time.
This is why the Sole treadmill reviews are so positive, and how they are able to compete with popular brands like NordicTrack and Horizon.
Are there any weaknesses at all? Not really, but there are some things worth mentioning just to give you a complete picture of the brand.
As of this writing, only the F85, TT8 and ST90 have a touch screen display, but that might change soon. All of the other current Sole treadmills have basic backlit displays of varying sizes. They do provide all of the information you need, but it would be nice to see touch screens, at least on some of the more expensive models they offer.
Also, unless you live near a Dick's Sporting Goods store, the only offline seller, you can't try one of the Sole treadmills out before you buy. But with customer satisfaction ratings being so high for these treadmills, that really shouldn't be an issue for you. Plus, you can always return the machine if you aren't satisfied.
Sole Treadmill Buying Tips – Some Help For You
Sole treadmills don't offer all of the bells and whistles, but if you're looking for a solid home treadmill in the $1000 to $2000 price range, a Sole is one of the best choices you can make.
Here's a little overview to help you find the best one for your home gym…
Run Reviews Top Picks:
F63, F80, TT8
Best For Walkers:
F63, F65, ST90
Best For Runners:
F80, F85, TT8, ST90
You can take a look at the entire Sole Fitness treadmill lineup at the company site to see all of the current models for sale.
There you will find more information, specs and check out the latest sales.

Back to Top