NordicTrack EXP 7i Review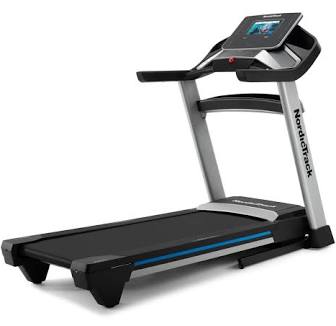 Overview
As part of NordicTrack's EXP treadmill line, the EXP 7i is a great option for anyone looking to get a solid workout in the comfort of their own home, without having to spend top dollar. The 7i and its big brothers the EXP 10i and 14i are newer models in the company's arsenal, and as such benefit from the latest technological advances in cardio equipment.
All of the EXP models are lower priced than the more advanced Commercial and Incline Trainer Series offered by NordicTrack but they still have many great features and capabilities that let users get a complete workout. With features like incline, tons of workouts, touchscreen displays and large, cushioned running decks, the EXP 7i is designed to help you workout both body and mind for a more complete exercise experience.
Let's take a closer look at everything the EXP 7i has to offer…
Specifications
Click Specifications to see detailed model info
Speed : up to 12 mph
Incline : up to 12%
Motor : 3.0 CHP DurX Commercial Plus
Belt : 20″ x 60″ Commercial
Cushioning System : FlexSelect Adjustable cushioning
Heart Rate Reading : Sensors in handlebars for accurate heart rate reading
Maximum User Weight : 300 lbs.
Unit Dimensions : 77.3″ L x 35.3″ W x 59.6″ H
Console : 7" Smart HD touch screen display
Cooling Fan : Yes
Music System : Bluetooth Audio/ Dual 2" Speakers
iFit Compatibility : iFit training built in
Warranty : 10 year warranty for frame and motor, two year parts and one year labor
NordicTrack EXP 7i - Pros
Incline Training Capability
All of NordicTrack's EXP and Commercial treadmills have incline capability. The EXP 7i can incline up to 12%, allowing you to get the most out of your cardio workout as well as target leg muscles more directly than you can on a flat surface.
Note that the higher priced EXP 10i treadmill and EXP 14i also include decline capability up to 3%.
Large 7" Smart HD touchscreen
NordicTrack treadmills also feature smart HD touchscreens, which have become a standard feature on most of their cardio equipment.
The NordicTrack EXP 7i comes with a 7″ Smart HD touch screen display, which provides easy access to all of your workout statistics and also lets you access everything that iFit has to offer.
The EXP 10i has a slightly larger 10″ screen, but both models provide the same ability to track your stats as well as full use of all the iFit functions with a 30 day Family Membership included in the purchase price. (Note this offer may change)
The EXP 14i, which is the newest of the three, has a 14″ touch screen.
Tons of Workouts Through iFit
iFit is the exclusive workout program found on NordicTrack and ProForm cardio machines that comes with a wide range of features, including access to an endless library of streamable and live trainer led, on demand workouts for beginners, pros and everyone in between.
Since NordicTrack understands how boredom can impact your workout, they have made sure to allow for plenty of variety with their iFit program. Work out in the studio or choose from locations anywhere in the world via Google map integration. You can also vary the style of your workout, from strength training to cardio to cross training and even yoga and mindfulness so your mind can get a workout as well.
With the cross training, yoga, weights and other choices, you can work out off the machine as well, to help fill in those days where you just don't feel like getting up and running.
The EXP 7i also takes the guesswork out of exercising with its Automatic Trainer Control. This lets the trainers automatically adjust incline and speed to match your selected workout. That way you can focus without interrupting your stride.
NordicTrack currently offers a free 30 day iFit family membership with purchase so you can try it out at no extra expense. With the ability to create up to four separate profiles, every member of your family can get a workout tailored to their specific needs and you can seamlessly switch from one profile to another as well as between multiple machines.
If you don't want to continue with iFit you can still use the EXP 7i without it, but if you do opt to continue, the $39 monthly fee is surprisingly affordable given all the features that come with it.
Large, Cushioned Running Deck
Even as the least expensive NordicTrack treadmill, the EXP 7i doesn't skimp on comfort, providing a very generous 20″ x 60″ commercial belt with FlexSelect cushioning.
Not only do users of all sizes have plenty of room to move, but you can also customize the amount of cushioning, from super soft to hard like an outdoor run. This makes the EXP 7i ideal for both hardcore runners and people who need a softer surface that's easier on the joints.
Plenty of Extra Features
Aside from the adjustable incline, touch screen, iFit membership and FlexSelect cushioned deck, the EXP 7i has plenty of other features to offer. With Headphone Connectivity, you can sync your favorite headphones to your treadmill so you can work out with no distractions.
The strong 3.0 CHP motor is powerful enough for everything from walking and hiking to light jogging. Speeds up to 12 mph, an AutoBreeze workout fan, integrated tray and OneTouch controls make your workout as comfortable as it is effective.
Easy to Move/Store
The SpaceSaver feature makes the EXP 7i easy to fold up and store. Just grab the bar at the base of the deck and lift…that's all there is to it! Once it's folded up, it latches into place and the wheels under the front legs and rear base let you move it smoothly and easily so you can tuck it out of the way when not in use.
When you are ready to use it again just pull the yellow release lever on the side of the deck and the hydraulic system will gently lower the base to floor. It's so easy every member of the family can do it.
NordicTrack EXP 7i - Cons
Warranty is a Bit Lacking
While the EXP 7i does have a 10 year frame, 2 year parts and 1 year labor warranty, we have seen more extensive warranties on previous NordicTrack releases. Now, though, it seems that all of NordicTrack's machines have the same coverage.
No Wireless Heart Rate Monitoring
The EXP 7i does not have the same heart rate monitoring capability as the EXP 10i and 14i, but give its lower price that's not a deal breaker.
Screen Placement Isn't Ideal
Though it is convenient to have a built-in HD Touchscreen for access to all of the iFit features, the small 7" screen on the EXP 7i can be difficult for users with limited vision to read. Also, the screen is placed high up on the console, which makes it hard for shorter users to see.
It's also worth noting that, since it is designed to display iFit content, the EXP 7i does not include a tablet holder, although you can place a tablet on the ledge between the lower part of the console and the Touchscreen panel.
NordicTrack EXP 7i - Conclusion
If you want a comprehensive and varied workout experience for your home gym that won't break your budget, the EXP 7i is definitely worth considering. It has a surprising amount of features for an affordable model, including access to the iFit program with its wide selection of workouts, adjustable incline and cushioning, easy folding capability and built-in cooling fans.
With a free 30 day iFit Family Membership that comes with purchase, every member of your family can find something to suit their needs.
Of course, NordicTrack offers other more expensive options as well, including the EXP 10i and EXP 14i, which feature a slightly more powerful motor, larger touchscreen and larger footprint, as well as the Commercial Series and Incline Trainers, which are designed for more advanced runners.
Though it has a smaller touchscreen and no decline, the EXP 7i still provides the quality workout experience you'd expect from NordicTrack at a lower price that makes it a good option.