NordicTrack Commercial 1750 Treadmill Review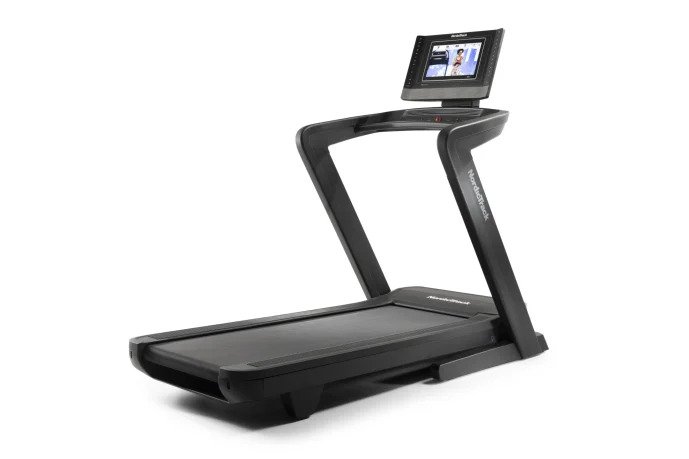 Overview
The new Commercial 1750 from NordicTrack improves upon what has been one of the most popular treadmills in the company's lineup.
With a strong motor, Smart HD touch screen, tons of workouts and a SpaceSaver easy folding design, you'll be hard pressed to find another machine with all of these capabilities and features for such a great price.
Let's take a closer look at this exciting redesigned treadmill…
Specifications
Click Specifications to see detailed model info
Speed : up to 12 mph
Incline : up to 15%
Decline : up to -3%
Motor : 3.5 CHP motor
Belt : 22 x 60" 2-Ply
Cushioning system : Runner's Flex deck cushioning
Folding options : SpaceSaver technology with EasyLift Assist
Unit dimensions : 80" L x 38" W x 65" H
Maximum user weight : 300 lbs.
Warranty : 10-year Frame, 2-Year Parts, 1-year Labor  
NordicTrack Commercial 1750 - Best Features
Tons of Great Workouts
You can tap into thousands of workouts and they range from calorie burning to heart rate control to interval training to speed workouts….there's something for everyone.
The NordicTrack 1750 features unlimited professional trainer designed iFit workouts that you can access right on the machine itself.
You can literally do a different workout every single day, from the very basic to the very intense, and everything in between.
They offer live and on-demand workouts that you can do on and off the treadmill, so you can do weight training, yoga, stretching and much more.
Enhanced Smart HD Display
The Commercial 1750 has a brand new 14″ tilt and pivot Smart HD touchscreen with all of the relevant workout stats on a clear, bright enhanced display.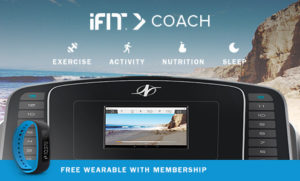 Adjustments are quick and easy to make with the touch of a button, which means more time for focusing on your workout and less on changing speed and incline.
iFit Technology
As we mentioned above, the NordicTrack 1750 comes with the latest version of the company's popular interactive workout program, called iFit.
You can tap into a library of workouts, track and share your results with friends and choose a location anywhere in the world with Google maps and it's as if you are actually working out there.
iFit does require a subscription fee, but it's well worth it for all of the features and capabilities that it offers.
Note that NordicTrack sometimes gives you iFit for free for a month so you can try it out at no cost.
Power Incline and Decline
The NordicTrack 1750 gives you a generous 15 degrees of power incline to choose from, plus up to 3 degrees of decline.
This allows you to target different muscle groups effectively, and changes up your workouts to give you a real challenge.
Decline capability is typically only found on much more expensive treadmills, so having this added feature is a real benefit.
(Note that the new NordicTrack Commercial 1250 base model only inclines to 12%, but does provide the same decline capability)
Foldable & Space Saving
The 1750 features SpaceSaver design with easy folding, so after your workout you can quickly and easily fold up the machine and store it away until the next session.
So you get the durability of a more club quality treadmill with the foldability of a residential model…the best of both worlds.
Other Great Features
The features are nearly endless on this one.
On top of everything we mention above you also get a powerful 3.5 CHP motor (an upgrade from the previous model), a generously sized deck with Runners Flex cushioning, adjustable tablet holder, DualBreeze fans, improved music/speakers, integrated accessory tray and a very generous warranty to back it all up.
Everything that you could ever ask for is included on the NordicTrack Commercial 1750, which is why it has become so very popular.
NordicTrack Commercial 1750 Review - Conclusions
Pros
The new, upgraded NordicTrack Commercial 1750 has a lot of people talking, and the buzz is definitely justifiable.
We've been keeping an eye on new releases to see who's making a real effort to fit a motivated runner's demands, and the 1750 seems to be fitting the bill.
There's the impressive, endless workout catalog between the built in ones and those you can access via iFit.
Taller joggers and runners will be comfortable running on the large 22″ x 60″ belt, as will users who want to lose a little extra weight.
Workout space is a pretty big deal when it comes to treadmills…you're already exerting lots of sweat and effort, the last thing you want is to limit yourself to a narrow belt. That's no problem with the 1750.
Users who enjoy setting goals, whether it is losing weight or training for marathons, can set goals such as pace, time, distance or number of calories.
Speed and incline adjustments are easy to make during your workout, which is a nice break from other machines. And with new ActivePulse technology, the 1750 will automatically adjust its incline and speed to keep you in your ideal heart rate zone.
The bright touch console has a large display and a numeric keypad which make readings and adjustments easy, a feature we make most use of during high incline and speed workouts.
Cooling fans are a must for a treadmill built with high intensity in mind, which is why there are 2 fans ready for easy cooling.
We honestly can't stress enough how much we appreciate cooling off when the going gets tough on the running belt.
If entertainment is what gets you through workouts, there's an advanced sound system to play your favorite tunes or listen to your chosen workout.
There's also an adjustable cushioning system that soaks up all shock on your joints, but if you'd rather feel as if you're running on the road, simply turn off the extra cushioning.
The warranty is one of the best in its class, and the iFit technology is the best version of the program we've seen to date.
Cons
There aren't too many negatives when it comes to the new NordicTrack Commercial 1750.
If we had to pick something it would be that you do have to pay a yearly membership for iFit (although as we mentioned you sometimes you get your first month for free which is a nice plus).
Last we checked, it was about $35 a month, but it is well worth it for all of the features it offers, which include the extra workouts, tracking, sharing, goal setting, Google maps and diet plans.
Summary
The NordicTrack Commercial 1750 is a an incredible treadmill, and has been our top pick in several categories, including Best Overall Treadmill, for several years now.
More serious runners might want to take a look at the NordicTrack Commercial 2450, with a stronger 3.6 CHP motor plus a 22″ touch screen.
Yet if you're not planning to run the Boston marathon, we enthusiastically recommend the new Commercial 1750, a feature-packed treadmill that is sure to please.