NordicTrack EXP 10i Review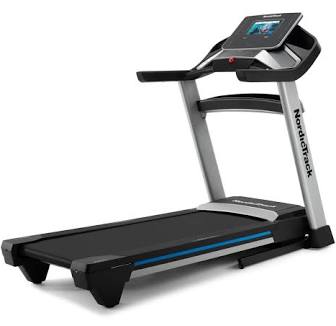 Overview
The NordicTrack EXP 10i is one of the newer treadmills in the company's lineup, first introduced in late 2020 as a 2021 model, joining the EXP 7i model. The two EXP treadmills are part of the entry level EXP Series, and the EXP 10i seems to be replacing the outgoing T 9.5 S.
Although these cardio machines are lower priced than the more advanced Commercial and Incline Trainer Series that NordicTrack offers, they still have plenty of great features and capabilities that will give you a complete and effective workouts. With incline, decline, tons of workouts, touch screen displays and large, cushioned running decks, you have just about everything you need.
Let's jump into our EXP 10i review to see what this new model is all about…
Specifications
Click Specifications to see detailed model info
Speed : up to 12 mph
Incline/Decline : -3% up to 12%
Motor : 3.5 CHP DurX Commercial Plus
Belt : 20″ x 60″ Commercial
Cushioning System : FlexSelect Adjustable cushioning
Heart Rate Reading : Sensors in handlebars for accurate heart rate reading
Maximum User Weight : 300 lbs.
Unit Dimensions : 79.9″ L x 35.08″ W x 59.25″ H
Console : 10" Smart HD touch screen display
Cooling Fan : Yes
Music System : Bluetooth Audio/ Dual 2" Speakers
iFit Compatibility : iFit training built in
Warranty : 10 year warranty for frame and motor, two year parts and one year labor
NordicTrack EXP 10i - Pros
Incline & Decline Training Capability
One of the big selling points of NordicTrack treadmills is the fact that you not only get incline capability on most of their machines, but some of them even come with decline training, which is very rare.
Previously, only the Incline Trainers and Commercial Series treadmills had decline, but now NordicTrack is giving you decline training on their entry level series as well.
The EXP 10i can decline 3% and incline up to 12%. This allows you to ramp up your cardio and hit leg muscles that you can't target with a flat surface. This equates to a more effective workout and ultimately better results.
Note that the lower priced EXP 7i treadmill does not have decline capability.
Large 10" Smart HD touchscreen
Another highlight of NordicTrack treadmills is their touch screens, and it seems like you find these on more and more of their cardio equipment these days as well.
The NordicTrack EXP 10i comes with a 10″ Smart HD touch screen display, which gives you all of your workout metrics and also allows you to fully enjoy all that iFit has to offer. We discuss iFit below.
The EXP 7i has a 7″ screen, and it looks like they may be adding another model or two to this series as they typically have 3-4 treadmills per series. As of this writing it's just the two EXP treadmills and a couple of carryover T Series ones.
Tons of Workouts Through iFit
You have probably heard of iFit by now, but in a nutshell it is an exclusive workout program found on NordicTrack and ProForm cardio machine that gives you access to an endless library of trainer led, on demand workouts for beginners, pros and everyone in between.
You can choose to work out in the studio or choose from locations anywhere worldwide via Google map integration. You can literally pick a different spot with every workout and it's like you are actually there training. Plus, the machine automatically adjusts incline, decline and speed to match your selected workout.
iFit also has workouts that you can do off the treadmill, like cross training, yoga, weights, etc. so you can really get a complete workout in, even on days that you just don't feel like walking, jogging or running.
As of this writing, NordicTrack was offering an iFit family membership for free for a year, so you can try it out to see if it's something that appeals to you. Even if you do have to pay the monthly fee, it's worth it in our opinion given all of the features that it offers.
Large, Cushioned Running Deck
Typically entry level treadmills give you a smaller running area, but the EXP 10i actually has a very generous 20″ x 60″ commercial belt with FlexSelect cushioning.
So you have plenty of space to stretch out for an all out run, and you can pick the cushioning level that works for you, from super soft to hard like an outdoor run.
Tons of Extras
On top of incline and decline training, large touch screen, tons of workouts and large well-cushioned deck, you also get Bluetooth audio, strong 3.5 CHP motor. speed up to 12 mph, workout fan, integrated tray, SpaceSaver easy folding and one touch controls.
There's really nothing that the EXP 10i treadmill is lacking, as far as features and capabilities go.
NordicTrack EXP 10i - Cons
Warranty Could Be Better
As we mentioned in our reviews of other new treadmills, it seems like the warranties are not as extensive as they used to be.
The EXP 10i has a 10 year frame warranty, 2 years on parts and 1 year on labor. We've seen lifetime on frame on previous NordicTrack releases and certainly longer parts and labor warranties on the more expensive Commercial and Incline Trainer treadmills.
But it seems now the entire lineup has the same coverage and we're not sure exactly why that is. Still, the treadmills seem to be built better now and perhaps this won't be a real issue.
No Wireless Heart Rate Monitoring
Although grip heart rate is standard, it would be nice to see wireless heart rate monitoring for more accuracy. Perhaps some of the other new T Series treadmills will offer this capability.
Definitely not a deal breaker, but with everything else it seems like they could have thrown in wireless heart rate capability as well.
NordicTrack EXP 10i - Conclusion
If you're looking for an affordable new treadmill for your home gym, the new EXP 10i is certainly worth a look. It gives you plenty of workouts to choose from, incline and decline, solid cushioning, easy folding capability and plenty of comfort features to make your workout enjoyable.
If you want something a bit more advanced for serious running take a look at the Commercial Series, including the Run Reviews favorite Commercial 1750.
Also look at the Incline Trainers, although those are a bit pricier than the T Series models.
If you want to save a few hundred, consider the lower priced EXP 7i, which has a smaller touch screen and no decline, but everything else is pretty much the same.