Which Are The Treadmills With Decline?
Question: I used a treadmill that allowed me to place my incline level minus zero..in this case -3. It allowed me to jog until I got in shape to go the other direction and increase the incline. Can you recommend the latest treadmills that support decline?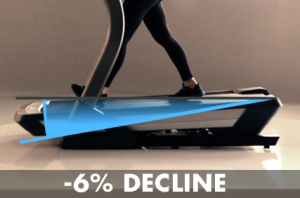 Answer: If you're looking for a treadmill that supports decline, these are our top recommendations:
– All of the incline trainers from NordicTrack, including the X7i(Discontinued), x9i(Discontinued), x11i (Discontinued), X22i and the new top of the line X32i. (-3% to -6%)
– All of the Commercial Series from NordicTrack, including the best-selling 1750, 2450 and 2950. (- 3% to -6%)
– The Sole TT8 Treadmill, as well as the newer Sole TT9. (-6%)
– Many treadmills from ProForm, including the Pro 2000, the Pro 5000 and the top of the line Pro 9000. (-3%)
Here are some of the more expensive treadmills with decline…
– The higher end Precor treadmills. (-2% to -3%)
– The higher end TRUE Fitness models. (-3%)
– The incline trainers from Freemotion. (-3%)
The list of treadmills with decline capability grows every day, but the ones above will get you started.
All of these treadmills are solid choices, so you can't go wrong. We will continue to add to our list of decline treadmills as new ones are introduced.
If you have one that you don't see here that you would like us to review, please feel free to drop us a line.