ProForm Pro 9000 Treadmill Review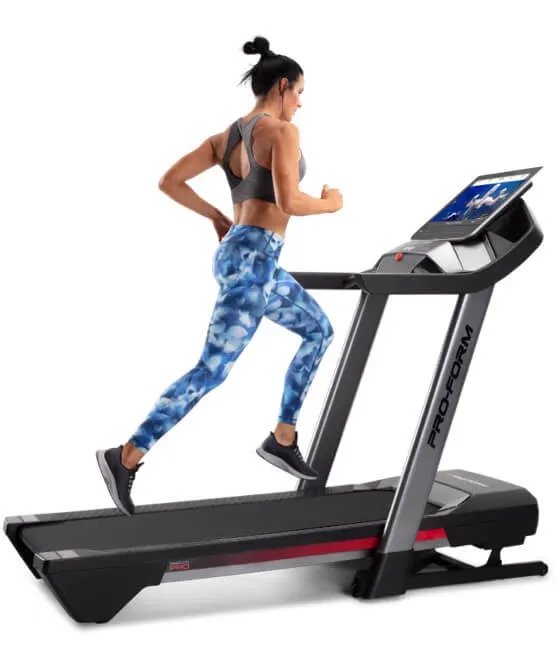 Overview
Similar to the popular NordicTrack Commercial models, the ProForm Pro 9000 is the top model in the company's Pro series, which also includes the base 2000 and the mid-range 5000 treadmills.
Like these other advanced cardio machines, you get a lot of bang for your buck, with incline/decline capability, a powerful, quiet motor, tons of workout apps and much more.
If you're looking for a rock-solid treadmill for your home, with features and capabilities typically found on much more expensive machines, the Pro 9000 is a very good choice, and a Best Buy in the price category.
Specifications
Click Specifications to see detailed model info
Speed : up to 12 mph
Incline : up to 12%
Decline : down to -3%
Motor : 3.6 CHP Mach Z
Treadbelt : 20" x 60"
Cushioning : ReBound Pro
Folding : SpaceSaver with EasyLift Assist
Footprint : 77.3"L x 35.3"W x 59.5"H
Maximum user weight : 300 lbs.
Warranty : 10 year frame and motor, 2 years for parts, 1 year for labor
ProForm Pro 9000 - Best Features
Enhanced Touch Screen Display
Just like the other two treadmills in the Pro Series, the Pro 9000 has an enhanced full color 22″ HD touch screen display (the mid-level 5000 has a 10″ touch screen, as does the entry level 2000 has a 7″ touch screen) which shows your speed, time, distance, calories burned, heart rate, incline/ decline stats.
The popular machine also includes iFit technology, which is an incredible program that allows you to simulate running anywhere in the world with Google maps, choose from hundreds of custom programs from experts like Jillian Michaels, track your progress for motivation, and much more.
Note: iFit is sometimes included for FREE for one year so if you see this offer definitely take advantage of it to try out all of the amazing features for free.
Incline & Decline Training
The Pro Series treadmills give you something you don't find often…incline and decline training combined.
The Pro 9000 gives you down to -3% decline and up to 12% incline, so you can really change up your workouts and target muscle groups more effectively.
Plus, with iFit, which we discuss below, the machine will automatically adjust its own decline, inline and speed to match the workout program that you select. This is something you won't get elsewhere.
Heart Rate Monitoring
Use the hand grips to check your heart rate as you work out or you can add the SmartBeat forearm heart rate monitor for even more accuracy which syncs via Bluetooth. The monitor is sold separately (around $80 as of this review) but worth the added expense if you use your treadmill regularly.
Staying in the ideal heart rate zone maximizes the results that you get from your workouts.
Large Number of Workouts
The ProForm Pro 9000 gives you unlimited workouts via iFit, which as we mentioned might be included for free for a year with your machine depending on the current promotion.
iFit is now available on all of the Pro models, including the base model Pro 2000 treadmill.
iFit allows you to choose beginner, intermediate or advanced workouts on demand with trainers all over the world, and you can train on the treadmill or off with yoga, stretching, cross training, weights and more.
Here are some additional highlights…
Dual CoolAire Workout Fans– included
Folding– included
Accessory tray– included
ProForm Pro 9000 Review - Conclusions
Pros
There's a lot to like on the new ProForm Pro 9000, as is the case with the rest of the Pro series, especially for the price. You simply get a lot for your money, and many features that you typically only find on more pricey machines.
The machine is quiet and comfortable to use. You can't adjust the feel of the belt like on some machines, but it is comfortable enough to walk and run on that you shouldn't need to adjust it.
The motor is quite strong at 3.6 CHP. It will easily stand up to multiple users hitting it hard everyday.
Having both incline and decline capability really ramps up the workouts, and iFit has an ever-growing library of trainer led workouts that will keep you motivated to rech your fitness goals.
You also have the handsome 22″ touch screen display, so even if you don't opt for iFit and run through the streets of Barcelona, there is plenty to do to keep yourself entertained.
Drawbacks
There aren't many downsides to the ProForm SMART Pro 9000 model.
There is always the less than stellar customer service that ICON Fitness is known for, but as they make these machines better and better each year hopefully there will be less of a need for customers to call up about one problem or another.
Also, it would be nice if the wireless arm strap for heart rate monitoring was included for free, at least on the top of the line Pro 9000 treadmill. But it's not a deal breaker.
Other than that, there are very few negatives here. They seem to have solved some of the glitch issues that have plagued them in the past.
Summary
If you're looking for a gym-quality, fun to use and feature packed treadmill under $2,000, the new ProForm Pro 9000 is about as good as it gets.
It is overflowing with features and capabilities, including incline/decline, strong motor, iFit technology, tons of workouts and so much more.
This is the best treadmill that the company offers…and it has been one of their best selling models for a reason.
Check it out on sale today to see all that it has to offer.