Horizon T101 Treadmill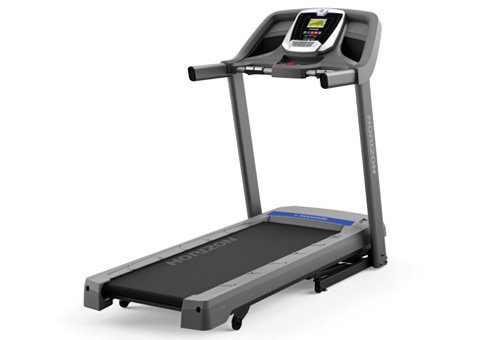 Overview
The Horizon Fitness T101 is one of the most popular entry-level treadmills on the market today, first launched back in 2010. It has remained a best seller for Johnson Health Tech ever since due to its ease of use, number of workout programs, industry awards and most importantly, affordable price.
There were two other treadmills in the T series originally, with which the T101 shared many common features (especially in the parts quality). These were the T202 and T203. Both models have since been discontinued in favor of one, featured-packed entry level treadmill.
The T101 has become the go-to treadmill for those looking for a solid machine with impact-reducing cushioning, easy folding capability and ergonomic design.
UPDATE: The Horizon T101 is currently on sale for only $649. Check out the limited time sale!
Specifications
Click Specifications to see detailed model info
Speed : up to 10 mph in .5 increments
Incline : up to 10%
Motor : 2.25 CHP
Frame : Steel
Belt : 20" x 55" (50.8 cm x 139.7 cm) The belt is backed by the Variable Response Cushioning system. Adjustable cushion allows you to change the firmness of the belt, recommended especially if you are heavier or have any joint/knee issues.
Assembled dimensions : 70"L x 34"W x 55"H
Supported User Weight : 300 lbs (136 kg)
Warranty : You get a lifetime warranty for motor and frame, 2 year for parts and 1 year for labor.
Best Features
Advanced Cushioning System
One of the exclusive technologies on the Horizon T101 treadmill is Variable Response Cushioning, which provides three zones that offer the ideal amount of support for each stride phase.
This system ensures that you have the most natural movement and minimizes impact on your knees and joints, providing the best possible workout.
Easy Folding Capability
The T101 has the sturdiness of a non-folding treadmill, yet with the patented Featherlight Folding capability you can easily stow away your machine within seconds.
It features a built in hydraulic system that does all of the work for you. You simply start lifting up the deck and it automatically brings it into the folded position. Unfolding it is just as easy.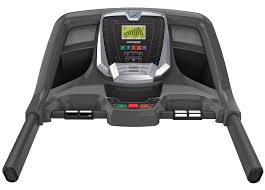 Bright LCD Display
The T101 features a bright, 4.5″ LCD display offering all of the relevant feedback including heart rate, incline, speed, calories, time and distance.
You can very easily see all of the information and monitor your progress.
Other Great Features
The T101 also offers incline capability up to 10%, foam grip handlebars, built-in speakers, a tablet rack, water bottle holder, Energy Saver mode, 5 built in workouts and a generous warranty.
If you are interested in tracking your workouts and syncing them, the T101 does not currently offer this capability. Step up to the Adventure 3 model which is only a couple $100 more.
Conclusion
For an entry level machine, you really can't ask for much more. It's perfect for the casual walker and jogger, and the price is just incredible.
If you are more of a runner, take a look at the up-level Elite T5, which gives you a wider deck, more powerful motor and more incline.
The Horizon T101 performs very well. The biggest advantages are the silent motor, reliable advanced cushion system, good speakers and the easy folding control.
The warranty is very good, the readout/interface is intuitive and clear, and there are enough workout programs to choose from.
The belt size is ideal for walking and jogging. Without having to run intensely, you don't need a larger belt to complete full strides.
All in all, you really can't beat the Horizon T101 treadmill if you are in the market for an under $800 entry level machine.
It may not have all of the bells and whistles found on the upper end Horizon models, but again, for the price, you really can't expect it.
The T101 is our top pick in the under $1000 category.