FreeMotion Incline Trainer i7.7
Overview
NOTE: This model has been replaced by Incline Trainer i7.9, a treadmill we haven't yet tested.
The Incline Trainer i7.7 has received great reviews since it was launched. Now it has been on the market for more than 2 years and users still find it an inspirational training machine.
Unfortunately it comes with a very high price.
Check out the entire review for more details.
Specifications
Click Specifications to see detailed model info
Speed : up to 12 MPH (no quick buttons available)
Incline : up to 30% There are preset buttons for the following incline levels: 3, 6, 9, 12, 15, 18, 21, 24, 7 and 30.
Motor : 5.0 HP AC
Belt : 22 " x 60 "/ 56 x 152 cm
Maximum User Weight : 350 lbs/ 159 kg
Unit Dimensions : 78 " L x 33 " W x 68 " H/ 198 x 84 x 173 cm
Unit Weight : 450 lbs/ 205 kg
Home User Warranty : lifetime for frame and motor, 10 years for parts, 2 years for labor
Light Commercial Warranty : 7 years for frame, 3 years for parts and 2 years for labor
Features
Display Info
The console includes one large Display LCD and 2 smaller windows for speed and incline.
During workout you have to press 'Display' to reach different info: elapsed time, walked/ run distance, speed of the belt, incline, approximate number of burned calories- total and per hour, intensity in METs, pace and an animation of the road. There are 7 display modes possible in total.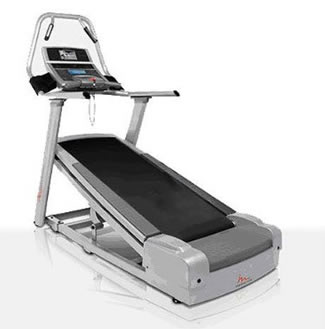 Heart Rate Readings
Either use the handgrip contacts or the wireless chest strap. But the Polar Chest Strap is compatible (Not Included).
Workouts
This console offers 14 personal trainer workouts and 12 interactive trainer workouts. The last 12 are meant to be customized and include 3 heart rate workouts and 3 fitness test workouts.
All in all the console includes the workouts such as Manual, Pulse, Random, Interval, Fit Test, Walk/ Run (5K/ 10K), Custom and All-Terrain.
When you want to start a Personal Trainer workout, press Random Workouts, Interval Workouts or Terrain Workouts until you reach the one you want to. Random workouts are designed with preset random speed and incline settings. Interval workouts use incline settings to provide personalized workouts while Terrain workouts use speed and incline settings to simulate a genuine walking workout. You can change speed and incline as you please during the workout.
If a fitness test is what you want, first make sure you've got the chest strap attached. Then select your workout by pressing Fitness Tests repeatedly until you get to the program you want. Alter speed and incline as you please during your training.
When you want to pursue a heart rate workout, press Heart Rate Control repeatedly until you reach the desired result. The important thing is that you attach the strap before starting.
To customize your own program, press Custom workouts repeatedly. The display will give you name, maximum incline setting, maximum speed setting and duration.
The i7.7 also offers iFit compatibility but you have to purchase the iFit cards separately.
iFit Cards Compatibility
Included
The iFIT cards must be purchased separately. The programs available are really nice.
Sound system
It was most probable for this console to have integrated speakers. It's an extraordinary powerful, sturdy machine that will stress every inch of your body. Music may lighten you up. Just plug in your player and enjoy your all-time favorites.
Maintenance mode
It keeps track of the total no of hours that the unit has been working and total distance of the walking belt. To select it, hold down Clear and Enter for 3 seconds. Press Display to navigate between screens. Set user preferences. You may also create a custom workout by pressing Display until you reach the one you want. Then press Enter.
Conclusions
The Incline Trainer i7.7 is an unbelievably well-built machine. If you're looking for the ultimate fitness machine, search no more. This model receives our warm recommendation to any avid athlete looking to overcome personal training limits.
Why is this treadmill so highly applauded? By far, the number one reason is the amazingly powerful motor. The self-cooling 5.0 HP AC speed control motor, which is in the back of the machine will fulfill your wildest fitness dreams.
Then, there is the running surface. Not only it is above average, but combined with this extremely powerful and sturdy motor may support up to 500 lbs, although its official maximum is 350 lbs. We do believe that it may allow more than its formal specification.
Not only this machine was built as a powerful, complex fitness unit, but its designers also focused on comfort. The deck isolators and the motor system offer comfort with every foot strike. The cushioning system will engage you in comfortable, prolonged, tough and intense workouts.
And as an insurance of how far this machine can go, the maximum incline level is 30%. So, you have the option to really demand your body and become a top professional. The thing is that most incline trainers offer a high level of comfort up to 18% of incline. But what adds up to all the advantages of this model is that you may exceed 18% of incline with full confidence. The cushioning system will keep you safe and injury-free up to maximum incline. Oh, and incline is easy to adjust with the touch of a button.
There are 26 preset workouts ready for you to use according to your needs. Whether you want to lose weight, increase endurance and strength, work your muscle groups or maximize stamina, just take your pick out of the workouts selection. And you also have iFit compatibility if you want to go for some iFit personalized training.
Of course, it incorporates a cooling fan and high-quality speakers, which adds up to overall comfort and motivation.
Not to mention the convincing warranty. Lifetime for frame and motor, 10 years for parts, 2 years for labor seals the deal.
You must spare the extra dollars to have this unit in your home. $5500 makes this treadmill all yours. It's just too much, if you ask us.