Freemotion XTr 90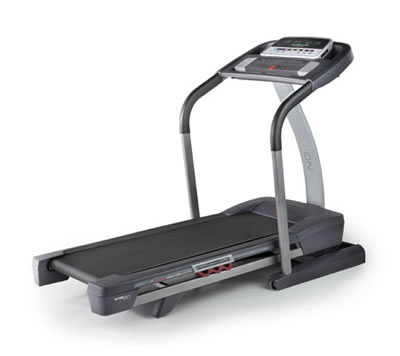 Overview
UPDATE: This review of the Freemotion XTr 90 treadmill is obsolete since this model is no longer available. Browse through our new Freemotion reviews to learn more about current models.
FreeMotion® XTr 90 is a treadmill that has been positively viewed by professionals. According to rankings, this is one of the best current deals.
It's a richly featured machine, with a large running surface and powerful motor. It's focused on workout diversity and user-friendly feedback reading. The backlit display is an insurance of easy display usage.
In our Conclusions section, you'll find more about this unit, which will give you a complete idea on what this treadmill is all about.
Specifications
Click Specifications to see detailed model info
Speed : up to 12 mph
Incline : up to 12%
Motor : 3.0 CHP Commercial Pro
Belt : 20 x 60 inches/ 51 x 152.4 cm
Cushion System : Impact Reduction Control Adjustable Cushioning
Folding Options : SpaceSaver with EasyLift Assist
Maximum User Weight : 325 lbs/ 147.73 kg
Unit Dimensions : 79.5 inches L x 37.75 W x 71.5 H/ 201.9 cm L x 95.9 W x 181.6 H
Warranty : lifetime for frame and motor, 1 year for parts and labor
Features
Display Info
The multi-window LED display keeps track of speed, time, distance, pulse, incline and calories burned.
The Matrix is enabled during Manual mode. It displays a track of ¼ miles that indicates your position during workout. The Calories/ Incline display shows approx no of burned calories and incline. The Time display shows elapsed time.
The Distance display shows walked/ run distance. The Speed/ Pulse display shows speed of the belt and heart rate. The Center display shows workout instructions.
Heart Rate Readings
handlebars sensors
Use handgrip pulse sensors to check your heart rate.
Workouts
This console features 28 onboard workouts, of which 7 calorie workouts,7 intensity workouts, 7 speed workouts and 7 incline workouts.
To start an onboard workout, press Calorie, Intensity, Speed or Incline buttons repeatedly.
Once you've selected your workout, the displays show max incline, duration, distance, max speed and name of the workout. Press Start/ Speed Increase to begin the workout. Alter speed and incline as you wish by pressing 1 Speed or Incline button. Follow your progress and check out your heart rate.
This console also offers iFit compatibility. You need the iFit Live Module that you purchase separately, access to a computer with a USB port and wireless internet connection.
To use the iFit Module, insert it into the console. Select a user and the desired workout. Before downloading a workout, you must add it to your queue. Press My Trainer, My Maps, World Tour or Event Training buttons to download your next workout. Press Compete to start a race.
Information Mode
This mode keeps track of treadmill's information and lets you customize console's settings. To select it, hold down Stop while inserting the key into the console and then release Stop.
Stereo Sound System with iPod Compatibility
Adjustable Cushioning System
This cushioning system reduces impact as you walk or run. You can change the platform cushions according to your workout.
EasyLift Assist Folding system
Conclusions
The Freemotion XTr 90 is an A plus treadmill, if we're talking about functionality. On the flipside, it's recognition decreases due to a console that isn't that aesthetic and a sound system that can't raise the volume too much. This is a treadmill that we recommend, despite the entertainment flaws.
Pros
As far as functionality goes, this treadmill is above average. There are 34 default workouts that will lead you towards your fitness goals. These workouts are designed to meet the training needs of avid runners and walkers. And as far as we are concerned, they succeed in doing that.
And when you want to heighten your sights, just connect to your iFIT account/subscription and enjoy downloadable personalized workouts as well as helpful online tracking and analysis of your performance. (Note this module must be purchased separately).
And since we're talking about workouts, you should know that the running belt offers reasonable space for comfortable and effective workouts.
As far as aesthetics are concerned, the graphical backlit display has nice lines and also offers easy-to-read feedback.
Main Attraction
The sound system is great. It delivers a high-quality clear sound. And it is also compatible with iPod. It is easy to use and it keeps you motivated during hard workouts.
This treadmill comes with adjustable cushioning and also one-touch adjustable incline and speed. It only takes one touch of a button to adjust speed and incline values, which has been a great help to us.
Drawbacks
There are also several flaws that you want to consider. First off, the warranty is not that appealing. Only 1 year for parts and labor is not something you may find advantageous for any treadmill. Secondly, the heart rate sensors were rather disappointing. It's inconvenient to have so many workouts in hand, but not have efficient pulse sensors to check your heart rate.
Our advice is to check other treadmills before making your final decision.