NordicTrack T 5.7 (Discontinued)
Overview
UPDATE: The NordicTrack T5.7 is no longer being sold. Read our latest NordicTrack treadmill reviews to learn about the most current models available for sale.
The new 2012 NordicTrack T 5.7 is a treadmill primarily built for walking, although it can undertake jogging too. With the T 5.7, Nordictrack takes its heritage further and makes way for another treadmill well done.
A compilation of decent quality, interesting functionality, various preset programming options, all in a space saver treadmill. Nevertheless, it has its share of imperfections that may determine you to look somewhere else.
Read our detailed review on the T 5.7 and go to Conclusions for a final overview.
Specifications
Click Specifications to see detailed model info
Speed : up to 10 mph 1-Touch
Incline : up to 12% 1-Touch
Motor : 2.5 CHP DURX
Belt : 20 in x 55/ 51 cm x 139.7
Cushioning System : Dual Shox system
Folding Option : Space Saver System
Maximum User Weight : 325 lbs/ 147 kg
Warranty : lifetime for frame, 25 years for motor, 1 year for parts and labor
Features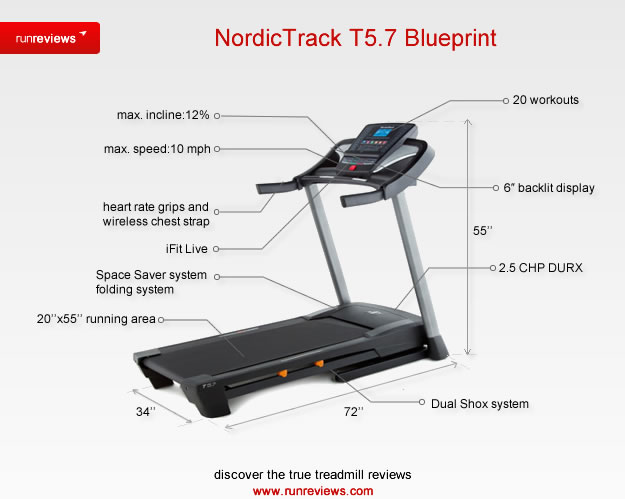 Display Info
The 6″ backlit display tracks elapsed time, walked/ run distance, workout intensity bar, approx no of calories you've burned, incline, no of vertical feet, speed, heart rate and also shows a matrix that offers several display tabs. Press increase/ decrease to reach the desired tab.
The My Trail tab shows a track that represents ¼ mile/ 400m. As you work out, the flashing sign shows your progress. The intensity level bar shows the approximate intensity level of your exercise. Press Stop, remove key and reinsert key to reset.
1-Touch speed and incline controls ease up any alterations you want to perform during workouts.
The T 5.7 also features a 7 x 30 scrolling Cross Trainer display that offers graphic feedback on your workout and alerts you when it's time for cross-training exercises.
Heart Rate Readings
The T 5.7 allows you to check your heart rate by using the Cardiogrip heart rate monitor or the wireless chest pulse, but the latter is not included in the price.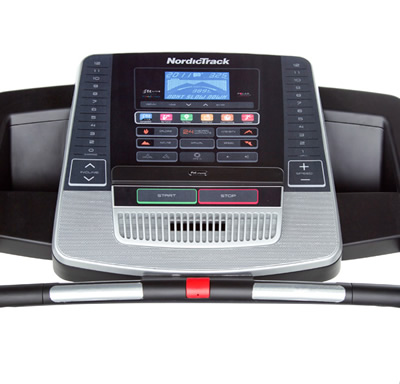 Workouts
This console features 20 onboard workouts, of which 10 calorie workouts and 10 distance workouts.
To start in Manual mode, press the Manual control button. To select an onboard workout, press either Calorie or Distance button repeatedly. Once your selection is done, the display shows duration, distance, name, maximum speed setting and maximum incline setting.
A profile of the speed settings will appear in the matrix. For Calorie workouts, you'll also be given the approx no of calories you'll be burning. Start the workout.
The T 5.7 also features iFit Live technology that you can use by purchasing separately the iFit Live module.
Insert the Live module into the console, select a user and then select an iFit Live workout by pressing one of the iFit Live workouts buttons. Before downloading any workout, you must add them to your queue.
Information Mode
This mode keeps track of treadmill information and allows you to personalize console settings. Hold down Stop while inserting the key into the console and then release the Stop button.
Stereo Sound System with iPod compatibility
iFit Live
Compatible, but not included.
The Module Must be purchased separately.
Fan
– not included

Conclusions
The T 5.7 treadmill proves that Nordictrack is keen on offering more (quality, features and programming) for less ($). This unit brings forward the basic attributes of treadmills in its price range plus a wide array of impressive other perks.
This treadmill sets the stage for average weight and average height walkers and joggers, but we recommend it only to those interested in light jogging, and not on a daily basis.
Pros
In motor talk, continuous duty means that the motor runs with no strains. The T 5.7 offers just that plus the power to sustain even highest inclines and speeds. Still, incline doesn't feel sturdy at maximum speed and incline. Avid runners should find a more advanced machine.
The cushioning system is not the best of the best, but still it's comfortable to the feet. Working out on the T 5.7 is definitely not a pamper, but still the cushioning is efficient enough.
Talking about the console, what I can say is that it looks good and works great. Sure, not the sleekest of them all, but definitely an equipment easy to use and follow. Plus, the matrix keeps you constantly connected to your performance, which is a nice motivational tool.
Additionally, the T 5.7 introduces the cross-trainer display that shows graphic feedback of your workouts. How great is that? Plus, you're being alerted when it's time for cross-training. It may not sound like much, but this is another way to keep up your motivation.
Are you an iPod fan? Great. You'll definitely like the sound of your favorite tunes. The sound system is one of the best ever found in this price range.
Workouts are plenty, mainly Calories and Distance. If you consider yourself out of this range, you should check out other treadmills with more diverse selection of programs.
The warranty is convenient, plus you get to fold it.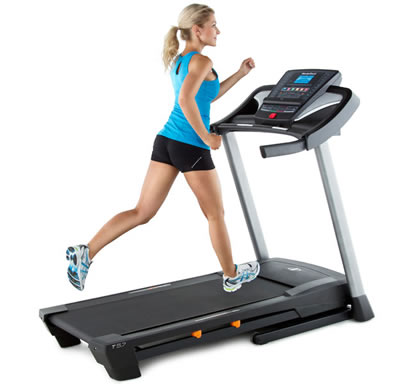 Main attraction
The quality of this machine is the main attraction. Moreover, assembling doesn't require too much time and it's quite easy.
Sure, you also benefit from iFit compatibility.
Drawbacks
But then again, you have to buy the iFit Live module separately. We're not talking about a fortune, but still it's collateral investment. Still, once you get it, you benefit from many customization options and detailed performance tracking.
The T 5.7 has wireless heart monitoring compatibility, but once again, you have to purchase it separately.
We do recommend this treadmill for the overall experience, for the user-friendly programming options, its power and feature diversity. Maybe $1300 is a bit spicy for the reduced running surface and the appealing gadgets that you must buy separately, but if on sale (like max $1,000), the T 5.7 is a definite catch for a home treadmill.