Nordictrack C 900 (2011 model)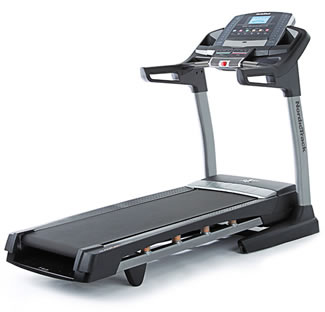 Overview
UPDATE: The NordicTrack C900 trainer is no longer being sold. Check out our new NordicTrack reviews here to learn about the latest models from the company.
—–
Nordictrack C 900 was launched as a 2011 model because it is compatible with the latest iFIT LIVE MODE incorporated in the console.
The new features integrated in the console, and the improved design make this a very attractive offer for $1,000 price.
Stay tuned for more info on the Nordictrack C 900 and go to Conclusions for a broadened perspective on its functionality.
Specifications
Click Specifications to see detailed model info
Speed : up to 12 mph 1 touch
Incline : up to 15% 1 touch
Motor : 3.0 CHP Commercial Pro
Belt : 20 inches x 60 inches / 51 cm x 152 cm The belt is backed by a good cushion system (Quadflex). The name explains how it works: there are four points of cushioning to reduce stride impact.
Treadmill's Dimensions : 81.5" Length X 37.2" Width X 75.3" Height
Maximum User Weight : 350 lbs/ 159 kg
Warranty : lifetime for frame and motor, 3 years for parts and 1 year for labor
Features
Display Info
Nordictrack C 900 makes it easy for users to access workout information.
The displays show details about: elapsed time, walked/ run distance, matrix, workout intensity bar, approximate number of burned calories, incline, number of climbed vertical feet, speed of the walking belt and heart rate.
It's really easy to monitor your progress.
To reach the display you want, press Increase/Decrease. The My Tail tab shows a track representing ¼ mile/ 400 meters. This number also offers the number of completed laps.
The intensity level bar indicates the approximate intensity level of your current exercise.
Heart Rate Readings:
Stand on the foot rails and hold the pulse bar with palms on the metal contacts. It takes 10 seconds to get the results, and 15 more for more accurate feedback.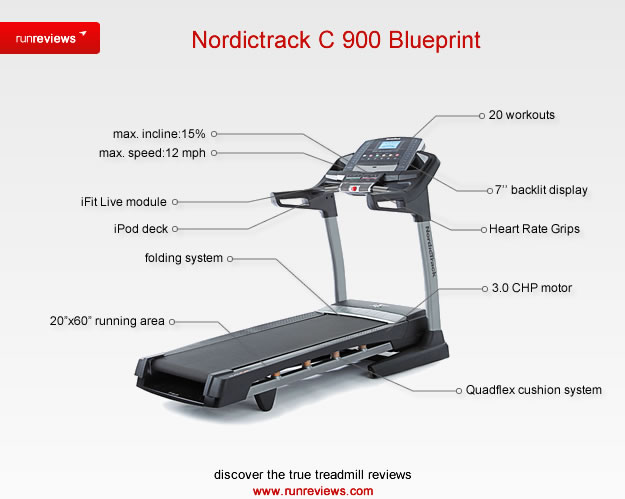 Workouts
There are 20 workout apps you can choose from: 5 high intensity, 5 speed, 5 incline and 5 calorie burn workouts.
To use an onboard workout, press Calorie, Intensity, Speed or Incline buttons until you reach the desired workout. After selection, the display offers duration and name of the workout.
When engaging in a calorie workout, the approximate number of calories you're about to burn will be shown in the name of the workout. Press Start or Speed increase to start the workout.
Press Speed or Incline to adjust these settings while you're exercising.
Use the available displays to follow your progress. Measure your heart rate and turn on the fan if you feel like it.
Nordictrack C 900 is compatible with the latest iFIT Workouts.
You must purchase the wireless module separately, but this comes with a one 1 year free subscription.
Then, all you need to do is set-up the wireless connection on your own, and then activate your account at ifit.com
The treadmill will allow you to sign in with your account and download the iFIT workouts on the treadmill's console. See the iFIT Workouts article for more details.
Fan
iFit Live Mode
The wireless module must be bought separately (there is a special offer for $130 dollars you can take advantage of) on the ifit.com website.
Sound System
iPOD compatible
Nordictrack launched a new sound system which this treadmill has too. And it works really well.
Information Mode
With the Information Mode, you'll have access to the console's electronic log. It keeps track of treadmill's information and allows users to customize its settings.
Folding Options
Conclusions
The Nordictrack C 900 is a treadmill that we warmly recommend. It incorporates functionality, diversity, a user friendly interface, power and aesthetics, all for $1,000. This is a good deal.
What are its advantages? First of all, the motor is perfect for running. Not only it keeps you safe, but it also keeps the treadmill going for 1 hour, without problems.
Secondly, the deck is above average, which makes it easy for taller and heavier users to exercise efficiently. Users up to 300 lbs can buy this model for walking and light jogging.
After you run for 30 minutes, you hardly feel any pain in the calves area or the joints. We believe this is a result of the cushioning system.
The user friendly display enables easy to read feedback. There are several displays you can use to follow your performance.
We also like the workouts variety. Lately NordicTrack offers minimum 20 preset workouts in their treadmills' consoles. And they are pretty good. Plus, speed and incline are easy to adjust during workouts.
On top of that, if you're looking for something new you can use the iFIT Workouts. Those are really fun (especially the Google Maps workouts).
Even if it's a large treadmill, when you're not exercising you can easily fold and store it somewhere it won't bother you.
For those who need entertainment, the stereo system with iPod compatibility does the trick. You can also use it to be assisted by the iFIT trainers' voice or you can listen to music.
Last but not least, the warranty package is highly attractive, for a model this diverse and for a price as low as $1,000.
This is not the best model you can buy and we don't recommend it if you plan to use it more than 1 hour daily, but it's a really good deal which you should consider if you are on a low budget.
Janae's review
I have spent a lot of time with it and look forward to using it. It is going to really help me to continue my running as a new mom because I will be running on it whenever she is napping:)…