Peloton Tread Review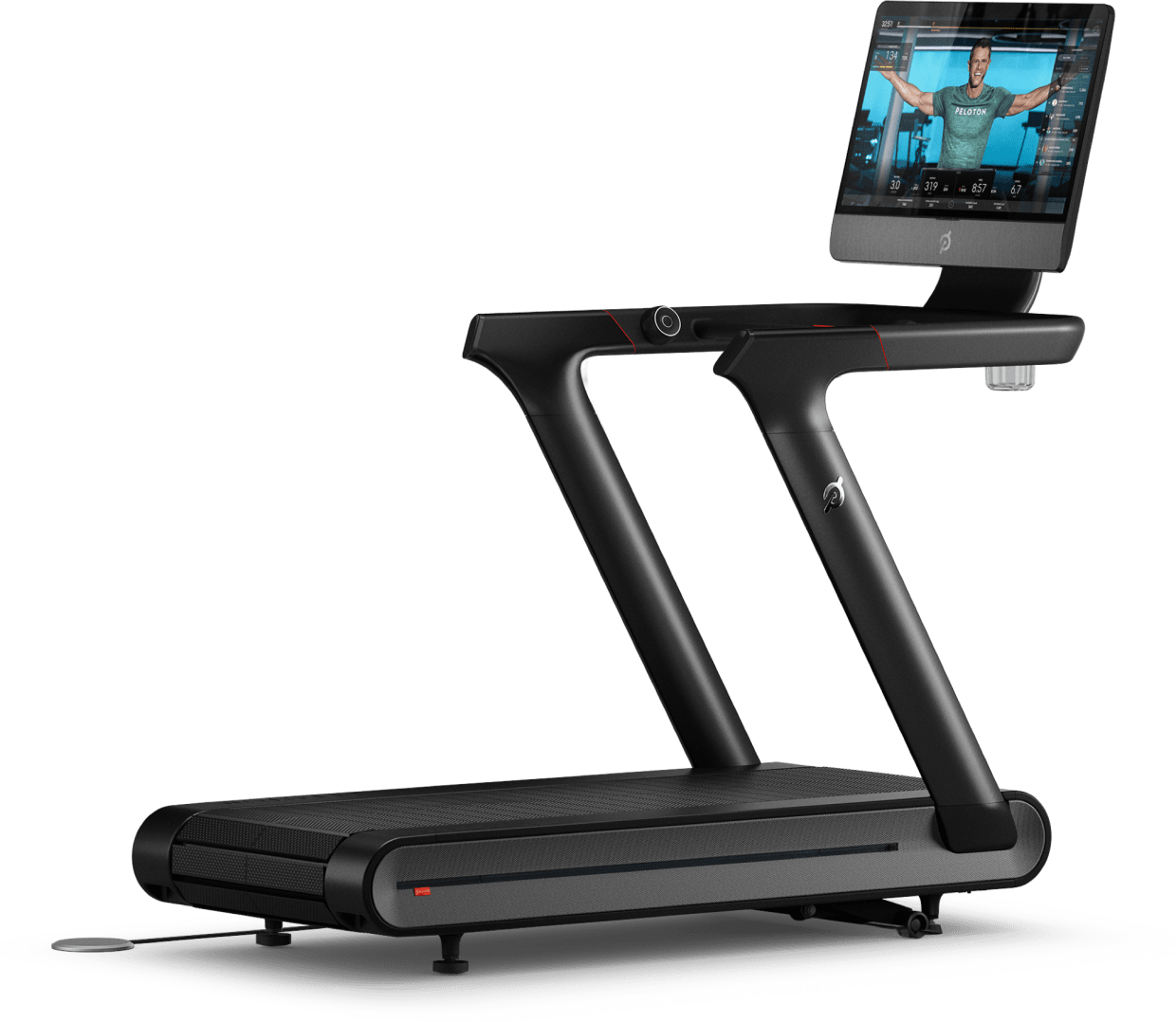 Building on the success of its high end and much hyped exercise bikes, Peloton took the next step in home exercise options with the Tread+ treadmill.
Like its bikes, the Tread+ offers an immersive workout experience with a large 32″ HD Touchscreen and its All-Access workout app which offers thousands of classes live streamed directly from Peloton's fitness studio in NYC's West Village.
In late 2020, Peloton announced the release of a second, slightly more affordable option called simply Tread, which would be available in early 2021.
Along with a price tag that is $1,800 less than the Tread+, the Tread also has a slightly smaller footprint, smaller touchscreen and a traditional running belt similar to the belts you'd find on most treadmills…as opposed to the Tread+ which offers a shock-absorbing slat belt that gives you an experience closer to running or walking on the ground.
With two distinctive options to choose from, it's worth taking a deeper look at both Peloton models and seeing if what you're getting is really worth the cost. Time will tell if their treadmill line will be as successful as their bikes, which literally exploded in popularity during the pandemic.
Specifications
Click Specifications to see detailed model info
Speed : up to 12 mph Tread, up to 15 mph Tread+
Incline : up to 12.5 % Tread, up to 15 % Tread+
Motor : 3 HP DC motor Tread, 2 HP AC motor Tread+
Belt : 59" L x 20" W Tread, 67" L x 20" W Tread+
Deck System : Regular Belt Tread, Slat Belt Tread+
Touch Screen : 23.8" HD Tread, 32" HD Tread+
Maximum User Weight : 300 lbs.
Unit Dimensions : 68" L x 33" W x 62" H Tread 72.5" L x 36.5" W x 72" H Tread+
Warranty : 12 month limited
Peloton Tread/Tread+ - Best Features
Immersive Workout Experience
Both the Tread and Tread+ offer one of the most immersive workout experiences you can get with home gym equipment.The Tread comes with a 23.8" HD touchscreen and front facing speakers while the Tread+ takes the experience to the next level with a 32" touchscreen and powerful 20 W built-in soundbar and Bluetooth capability.
The overall effect is astonishing, whether you're participating in one of the many classes available through the Peloton app or just listening to your favorite music. You'll feel like you're in the middle of the action, which can give your motivation an added boost.
Quick Speed/Incline Adjustment
One of the handiest and most valued additions to both models are the adjustable speed and incline knobs. Located on the armrests for maximum convenience, these knobs move smoothly to allow you to adjust your speed or incline level on the fly without breaking stride.
Just turn the knob forward or backward to slowly increase or decrease speed and incline or press the button in the center of the knob to increase by full increments.
This may seem like a minor feature, but it's a major improvement over cheaper models that require you to lean forward and make your adjustments directly on your screen, which can break up your workout unnecessarily.
Diverse Workouts
What has always made Peloton stand out from other brands is the variety of classes available through their Peloton app. With a wide range of classes available, no two workouts are exactly the same.
You can try everything from a 30 min. fun run to a more comprehensive boot camp workout or even participate in a workout class designed to prep you for a specific event like a marathon.
There are also full body workouts available that involve exercises both on the treadmill and on the floor to work every muscle group. There are even themed classes available, which allow you to workout to your favorite music.
With new classes added every day there is plenty of variety to keep every member of your family motivated. For both models, the All-Access app membership is an extra $39/month charge on top of the purchase price.
Roomy Running Deck With Advanced Cushioning
There's plenty of room to stretch out on the ProForm Carbon T7. You get a 20″ x 55″ running deck, which is ample for walking and jogging. Compare that to 18″ x 60″ on the top end 800i and you can see how there's definitely enough space for you.
It also has ProShox cushioning, as do the other treadmills in the Performance Series. This reduces impact on your joints, which means you won't have the typical discomfort after your workout. You can work out longer and harder, without the fear of post training pain.
Sleek Design
Although it may not seem like a major selling point, for many people who don't like the idea of a big, clunky piece of equipment taking up space in their home the look of Peloton's treadmills can't be underestimated.
While the Tread and Tread+ don't fold up for easy storage like many cheaper models, they are both designed to be sleek and attractive so they won't take away from the overall look of your home.
Comfortable Workout Surface
While the Tread offers a traditional running belt with 59" of running space, the Tread + increases the comfort level with a unique shock-absorbing belt made with 59 individual slats.
Not only is this slat based surface even roomier at 67", its thick, rubber coated slats provide a surface that is much closer to the feel of running on the road. This is a feature that is usually reserved for commercial treadmills found in gyms, so having it available on a piece of home equipment is a significant difference.
Other Great Features
Aside from the stand out features listed above, both the Tread and Tread+ offer a range of other features designed to make your workout experience more comfortable and flexible.
These include soft touch coating on the handrails, a polycarbonate tray with two water bottle holders conveniently place up by the handrails so you don't have to bend over, convenient on screen one touch controls for speed, incline, volume and to wake the machine or put it to sleep between workouts
The Tread features a USB-C charging port for your devices along with Bluetooth 5.0 connectivity while the Tread+ has a USB charging port and Bluetooth 4.0 connectivity.
The Tread+ also offers a Free mode that lets you move the slat belt on your own for a different feel to your workout, kind of like how the Woodway Curve works.
Are the Peloton Tread and Tread+ Worth the Expense?
With the price of Peloton's treadmills being at least $1,000 more than the closest competitor, consumers may legitimately wonder if the extra cost is really worth it. The answer really depends on the individual user and both your workout needs and your budget.
Basically, the Tread and Tread+ are the luxury models of home treadmills and some people may prefer something more budget friendly.
There are several other popular home treadmill brands, including NordicTrack, Proform, Sole and Horizon. Most of their models range in price from as little as $999 to about $1,599 as compared to $2,495 for the Tread or $4,295 for the Tread+. It's a considerable difference so it makes sense to do your homework before making your purchase.
While mid and lower level models such as the NordicTrack T 7.5 S, Nautilus T618 and Proform Smart Pro 2000 have much smaller screens than Peloton's models, they do give you the ability to participate in a range of classes with experienced instructors.
Both NordicTrack and Proform offer access to iFit, their company's on-demand workout streaming service that provides a surprisingly immersive experience, whether you're participating in a class or enjoying a walk or run on any of 1,000 outdoor courses.
The Nautilus lets you sync all of your data to their Nautilus Trainer 2 app and then export it to other workout apps including Apple Health, Google Fit or MyFitnessPal
Each of the less costly models are able to be folded for easy storage so they don't take up as much room as the Tread or Tread+, but they also have more limited user size ranges and may be less durable.
Surprisingly, many of the lower range models actually adjust speed and incline settings automatically during a workout while the Peloton models require you to make manual adjustments. Several of the other models also offer decline settings to give you the feel of walking or running both uphill and down to add another dimension to your workout, something that Peloton's models don't include.
Given the amount of money you're spending on Peloton's Tread or Tread+, it's worth noting that in order to participate in their wide range of classes you need to spend an additional $39 a month for a membership in their Peloton app, while many of the other models come with membership included, at least for a year. Many of the other models also come with extras included such as a heart rate monitor or hand weights. With Peloton's models, these extras are available separately for another extra charge.
Peloton Tread Review - Conclusion
The bottom line is that, like it's bikes, Peloton's home treadmills have much to offer but those added luxuries come at a considerable cost. This may be out of reach for some budgets and the added monthly charge may seem counter-intuitive if you're trying to forgo the extra expense of a traditional gym membership.
If you like a little extra luxury with your workout, however, then the Peloton Tread and Tread+ are definitely worth considering. Both are attractive, well built, and offer plenty of room which makes them comfortable for users of almost any size. Their comfortable belt construction makes them easy on your knees and ankles and with its unique slat construction, the Tread+ even gives you the feel of running on the ground.
If you don't mind the additional $39/month charge, the Peloton app gives you access to a wide range of workouts directly from Peloton's NYC studio that run 24 hours a day/365 days a year. That means you can tailor your workout to meet your busy schedule and still get the exercise you need. You can track all of your stats and even compete with others in the class with the onscreen leader board for extra motivation.
All in all, these are definitely high end machines with a price tag to match but they offer an equally high quality workout experience which every member of your family can enjoy.