Horizon T303 Treadmill Review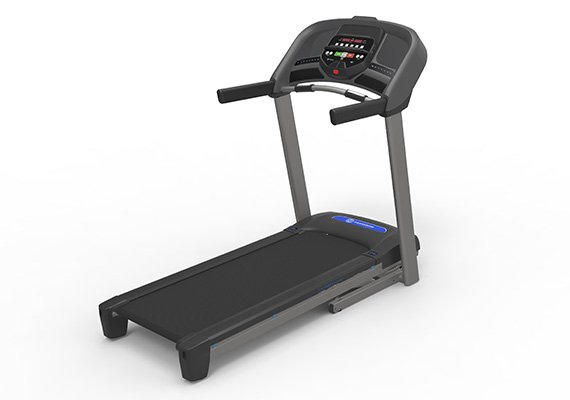 Overview
The Horizon T303 is one of the newest treadmills in the company's ever-evolving lineup, becoming the top of the line model in the popular entry-level GO Series. It joins the best-selling T101 and mid-range T202, and offers a lot of great features and capabilities, especially given the competitive price tag.
Horizon treadmills are designed for the ultimate comfort and usability, with high grade cushioning to minimize impact and joint pain. At the same time, you often find extras that competitors don't have, which is why they have become so appealing in recent years.
Let's take a closer look at the T303 with our in-depth expert review…
Specifications
Click Specifications to see detailed model info
Speed : up to 12 mph in .5 increments
Incline : up to 12%
Motor : 3.0 CHP
Frame : Steel
Belt : 20" x 60". The belt is supported by the 3-Zone Variable Response Cushioning system.
Max User Weight : 325 lbs.
Warranty : Lifetime motor and frame, 3 years for parts and 1 year labor.
Horizon T303 - Best Features
Larger Running Surface
One of the unique features of the Horizon treadmills, even the more affordable ones, is the generous size of the running deck. Just like on the mid-range T202, you get a 20″ x 60″ belt, which is long enough and wide enough for even the tallest users.
Users of all sizes can stretch out for a jog or run, as opposed to the tight space feeling you often get on lower priced treadmills.
It also has the company's 3 zone cushioning system, which gives you the ideal amount of support and give at each point of your stride. This helps you avoid discomfort, which typically allows you to train for a longer period of time.
Good Incline Capability
The Horizon T303 gives you up to 12% incline capability, which is great if you want to challenge yourself a little. The higher the incline, the harder the workout and the more you'll reap the cardio benefits of treadmill training.
Advanced Bluetooth Capability
The T303 comes with Bluetooth capability, which allows you to use the free Pro app to control the treadmill using your phone or tablet. You can also keep track of your workout stats and sync your results with fitness apps like Fitbit and Under Armour, which is a very cool feature.
If you have a wireless chest strap, you can use that as well via Bluetooth to accurately measure your heart rate. It typically gives you a better measurement than grip heart rate measuring.
Nice Workout Variety
You get about 8 diverse built-in workout to choose from, a few more than on the entry level T101 treadmill.
This includes fat burn, hill climb, 5K, distance, heart rate, calorie and interval programs, so there's plenty to choose from to make your workouts more interesting.
Of course, you can always choose manual mode and pick your own incline, but it's nice to try different programs out as you just might find something that really appeals to you.
Other Great Features
On top of all of the great features above, the T303 treadmill comes with a powerful yet quiet 3.0 CHP motor, FeatherLight easy folding capability, speed up to 12 mph, Bluetooth speakers, an, multi position tablet holder, accessory tray and Energy Saver Mode, among other extras that make it a good choice.
Horizon T303 Review - Conclusion
If you're in the market for a solid treadmill under $1000, the T303 is definitely a great option for your home gym. It's a nice step up from the T101 and T202, with tons of great features including built in workouts, Bluetooth capability, incline training, free fitness app, large running deck, advanced cushioning and much more.
It's perfect for the beginner or intermediate runner, but if you think you need a bit more you can take a look at the Studio Series, which adds even more performance and technology features. Advanced runners can look at the Elite Series, which includes the top of the line models.
The T303 is a welcome addition to the Horizon Fitness treadmill lineup, and will surely be one of their better selling models due to all that it has to offer.