Horizon T202 Treadmill Review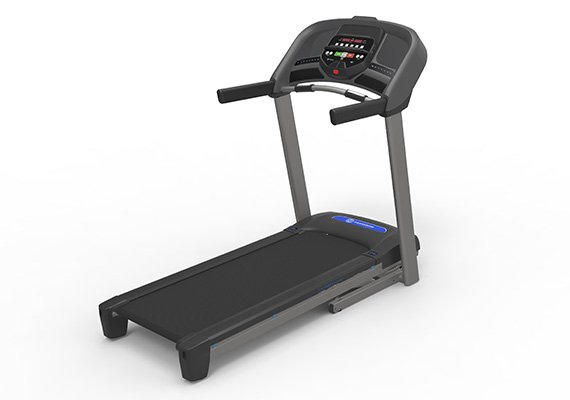 Overview
The Horizon T202 was first released in late 2018 as a 2019 model, an advanced treadmill combining the best features of the company's most popular models. Since then, it has been upgraded several times with new technology and advanced features.
With the value of the T101 and the capability of the more advanced Adventure Series, this one might just prove to be the biggest seller in the lineup.
Let's dive into our review and see what the new T202 is all about…
Specifications
Click Specifications to see detailed model info
Speed : up to 12 mph in .5 increments
Incline : up to 12%
Motor : 2.75 CHP
Frame : Steel
Belt : 20" x 60" The belt is backed by the 3-Zone Variable Response Cushioning system.
Max User Weight : 325 lbs.
Warranty : Lifetime motor and frame, 3 years for parts and 1 year labor.
Horizon T202 - Best Features
Larger Running Surface
One of the biggest upgrades on the Horizon T202 is the larger running surface.
You get a generous 20″ x 60″ deck, larger than the one found on the popular T101, as well as some of the other treadmills in the series.
This is great news for those that want more room to stretch out, especially taller individuals, without having to pay a hefty price tag to get the additional room.
Variable Cushioning System
One of the hallmarks of the Horizon brand is their unique advanced 3-Zone Variable Cushioning System.
This gives you the ideal give and support at all points of your stride, minimizing impact on your joints and creating the most natural stride for you.
Customers have always appreciate this special system, which allows them to train longer with minimal discomfort afterwards.
Nice Incline Capability
The T202 gives you up to 12% incline capability, another improvement to the T101, which gives you 10% incline.
Incline training is always a good feature to have, as it allows you to not only target additional muscle groups in the legs, but also improves the cardio workout.
If you've ever been on a stepper machine, you know what that feels like after a few minutes.
So if you can handle it, it's always good to add a little elevation to your treadmill workouts.
Note that the new 7.0 AT gives you additional incline up to 15%.
Well Priced
Despite the addition of a larger running surface, a more powerful motor and increased incline capability, Horizon kept the price of the new T202 very competitive.
It's only a couple of hundred dollars more than the T101, which is an absolute bargain for all of the added features.
New Bluetooth Capability
Previously only available on the higher end Elite T9 model, the T202 has been equipped with Bluetooth capability, a huge upgrade for the company.
Now you have a lower priced option that allows you to sync up with your phone or tablet to not only play music wirelessly, but also track and share your workouts via your favorite fitness apps.
To have Bluetooth capability on a sub $1000 treadmill is really a great thing.
Other Great Features
In addition to all of the above, the Horizon T202 is very easy to set up.
You can do it alone, or preferably with a helper, in about a half an hour.
It has one touch speed and incline controls so you can easily make adjustments while you are working out.
There's a tablet rack for you as well as USB charger, and the LCD display is easy to read and provides all of the necessary workout information.
Lastly, you get a very generous warranty…lifetime on the frame and the motor, 3 years on parts and electronics and 1 year on labor.
That's great coverage for such an inexpensive treadmill.
Horizon T202 Review - Conclusion
The new T202 is a great new addition to the lineup and definitely worth considering if you're in the market for a solid entry level machine.
It's a nice upgrade to the base T101 model, and incorporates features from the Adventure and Elite Series, yet keeps the price low…we're not sure how they're able to do that, but we're not gonna argue. 🙂
To recap you get a large running area, a strong motor, a nice max user weight capacity, great cushioning, incline capability, strong warranty and Bluetooth workout tracking.
The only drawback we see is the T202 only has 5 built in workouts, like the rest of the entry level models.
It would have been nice to see a little more variety along with all of the other upgrades.
But it's not a deal breaker for us, and you can certainly get past the smaller workout selection.
All in all, the new T202 is a great treadmill with everything you need for an effective workout.