NordicTrack X9i Incline Trainer Review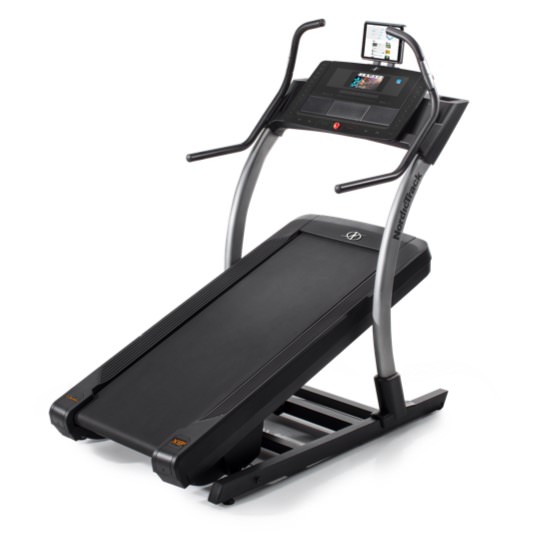 Overview
UPDATE: As of our latest review it looks like the X9i may no longer be available for sale. It is not currently featured on the company site. As such, take a look at the newly redesigned X14i if you are interested in an incline trainer.
———
The NordicTrack X9i Incline Trainer has received high praise from many industry experts and is a great option for those looking to burn a lot of calories and lose excess pounds.
The X9i has a ton of user-friendly features and capabilities, all meant to make losing weight fun and efficient. The extra long running surface in particular is a feature that distinguishes this unit from many others.
Read our full NordicTrack X9i Incline Trainer review for more information on this exciting treadmill…
Specifications
Click Specifications to see detailed model info
Speed : up to 12 mph 1-Touch
Incline : up to 40% 1-Touch
Decline : -6-0% 1-Touch
Motor : 3.0 CHP DurX Commercial Motor
Belt : 22" x 60" (wider than previous models)
Cushioning System : Reflex system
iFit Technology : iFit Coach Plus Ready
Maximum User Weight : 300 lbs/ 159 kg
Unit Dimensions : Length: 70.2" Width: 39.6" Height: 71.6"
Warranty : Lifetime for frame, motor and deck, 5 years for parts & electronics, 2 years for labor.
NordicTrack X9i Treadmill - Best Features
Impressive Enhanced Display
The full-color 7″ Smart HD touch screen displays all of your relevant workout metrics.
The console also features a browser powered by Android. You only need to connect it to your home wireless network to use it. Watch videos, post on your social pages, surf the web…whatever passes the time for you.
Advanced Heart Rate Monitoring
The X9i comes with the cardiogrip heart rate monitor as well as a wireless chest strap for more accurate heart rate readings.
Customized Workouts
The new iFit Coach Plus gives you access to a full library of customized workouts designed by personal trainers to help you reach whatever fitness goals you have.
Incline/Decline Capability
One of the most appealing features of the NordicTrack X9i is the fact that you have a full range of both incline and decline capability.
The machine inclines up to a whopping 40% and declines up to -6%, just like on the up-level X11i model, which is the closest you'll ever get to replicating an outdoor workout.
You can run or walk and achieve incredible results with both the steep incline and decline.
Other Great Features
Some other nice features on the X9i include impact-reducing Reflex cushioning, a 3.0CHP motor, generous deck size, dual AutoBreeze fans and easy assembly, as well as a generous warranty.
NordicTrack X9i Review - Conclusions
The X9i Incline Trainer from Nordictrack is a unique treadmill, and one of our top picks in the category. For under $2000 on sale, you get great functionality and great programming…
Main attraction
The USP of this as well as the other incline trainers is the 40% incline and -6% decline. Pretty great, right? Especially if you're interested in losing weight and developing muscles. The advantage with incline trainers is that you don't need to run fast to accomplish these goals.
The buzz also surrounds the iFit Coach Plus technology powered by Google Maps that is simply a great combination. You get to customize your workouts, track them and check your progress, train for higher goals and, on top of it, to run around the world. Sounds good to me.
This system replaces the User Profiles feature usually integrated in the console software. From the iFit account you can switch between users, and download personalized workouts directly in the console.
If you're a busy runner and don't have the time for your daily workout, you can always check your e-mails and do your reading while burning those calories. The Browser powered by Android can help you do that. It works smoothly, loads quickly and massively boosts motivation.
And additionally, the fan does its job perfectly.
Pros
Where to start? First off, this is a sturdy and powerful treadmill. Its motor is created for smooth, quiet and prolonged workouts, even in the fiercest conditions.
A commercial grade motor can only be joined by an equally efficient cushioning system.
The technology used by NordicTrack ensures full impact absorption across the entire running surface. We find this technology pretty much amazing.
Talking about the running surface, here we have a more than average belt, able to sustain taller and heavier users.
The X9i Incline Trainer really does accommodate every user.
The program variety is very generous, with something for everyone. You can literally change things up every single time you walk, jog or run.
It has an advanced console with touch screen, so you can easily create adjust all of the settings you want, even during workouts.
Not to mention, you get the wireless chest strap included in the price. And the warranty is outstanding.
So, does it get any better than this?
Cons
Any drawbacks? But not many. If we had to nitpick, we'd mention that at 40% incline, it does get a little bit louder.
But with iFit or whatever you are watching online, you won't really notice it at all.
iFit Coach Plus does require a yearly subscription. But, it's really not a lot of money to get a ton of great features.
Bottom Line
All in all, we totally recommend this treadmill as it is 5-stars in every way you can imagine.
Under $2000 is certainly a steal for all of the features and capability you are getting here.
The all new NordicTrack X9i Incline trainer is a winner…check it out on the company site for full specs and special sale pricing.
Also consider the up-level X11i and X22i if you want something even more advanced.