Nordictrack T 8.0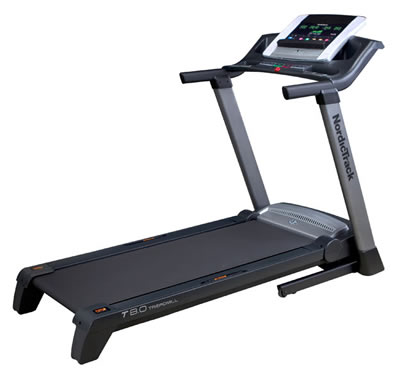 Overview
UPDATE: The NordicTrack T8.0 is no longer being sold. Check out our new NordicTrack reviews here to learn about the latest models from the company.
The T 8.0 is part of NordicTrack's new range for 2011. It's received positive reviews for functionality, sturdiness, workouts diversity and user-friendly console. Still, it's somewhat more expensive than it deserves. Nevertheless, the T 8.0 is an attractive machine, able to keep you running till the end, while maintaining yourself free from any injury.
Let's check out more about this novelty unit from NordicTrack. At the end, go to Conclusions for a more cogent overview on the T 8.0
Specifications
Click Specifications to see detailed model info
Speed : up to 12 mph 1-touch
Incline : up to 12% 1-touch
Motor : 3.0 CHP Commercial pro
Belt : 20 ″ x 60 ″ / 51 x 152 cm
Maximum User Weight : 350 lbs/ 159 kg
Cushion System : Durastride Response cushioning
Folding Options : included
Unit Dimensions : 78.8 ″ L x 35.75 ″ W x 68 ″ H/ 200 cm L x 91 cm W x 172 cm H
Warranty : lifetime for motor and frame, 3 years for parts and 1 year for labor
Features
Display Info
The LED displays keep track of speed, time, distance, pulse, incline and calories burned. The center display shows workout instructions, incline and speed of the walking belt.
There is also a ¼ mile matrix available in the Manual mode.
1-touch speed and incline buttons make adjustments easy.
Heart Rate Readings
: handlebars sensors and wireless chest strap.
You can choose out of two options, the handlebar built-in sensors and the polar wireless chest heart rate monitor (recommended).
Workouts
The T.8 comes with 18 onboard workouts of which 5 calorie, 5 intensity, 4 speed and 4 incline workouts.
To start an onboard workout, press Calorie, Intensity, Speed or Incline button. When you select the workout, the displays give you max incline, duration, distance, maximum speed and name of the workout.
Start the workout. During the program, check your progress with the displays. Measure your heart rate and turn on the fan.
If you are a fan of iFit, you'll be happy to know that T.8 also features iFit Live Workouts compatibility, but the module must be purchased separately. To use iFIT once purchased, insert iFit Live Module into the console. Select a user and then an iFit Live workout by pressing one of the iFit Live buttons. Start the workout and follow your performance as above.
The Information Mode
This mode keeps track of treadmill information and allows users to personalize console's settings. Hold down Stop while inserting the key into the console and then release Stop. You'll be shown time, distance, unit of measurement.
Stereo Sound System with iPod Compatibility
iFit Live Workouts
– compatible, but the iFit LIVE module is not included
Fan
Conclusions
NordicTrack did a nice job with the T 8.0. The console has user-friendly features that maintain workouts easy and consistent.
We acknowledge that NordicTrack put some hard work into this machine, still, not enough to justify the price. Even so, we recommend this treadmill and here is why.
Pros
We all agree that the motor is the key of the treadmill. The T 8.0 has just the motor you need, given the large running surface. Ready to back you up at any time, this powerful motor is surely worthy of a first glimpse.
Then, there is the running surface. It's large and can really entice you to maintain your workouts consistent, which means taller individuals can benefit from this machine flawlessly.
Cushioning system is also a concern when it comes to choosing your future treadmill. Luckily, T 8.0 made our workout days fairly happy. We are quite avid when it comes to workouts, which means we also need strong cushion and T 8.0 offers it. When we're done with high intensity workouts, we feel just great. No sore, no pain, only a well played game.
When I hear "1-touch" options, I hear "freedom" to maintain your workouts fluent, without worrying about incline and speed alterations, while still making all alterations you want.
Speakers are iPod compatible, which means a lot to many of us. Guilty as charged, I enjoy listening to my fav tunes, especially when the going gets damn tough and I reach high intensities. Motivation is not dismissible and music helps. A lot.
Another thing that helps me running is the cooling fan. It works miracles. Just a thin breeze and suddenly you can go on and on, running till the end. To make it all even more appealing, the T 8.0 is guaranteed for life, and you won't have to worry about the parts for 3 years. Pretty good, right?
Main attraction
iFit is catchy, and for a good reason. It totally expands your workouts range and encourages you to challenge yourself. T.8 is a killer treadmill in this department.
Also an eye-catcher is the wireless chest strap that comes in terribly handy during fat-burning workouts. It keeps you in your right zone and also offers more accurate results than the incorporated handlebar sensors.
Drawbacks
But nothing is ever perfect. The thing with T 8.0 is that it's too expensive, compared to other NordicTrack models with more complex consoles and more workouts. Sure, LED displays are easy to read, but still, the console is too simple, features are few.
All in all, for the strong motor, large running surface, quality cushioning, easy-to-use incline and speed buttons and iFit options, we do recommend the T 8.0. But only on sale.
If not, for $1500, you may want to check out other models like the NordicTrack Commercial 1750.