ProForm Pro 2000 Treadmill Review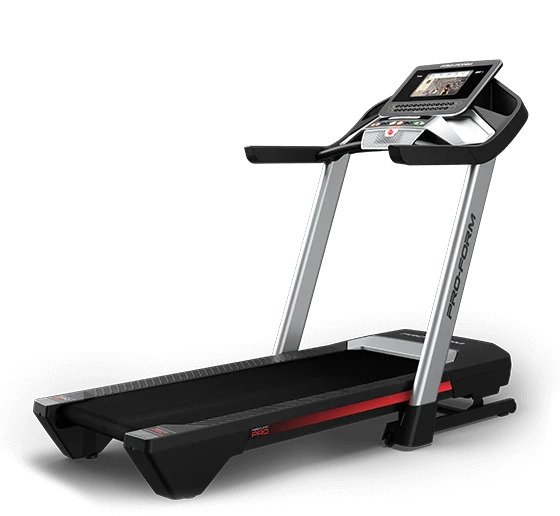 Overview
The ProForm Pro 2000 is a high-quality treadmill from the popular brand that comes absolutely stacked with great features and advanced capabilities. One of the top-rated machines in its class, the Pro 2000 is a favorite of critics and customers alike, and one of our top picks in the price category.
Some of the many unique features include both incline and decline training, SpaceSaver folding design, tons of on-demand workout programs, a large cushioned runner's deck and heart rate monitoring for accurate readings.
Specifications
Click Specifications to see detailed model info
Speed : up to 12 mph
Incline : up to 12%
Decline : down to -3%
Motor : 3.25 CHP Mach Z
Tread Belt : 20" x 60"
Rollers : 2.5" rear rollers, 1.9" front
Cushioning : ReBound Pro
Heart Rate Monitoring : EKG hand-grip sensors in the handlebars
Display : 10" Smart HD touch screen display
iFit Compatibility : iFit built in
Foldable : Yes
Workout Fan : Included
Accessory Tray : Included
Sound System : Built-in compatible music port with two 3-inch speakers
Weight Capacity : 300 lbs
Footprint : 77.3" L x 35.3" W x 59.6" H
Warranty : Ten year warranty on motor and frame, two-year warranty on parts, and one-year warranty on labor
ProForm Pro 2000 - Best Features
Built for Heavy Use
The combination of a strong yet quiet 3.25 CHP motor and a full-sized running track is a runner's dream come true.
The 20″ x 60″ tread belt offers ample space for taller/larger people to run comfortably.
The belt is supported by 2.5″ rear rollers, which not only reduce friction and noise, but also keep wear and tear to a minimum. So, the treadmill is great for heavy use and can support any type of training with ease.
For even more power you can move up to the Pro 5000 which offers a 3.75 CHP motor or the top-of-the-line Pro 9000 which offers a 3.6 CHP motor.
Incline and Decline Training
The Pro 2000 inclines up to 12% and declines down to 3%. The incline/decline feature is great for many reasons:
• It's just like running up and down a hill outside. It is a completely different experience from running on a flat surface and an excellent way to build up your cardiovascular endurance.
• It targets different groups of muscles in your lower body and improves your muscle tone greatly.
• It helps you prepare for trekking, hiking, and outdoor running competitions.
Note that most treadmills on the market do not come with decline capability, so this is an added bonus for you.
Endless Range of Workout Programs
The ProForm Pro 2000 treadmill offers you plenty of options in terms of workout programs.
For the new model year they upped the ante with even more workout program choices through iFit. You can choose from endless on-demand choices for beginners, intermediates and advanced runners.
The best part is the machine's incline, decline and speed will automatically adjust to match the program you have selected. So it's completely hands free.
In addition to being able to access the huge library of workout videos, you can track and share your workout and even work out off the treadmill with yoga, cross training, weights and more.
Heart Rate Training
ProForm Pro 2000 has hand-grip sensors in the handlebars to measure your heart rate while you train.
Accurate measurement of your heart rate allows you to stay in the perfect heart rate zone to reach your fitness goals faster.
More Great Features
Another new addition on the ProForm Pro 2000 is a 10″ Smart HD touch screen, which replaced the 7″ touch screen on the previous version.
This is a huge upgrade which gives you the convenient swiping ability that the Pro 5000 and 9000 have had.
The treadmill has a built-in music port with three-inch speakers – larger than the standard two-inch speakers available on most ProForm treadmills.
There is a CoolAire workout fan with two adjustable speed settings. There is also an accessory tray where you can keep your phone and other items.
You get a water bottle holder, premium grip handlebars, Quick controls and ProShox cushioning to reduce impact on the knees and joints.
ProForm Pro 2000 - Drawbacks
Grip Heart Rate Only
There really aren't too many drawbacks on the new ProForm Pro 2000, so if we have to mention something, it would be the lack of wireless heart rate monitoring.
But that is hardly a deal breaker, unless you absolutely need to have the most accurate measurement of your heart rate while you train. Otherwise, you'll be just fine with the hand grip measurement.
ProForm Pro 2000 - Conclusion
The ProForm Pro 2000 is a well-made treadmill with excellent features. It is powerful enough to support your training sessions, offers you plenty of options in terms of workout programs, and is very easy to use.
It truly is one of the best treadmills in its class and well worth spending your money on. You'll be hard pressed to find a better machine under $1500.