Precor 9.31
Overview
UPDATE: The Precor 9.31 is an old treadmill and is no longer available for sale. You can check out all of the latest Precor treadmills here to decide which is right for you.
The Precor 9.31 model includes the latest technologies signed by Precor. A powerful motor, a belt that adjusts to your foot stride, renowned high quality and sustained reliability confirm that 9.31 is a treadmill worth buying.
This model is from the same line as Precor 9.33 and Precor 9.35. So you have 3 different models with similar features that can offer you an identical experience.
This is a machine designed for professional runners. Stay tuned to find more about the advantages of this treadmill. Go to Conclusions for a complete impression on the Precor 9.31 treadmill.
Specifications
Click Specifications to see detailed model info
Speed : 0.5 to 12 mph (0.8-20 kph)
Incline : up to 15%
Motor : 3.0 hp continuous duty
Belt : 56 in x 22/ 142 cm x 56
Reversible Deck : Yes (the life of the belt doubles)
Belt Lubrication : no maintenance required
Shock Absorption System : Ground Effects Impact Control and Integrated Footplant Technology Systems (patented by Precor only).
Unit Dimensions : 82 in L x 34 W x 56 H/ 208 cm x 86 cm x 142 cm
Unit Weight : 335 lbs/ 152 kg
Warranty : lifetime for frame, 10 years parts, 1 year for labor
Features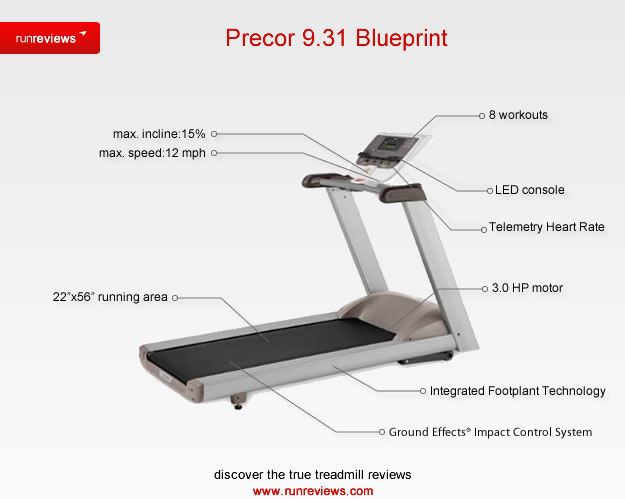 Display info
The display shows the elementary information and some extra feedback: calories, distance, heart rate, incline, decline, pace, profile, Smartrate, speed, target heart rate, time, time elapsed and time remaining.
In the Center displays, you'll be getting heart rate, program name and additional information, according to your selections.
The Lower displays cover incline and speed. You can choose which information to view in the right and left displays.
In the first column, you'll get elapsed time and time remaining. In the second column, you'll get incline.
Third column is for speed and the forth is for distance, pace and average speed. You can manipulate the display by using the keypads.
Heart Rate Readings
This model works only with the wireless chest strap.
Models 9.33 and 9.35 work with the chest strap and touch sensitive handrail grips.
Workouts
The Precor 9.31 treadmill offers 8 programs: 1 Mile, 10K, 5K, Basic Heart Rate, Interval, Manual, Random and Weight Loss. But 0 User Profiles.
Press one of the Programs keys to view the list of workouts. Press OK when decided.
If you use the weight loss workout, you must attach the wireless chest strap so the Smart Rate display is activated and you can maintain your heart rate in the FAT BURN zone.
You can change the program during a session. It's important to cool down after intense workout. You should include a cool down period after workout.
Those looking for effective cardio will enjoy the heart rate program that comes with the Precor 9.31. Just specify your target heart rate and put on the chest strap.
Your must find your target heart rate from medical documentation, based on your weight, age and personal health.
Informational Display
Conclusions
The Precor 9.31 is a rock solid treadmill with patented technologies. The Ground Eects® Impact Control (GFX®) is built to reduce the stress over your joints by absorbing the impact of your stride based on your height and weight. The Integrated Footplant™ Technology (IFT) system registers continuously your foot speed and balances the motor's speed to match the natural movements of your legs (this system is meant to reduce joints stress and improve running times).
It's definitely a model we recommend, especially if you want to buy it for a gym. If you want to have it at home, we recommend buying the superior model (Precor 9.33) because it comes with more workouts variety which you definitely need in order to train efficiently.
Many users say that this is an expensive machine, and it really is. $4,000 is not easy to spend. But the model is built for intensive usage and those who need this type of equipment, can't find cheaper alternatives.
It has an strong motor and it can go on and on without problems. We were highly impressed by this component that basically never 'tires' (a feature common on ALL Precor treadmills). This motor will run for as long as you want, at the speed and incline of your choice, with no efforts.
The belt is quite generous. With 2 inches wider than ordinary treadmills, this belt allows taller and heavier users to make use of this treadmill. Don't underestimate the additional 2 inches, it makes a notable difference.
This is a very heavy treadmill. First of all, you'll need about 2 men to take it out of the box and assemble it, and second of all, a heavy treadmill means a stable treadmill. Most serious runners will have no problems while working out on this machine. This machine is rock solid.
What we believe is a great plus is the safety feature. You can set a password that turns the treadmill on.
This keeps children safe from harm, which is something many users consider when purchasing a treadmill.
The 9.31 requires little maintenance. It's the high quality that insures a long and prolific use of this treadmill.
To back up the reliability of this treadmill, Precor offers a warranty of 10 years for parts. This insurance is more than satisfying. And experience has proven us we have nothing to worry about, as far as quality and efficiency go.
Obviously, you can't fold it. It doesn't have a fan either or a sound system. On the other hand, this is a machine for professional runners. Audio motivation is not that important when there are so many alternatives.
All in all, if you have the $4,000 this is a good buy. But first we recommend you to review the other treadmills in the over $3,000 price category so you can have a clear view of your options. More info about this unit can be found on Precor site.