Precor 9.33
Overview
The Precor 9.33 is an older model that is no longer available for sale. Check out our new Precor Reviews section for the most up to date models.
—
The Precor 9.33 Premium is one of the top treadmills on the market. This is a serious machine for serious runners. It offers innovative functions, multi-features and intense workout. All in all, you will have a fulfilling fitness experience.
But it all comes with a price. Stay tuned for more information on the Precor 9.33 and jump to Conclusions to read more about its pros and cons.
Specifications
Click Specifications to see detailed model info
Speed : 0.5 to 12 mph
Incline : up to 15%
Decline : -
Smart Rate : included
Motor : 3.0 hp continuous duty
Belt : 56 x 22 inches/ 142 x 56 cm
Reversible Deck : Yes (the life of the belt doubles)
Belt Lubrication : no maintenance required
Shock Absorption System : Ground Effects Impact Control and Integrated Footplant Technology Systems (patented by Precor only).
Unit's Dimensions : 79 in L x 34 W x 56 H/ 204 cm x 86 x 142
Power : Plug In 120 VAC/240 VAC
Unit's Weight : 335 lbs/ 152 kg
Warranty : lifetime for frame, 10 years for parts and 1 year for labor
Features
Display Info
The 9.33 has a user friendly display that allows you to follow your performance easily. It offers feedback on calories, calories/ min, distance, heart rate, incline/ decline, pace, profile, speed, target heart rate, time, time elapsed and time remaining. The center displays offer information about heart rate and program name.
The lower display controls 4 windows. The 2 center windows provide information on speed and incline. To use the left and right windows, press the Selection key. You'll be able to follow feedback as it follows:
– In column no 1 you see time elapsed, time remaining and number of burned calories
– In column 2 you see Incline and in column 3 Speed
– In column 4 the display gives feedback on distance, pace and average speed
The great thing about the 9.33 display is that you can customize your workouts with the User keys. Selecting the user allows you to track your workout statistics from one session to another. You can also insert age, weight and preferred program after selecting the user (2 user IDs included).
The programs keypad offers access to all workouts. First, choose the category and continue pressing until you reach the desired workout.
During workout, you can use the number keys to update information, adjust incline and speed.
Heart Rate Readings
The 9.33 includes the basic Heart Rate reading system and the SmartRate functionality. Both are available if you use the handrails or the wireless chest strap.
The SmartRate helps maintaining the heart rate in your target heart rate (excellent for weight loss workouts). When you use this feature, you first select you age so that the console can calculate your target heart rate.
TIP: always keep your heart rate at max 85% of your maximum target heart rate.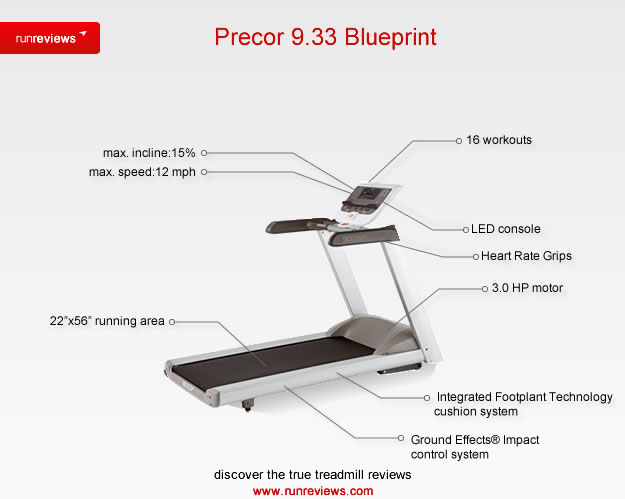 Workouts
The 9.33 comes with 16 preset workouts of which Weight Loss, 3 Walk programs, 3 Run programs, Random, Manual, Interval, Heart rate, Custom, 5K Course, 10K Course and 1 Mile.
Press one of the Programs list to recap it. Choose the workout you want to pursue and press OK. When you choose a time-based workout, there will be the time blinking in the display.
Insert a number between 0 (No Limit) and 240 minutes and press OK. If you choose No Limit, your workout will be unlimited. It's important to choose a Cool Down interval at the end. Enter your weight and your age. If you want the console to consider your personal information, press the User key.
You can record your personal best time and you can also change programs in Mid-session.
If you select User key and then press Variety key, you'll get to the Custom programs. You can set the speed and incline. These programs are time-based. Don't forget to insert a Cool Down period at the end of the workout.
This version includes Personal Best Tracking (excellent for keeping the motivation up).
Informational displays
Conclusions
The Precor 9.33 is one of the most powerful treadmills on the market. It's innovative, multi-featured and user-friendly. The fitness experience it offers is one of a kind, but it only comes with a remarkable price of $4,500. The machine is definitely worth it, but only if you can spare the extra dollars.
But before talking about the price, let's see what makes this treadmill so fantastic.
To start with the beginning, the continuous duty motor will push you to the limit. And no matter how hard you push the motor, it will remain quiet and discreet.
The highlights of this model are quite impressive, which made this model one of the top treadmills on the market. The integrated footplant technology basically measures your foot speed and adapts the belt speed to the foot speed. We were impressed by this technology, although it's not the first time we come across it (9.31 also featured this technology). It's great to have a machine that adapts to your natural stride, rather than inhibiting it.
Still, the Ground Eects® Impact Control (GFX®) is also an eye-catcher. It offers cushioning for the foot where the impact occurs, for less stress on the joints. It also offers a firm push-off and a more notable stability. For us, it's crucial to run on a treadmill that diminishes impact on joints and hips. This treadmill offers just the cushioning we need.
Every runner and jogger will find the workouts attractive. They will complete your workout, while turning your fitness experience into an amazing experience.
Another detail that had a positive impact was the touch-sensitive controls that react to your finger as it barely touches the button area. Not having to press the button in order to increase or decrease incline and speed during killer workouts is a major plus.
Moreover, you get to insert weight and age for a more accurate feedback on the number of calories you burn. This is crucial, especially for those who want to engage in consistent weight-loss workouts.
In addition, there are 2 customizable workouts that you can manipulate according to your fitness goals. And also, 2 user profiles that will help you keep track of your personal information.
Of course, this machine is not foldable, nor does it incorporate a fan. And it will take 2 or 3 persons to assemble it together.
But the greatest drawback of all is the price. $4,500 is a lot of money. Although, at the end of 2011 the price of this model dropped at $4049, which makes it a more attractive buy.
There are though other similar models that you can have for a lower price, or you can add $500 for the 9.35. Bottom line, this is a machine for serious runners. And we all know that quality pays. For more information you can visit the Precor Website.