Nautilus T514
Overview
UPDATE: The Nautilus T514 is no longer available, replaced by the new and improved T614. Check out our review here.
————-
Nautilus has been in the fitness equipment market for over 35 years. This has brought them recognition for their role in upgrading training machines to a new level. They are good at technology but also at sales and customer support.
Nautilus Treadmills are created following a verified and well documented recipe. We wanted to test it ourselves so we have scheduled a series of reviews which will be published on the blog in the next weeks.
The first review is dedicated to Nautilus T514 Treadmill. The second treadmill review is for the Nautilus T516. Ever since we discovered this brand, back in 2009, we've known only these 2 models. They have performed flawlessly for more than 4 years and we couldn't be more happy with Nautilus, even if the models don't have the most competitive features. The 'sister treadmills' are those from Schwinn (840 and 860). These follow the same pattern as the one used on Nautilus treadmills. You should check both options if you're looking for a budget home treadmill. You won't be disappointed.
Specifications
Click Specifications to see detailed model info
Speed : 0.5–12 mph / 0.8–19.3 km/h (increments of 0.1 mph or 0.1 km/h) Speed is changed through Preset Speed Keys and Speed Up/Down arrows. Preset values are: 2, 4, 6 and 8.
Inclination : 0–12% (increments of 1%) Same as speed incline is changed through preset incline keys and Incline Up/Down arrows. Present values are: 2%, 4%, 6% and 8%.
Remote Speed and Incline Controls : These controls are in fact toggle switches on the handlebars available to adjust Speed and Incline. Incline is controlled from the left handlebar and speed from the right one.
Motor : 2.75 CHP CD This is a powerful continuous duty motor.
Belt : 20" x 55" / 51 x 140 cm This treadmill has a 2 Ply Belt backed by Softrack Suspension for joint protection.
Frame : Steel
Supported User Weight : 350 lb / 158 kg
Dimensions : Length: 74" / 188 cm, Width: 32" / 81 cm, Height 54" / 137 cm, Assembled Unit Weight 205 lb / 93 kg, Folded dimensions: 39" X 32" X 60" / 99 X 81 X 152 cm, Shipping Weight 233.7 lb / 106 kg
Warranty : With this treadmill you receive a 10 year warranty for the frame, 10 years for the motor, 1 year for electronics, 2 years for parts, 90 days for wear parts.
Features
LCD Display
The display shows info like: total time, distance (km or miles), incline, pulse, calories and speed/pace.
Fan
The fan is accessible through a button on the console and includes 2 speed levels, low and high.
Remote Heart Rate
To read the heart rate there are 2 options: Contact Heart Rate (CHR) sensors on the handle bars and a Heart Rate Chest Strap Transmitter. The Console shows your Heart Rate in Beats Per Minute (BPM).

Chest Strap: has attached a heart rate transmitter so your hands are free during the workout.
A note regarding how heart rate calculations are done on a treadmill:
The maximum heart rate of a person is regularly 220 BPM during childhood. Over years the value decreases, reaching 160 BPM by age 60. The BPM is influenced mostly by stress, rather than age.
Endurance training influences the value of your BPM: while a typical adult may have a rest heart rate at 72 BPM highly trained runners may have 40 BPM or lower. The heart Rate Table is an estimated value of the Heart Rate Zone depending on individual characteristics and at what value the training enables fat burn and improves the cardiovascular system.
The procedure recommended for fat burning is to start slow and increase intensity until the heart rate reaches 60-85% of your maximum heart rate. To burn fat keep this pace for 20 minutes or longer. The graph available on this machine and on any other treadmill is just a recommended target heart rate value based on your age but to confirm your individual level, visit your physician.
Workouts
Quick Start (Manual Program) – 99.59 minutes duration
6 Profile Programs: 2 Challenge, 2 Intervals and 2 Hills
Calorie Goal
5K Course
10K Course
2 Custom User Programs
Heart Rate Controlled: Target HR, 65% Max, 75% Max, 85% Max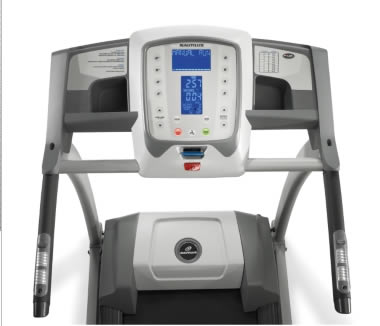 User Setup
(2 users)
This feature allows saving individual user data: age, height, weight, sex values that will remain in the console memory for future workouts.
Folding treadmill
You can fold the treadmill manually with the aid of the hydraulic lift. Correct position to do this process is to bend your knees and keep your back straight.
Water bottle holder, magazine rack
Conclusions
Nautilus T514 is a heavy but solid treadmill. From the steel frame to the belt, every detail suggests that this machine is meant to resist high usage. But it's heavy, so we recommend having a second friend at hand when it's shipped in or when you want to move it around.
Dimensions are large, designed to support tall and heavier persons, so be sure you have the proper space for usage and storage when ready to order it.
Once you go over the shipping and assembling phases, you can plug in the cord and start using the machine. But the treadmill has security settings that must be met, like the power source so be sure you read the User Manual first.
Once it gets going, you'll find intense pleasure in using this machine. The feature that may bring you the highest pleasure is that you can run a mile in 5 minutes, marathon speed. This is because the motor is powerful enough to allow you quick speed change and stable running surface.
What we like also is the variety of workouts, especially the Heart Rate programs. As you read above, using the Heart Rate programs correctly you have the highest chances to follow an efficient weight loss exercise routine.
The heart rate readings through the handle bars are not very accurate (most machines have the same fault) but Nautilus includes the Chest Strap which is pretty good. It is uncomfortable to use one chest strap for more than 1 person but either way, it's an advantageous tool and recommended to be used while doing treadmill workouts.
The warranty is pretty weak. At first glance it made us raise some questions about the quality of this machine keeping count of such limited warranty values. The brand guarantees though for the quality of this treadmill. Putting in balance all these details, plus the price listed it all sums up to decent price/value equilibrium.
We also recommend buying a lubricant for good maintenance purpose.
And as a final note, the belt is powerful, long and well supported by the Soft Track suspension to ensure proper joint protection.
As a conclusion we have high hopes for Nautilus products. T514 has raised our interest to test more treadmills from this manufacturer. We recommend it to anyone interested in having at home a powerful Cardio training machine.