Nautilus T516
Overview
UPDATE: The Nautilus T516 is no longer available, replaced by the new and improved T616. Read our latest Nautilus reviews here.
————-
Nautilus T516 and Nautilus T514 are the only 2 treadmills ever built and sold by Nautilus. This review was published in 2009 and we've stayed in contact with the owners of the treadmills for all this time.
They confirm that both machines have performed flawlessly for more than 4 years and they couldn't be more happy with Nautilus, even if the models don't have the most competitive features. The 'sister treadmills' are those from Schwinn (840 and 860).
These follow the same pattern as the one used on Nautilus treadmills, since they are both built by the same manufacturer. You should check both options if you're looking for a budget home treadmill. You won't be disappointed.
This treadmill is a training machine dedicated for home use only. Its features are slightly improved than those its little brother has, while the price is almost the same. You can purchase the treadmill with discount at around $1,300 (excluding shipping costs).
For the purpose it has been built (to be a home training machine for regular runners), Nautilus T516 is a good and powerful treadmill. It can easily fulfill its purpose and create an enjoyable training environment.
Find more details about our experience in the conclusion of this review.
Specifications
Click Specifications to see detailed model info
Speed : 0.5–15 mph / 0.8–24.1 km/h (increments of 0.1 mph or 0.1 km/h) Same on T514 speed is changed through Preset Speed Keys and Speed Up/Down arrows. Preset values are: 2, 4, 6 and 8.
Inclination : 0–15% (increments of 1%) On this model you also have preset incline keys and Incline Up/Down arrows. Preset values are: 2%, 4%, 6% and 8%.
Remote Speed and Incline Controls : You control toggle switches on the handlebars available to adjust Speed and Incline. Incline is controlled from the left handlebar and speed from the right one.
Motor : 3.2 CHP DC T516 has a more powerful motor than its predecessor. This is also a continuous duty motor.
Belt : 20" x 58" / 51 x 147 cm , Same as his little brother (T514) this treadmill has a 2 Ply Belt backed by Softrack Suspension to protect your joints during workout. The belt is 1.6 mm thick and long enough to support also tall runners.
Frame : Steel
Supported user weight : 350 lb / 158 kg (this is the same value as on the T514 model).
T615 Dimensions : Length: 78" / 198 cm, Width: 34" / 86 cm, Height: 54" / 137 cm Assembled unit weight: 220.5 lbs / 100kg, Folded dimensions: 41" X 34" X 65 1/2" / 104 X 86 X 166 cm, Shipping weight: 253.5 lbs / 115kg
Warranty : You receive a 15 year warranty for the frame, 15 years for the motor, 2 year for electronics, 2 years for parts, and 90 days for wear parts. This is a better warranty than that offered for the T514 model.
Features
2 Blue Backlit LCD Display
How to interpret some of the data listed on the LCD display:
Program Display: shows the name of the program you selected. The dot-matrix area shows the course profile for the program. Each column in the profile is an interval (an interval represents 1/12 of the total program time). The flashing column is the current interval.
Total Time: time counted during the workout. Maximum time counted (during a manual workout) is 99:59 minutes.
Distance: counts and shows the distance done during the workout (data are displayed either in km or miles).
Pulse: shows the heart rate in beats per minute (BPM) from the heart rate monitor (HRM).
Fan
The fan is accessible through a button on the console and includes 3 speed levels.
Heart Rate readings
hrough Contact and Chest Strap (telemetry)
The following options are available for both T516 and T514 Nautilus models: Contact Heart Rate (CHR) sensors on the handle bars and a Heart Rate Chest Strap Transmitter. The Console shows your Heart Rate in Beats Per Minute (BPM).
Chest Strap: has attached a heart rate transmitter so your hands are free during the workout.
Important note about how to take care of the chest trap:
You must always remove the transmitter before cleaning the chest strap. Cleaning is done with mild soap plus water, and then thoroughly dry it. This must be done on a regular basis because sweat and moisture keep the transmitter active and drain the battery in the transmitter.
Workouts
Quick Start (Manual Program) – 99.59 minutes duration
9 Profile Programs: 3 Challenge, 3 Intervals and 3 Hills
Calorie Goal
5K Course
10K Course
3 Custom User Programs
Heart Rate Controlled: Target HR, 65% Max, 75% Max, 85% Max
Body Max Index (BMI)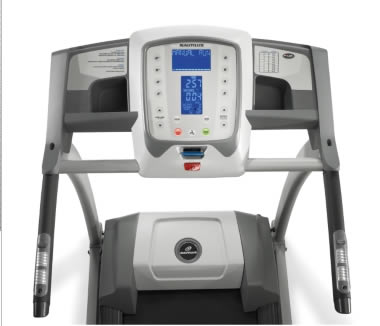 What does the BMI program do?
Body Mass Index (BMI) is a valuable instrument that uses the ratio of height and weight to estimate the percentage of body fat and associated health risk. To use this program you must first establish your User Profile and enter the data requested. After you set your User selection, go to the BMI program and push ENTER/RESET. The program calculates your BMI value.
This table gives a general rating and BMI score:
BMI
Underweight – Below 18.5
Normal – 18.5 – 24.9
Overweight – 25.0 – 29.9
Obesity – 30.0 and above
Note from the manufacturer: The program may overestimate body fat in athletes and others who have a muscular build. It may also underestimate body fat in older persons and others who have lost muscle mass.
User Setup
Folding treadmill
Same as T514 you can fold the treadmill manually with the aid of the hydraulic lift. The correct position to do this process is to bend your knees and keep your back straight.
Water bottle holder, magazine rack, transport wheels
Conclusions
Nautilus T516 Treadmill is a pretty large machine. Before deciding to order it, make sure you have space to store it in your home. For a safe operation, allow a workout area of minimum 201" x 71" (5.1m x 1.8m).
As stated at the beginning we had the chance to test also the T514 model and we noticed this treadmill has some additional parts and features than its predecessor. For example T516 has 2 Side Covers and 1 Rear End Cap.
You get more workouts which include the BMI program. This is very useful for those interested in losing weight.
You get better incline, speed and a more powerful motor.
You also get a larger belt (although this implies you get a heavier and bigger machine). This is why you still must assemble the machine with a 2nd friend.
The advantage is the treadmill has wheels. So it's easier to move around (although it's not a piece of cake).
We like the heart rate readings (especially the chest strap). They are pretty accurate and very useful to monitor your heart beat during intensive workouts.
By the way, we are not doctors or specialists but we would like to make a recommendation for all those treadmill users out there. Consult a physician before you start an exercise program and stop exercising if you feel pain or tightness in your chest, become short of breath, or feel faint. One of our closest friends followed this recommendation when he felt some chest pains during his daily workout and that is why now he's safe and sound, ready to continue training.
For a basic training machine Nautilus T516 is a good choice. Still we would like to point out a detail it doesn't have which for some of you matters. This treadmill doesn't have any entertainment features.
As a concluding note we've had a very pleasant experience while testing this Nautilus Treadmill. It comes with all the workouts you need, no matter if you want to use this machine for fitness, weight loss, heart rate control or build resistance.