Livestrong LS7.9T
Overview
Johnson Health Tech is no longer selling exercise equipment under the LIVESTRONG name. For comparable treadmills read our Horizon treadmill reviews.
This review is the forth and the last available in the Livestrong treadmills series from 2010. Before this review we tested LiveStrong LS9.9T (a very good treadmill for $1000), then we reviewed LiveStrong LS12.9T (a little more featured but still at an excellent price – $1300) and the LiveStrong LS16.9T (the highest priced in the series and the most featured which you buy for $1700′).
The LS7.9T is the first model and a low-budget treadmill at the same time that incorporates basic, yet worthwhile features.
Read more about the LS7.9T and go to Conclusions to see more about our experience.
Specifications
Click Specifications to see detailed model info
Speed : up to 12 mph There are 12 Quick Buttons available on the console to control speed.
Incline : up to 12% Same as for speed there are 12 Quick Buttons available on the console to control incline.
Motor : 2.5 CHP
Belt : 20 "x 55 "/ 51cm x 140cm The belt is backed by the same 3-zone cushion system as on all the Livestrong treadmills.
Maximum User Weight : 325 lbs/ 147 kg
Unit Dimensions : 70 "Length x 36 "Wide x 60"Height/ 178 cm L x 91 W x 152 H
Unit Weight : 183 lbs/ 83 kg
Warranty : lifetime for motor and frame, 2 years for parts and 1 year in-home labor
Features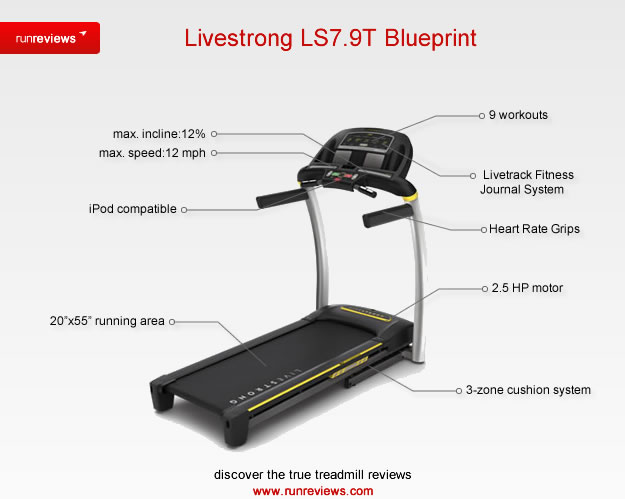 Display Info
The display offers the information you need in order to keep track of your workouts: incline, time, calories, heart rate, distance and speed.
In addition, you can keep a fitness journal with the Livetrack Fitness Journal System. This feature can be quite stimulating.
Heart Rate Monitor
Only Contact Grips
Use the contact grips for heart rate readings that the console will display during workouts. There is no wireless chest compatibility, but it's natural for the price paid.
Workouts
The console offers 9 workouts such as:
* Manual
* Weight Loss
* Power Walk
* Walk/ Run
* Incline
Select your workout by using Increase/ Decrease. Set your goals and start specific workouts in order to reach them. Start the workout and don't forget to monitor your performance with the display.
The Fitness Journal will be your on-going workout data collection and you'll soon see its perks.
Fitness Journal
When activated the Fitness Journal stores information about your workout.
For example, you can check the last workout details (average incline, total time, total calories, total distance and average speed). The same information you have for average workout and total workouts.
Fan
Folding Options
Sound System
Conclusions
This $800 treadmill is a good treadmill with an attractive pack of features and programs. Still, problems may appear, as it happened to us. We fixed them easy though.
We recommend LS7.9T only for light jogging workouts and walking exercises.
Let's start with the pros.
It's worth mentioning that not any user can work out on this machine, only those who weight less than 325 lbs and who feel comfortable on a 20 "x 55 " belt. This is not an uncomfortable running surface, but those who need more space can go for LiveStrong LS12.9T that has a 60″ long belt. Of course, for more money.
The console is well designed and easy to use. It doesn't look cheap. It actually looks really good. And it has this really nice advantage, the Fitness Journal. It's great to be able to track data of your performance and this way, improve your workouts. This is not a common feature for budget treadmills.
You can listen to your favorite music on your MP3 or iPod. This is the basic entertainment and speakers work really well.
You can use maximum 12% maximum incline and 12 MPH speed, as long as you keep them averagely intense. This is not the strongest motorized machine.
As far as disadvantages go, you should know that the belt may go loose. It happened to us and it was quite desolating. It made us doubt our decision, but afterwards we got it fixed and it went smoothly.
Also, the deck is smaller than on other treadmills, such as Livestrong LS16.9T. And the programs selection only gathers 9 workouts, that don't have some of the important extras, such as inserting weight and age for specific feedback.
For a low-budget machine, this is good equipment that you will find quite enjoyable. For more details you can visit the official page.