Livestrong LS10.0T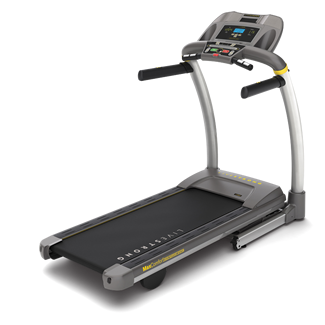 Overview
Johnson Health Tech is no longer selling treadmills under the LiveStrong name. Check out their Horizon brand for similar offerings.
The LIVESTRONG LS10.0T Treadmill has made serious waves since it was launched on the market.
For only $1000 Livestrong has decided to improve their offer with a new advantageous treadmill (which from our point of view is the alternative version of the LiveStrong LS9.9T Treadmill).
The quality, the generous array of features and programs, plus the extra looks have placed this model on the best buys list of the moment.
Check out more about this $ 1000 model and go to Conclusions to see if this machine is what you've been waiting for.
Specifications
Click Specifications to see detailed model info
Speed : up to 12 MPH (1 touch options) Speed can be controlled from the handles also through the up/down arrows available.
Incline : up to 12% (1 touch options)
Motor : 2.75 CHP
Belt : 20 " x 55 "/ 51 x 140 cm The belt is backed a slightly improved cushion system compared to Livestrong LS9.9T Treadmill model.
Maximum User Weight : 325 lbs/ 148 kg
Unit Dimensions : 74 " Length x 36 " Width x 58 " Height/ 188 x 91 x 147 cm
Warranty : lifetime for frame and motor, 3 years for parts, 1 year for in-home labor
Features
Display Info
There are only 2 windows available on the console. Use the Change Display button to see different workout information while exercising.
The console includes details about the following: remaining time, distance in miles, incline, speed, total number of burned calories, heart rate, and also Livetrack information when Livetrack is activated.
In the Setup mode, you can manage date and clock settings. Use the arrow keys to make your selections and review them by pressing Enter.
The impressive feature of this console is that it incorporates a Livetrack Interactive Program that you'll find really useful. You can use this USB to track your workouts on the Livestrong website, receive training advice and also enjoy the Livestrong cardio programs.
You can save your personal data on the USB and then transfer it to PC or MAC. When updates are available, you can update the software of your treadmill.
And to boost your motivation, you have access to a Livetrack fitness journal. You can save a workout only when the program has ended, the console is in pause mode or you're holding the Stop button to reset the console.
Heart Rate Readings
Use the contact grips for heart rate readings.
Workouts
The LS10.0T offers 12 programs of which Manual, Speed Intervals, Peak Intervals, Weight Loss, Rolling Hills, Foot Hills, Mountain Climb, 5K- 10K, Pacer and a Custom program that you can manage to create your own workouts. As a note, the workouts selection is identical as on the Livestrong LS9.9T model.
The Speed Intervals and Peak Intervals are great for improving strength and endurance, due to alternating speeds and inclines. You can lose the extra pounds by working out in your fat burning zone.
If you're looking to improve stamina and muscle tone, go to Rolling Hills. This is great cardio workout.
And if you want to make it even more intense, just create your own workout, according to your personal requirements.
For the custom workouts set-up follow these steps. Select 'Custom' using the arrow keys, select your weight, time, speed, incline desired then start your program.
Up to 2 users can use the custom/save workout system.
The Livestrong Interactive feature will help you keep track of your progress and help you improve your weaker performances and maintain the progress.
LiveTrack Interactive
see more details in Livestrong LS13.0T Treadmill Review
Insert the USB stick in the console. Use the +/- programming buttons to select 'save workout'. Then use the same buttons to select which user's info you want to save. Only the last 5 workouts info will be saved to the USB. Once the save process is complete, insert the USB in your PC.
You must go to livestrong.com/equipment to login and copy your workout.
From Livestrong website you can copy more workouts designed by Peter Park (a well known personal trainer). Use the same USB to copy the workouts.
To download a program to your console, you use the same +/- Programming Buttons and select Download option
The steps are easy to follow.
Fan
Folding Options
Speakers
Conclusions
We definitely recommend LIVESTRONG LS10.0T Treadmill
to any one with a limited budget. It was built to last and also to save the space when it's not in use, but it has even more to offer once you start using it. So, stick with us to see why this is such a worthy machine.
The motor is meant to keep you on the running track. It is durable, powerful and can support heavy users up to 325 lbs. The trick is that the cushion system and the belt are meant to keep up with any weight.
A very pleasant feature that Livestrong has been promoting for a long time now is the Livestrong Interactive feature. You can download the latest training programs from your own membership account and you can keep track of your workouts with the help of the USB. This type of interactivity is not new, but you will not find it on another $1000 model for sure.
Another key feature is the electronic fitness log that you can use to keep accurate track of your progress. The history includes current workout, average workout, last workout, weekly goal, weekly total and lifetime total. This is also a rare feature on $1000 treadmills.
The display has nice aesthetic lines and makes the entire treadmill look good.
As far as programs go, you can choose out of 12 motivating, differential programs. And the options are unlimited if you consider the LiveTrack Interactive model.
The Sound System works very well for this model.
And most important of all, when you're done training, you can fold the machine to save the space. Though the lifting process may be hard
We also like the warranty, 3 years for parts and1 year for in-home labor. This is a convincing offer for a $800 treadmill.
The quality is impressive, the features are innovative, insurance is satisfactory and the money won't make you rethink the situation. This is a great treadmill, accessible and suited for those who seek performance. For price and other info you can check the official page.