Horizon CT9.1 (Discontinued)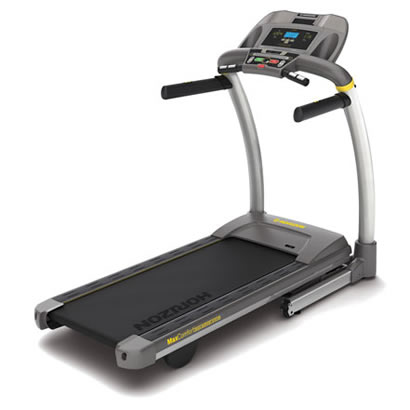 Overview
UPDATE: The Horizon CT9.1 is no longer available for sale. Check out our main Horizon page for reviews of the latest models.
—–
The Horizon CT9.1 offers necessary features for consistent runners. It combines program diversity and quality cushion system. But the reality is that Livestrong 13.0T is almost half the price and is similar, yet has more pros than the CT9.1.
This unit is available exclusively at Canadian Tire, which is something you should keep in mind if you decide on this model.
In the meantime, check out the CT9.1 and go to Conclusions for a broadened perspective on what this treadmill can and can't do for you.
Specifications
Click Specifications to see detailed model info
Speed : from 0.5 to 12 mph
Incline : up to 12%
Motor : 2.75 CHP
Belt : 20 x 55 inches/ 51 x 140 cm
Cushioning system : MaxComfort
Maximum user weight : 325 lbs/ 147 kg
Unit dimensions : 74 inches L x 36 W x 58 H/ 188 cm L x 91.4 W x 147.3 H
Warranty : lifetime for frame and motor, 1 year for parts and labor
Features
Display info
This treadmill comes with 2 large yellow-green LED windows that show feedback on time, distance, incline, speed, calories and heart rate. It also features an eTrack LCD display that allows users to track their fitness progress electronically.
You'll get information on Personal best, last 5 workouts and workout totals. The console includes eTrack controls, a Programming button, Speed/ Incline quick keys, a Fan key, a Change Display button and all other buttons that every treadmill incorporates.
Heart rate readings
Workouts
This console offers 12 programs and 2 journal profiles. Programs are Manual, Speed Intervals, Peak Intervals, Weight Loss, Rolling Hills, Foot Hills, Mountain Climb, 5K/ 10K, Pacer and 2 customizable programs.
To start any of these workouts, first select a user (User 1, User 2 or Guest) by pressing the Programming Button. Use Programming Button, Arrow Keys or Number Keys until you get to your program and press Enter. Press Start when you're done programming. Set the clock and date so that you can monitor your
progress easily.
Speed Intervals can be used by users who want to improve strength and endurance. Weight Loss offers users with weight problems the possibility to lose weight quickly and efficiently. Rolling Hills is good for stamina, muscle tone and weight loss. And if you feel like it, you can customize your workouts to meet your exact needs.
eTrack Fitness Journal
This is a feature that helps users keep track of their progress in time, this way increasing their performance.
Incorporated Sonic Surround speakers
Folding options
Fan
Conclusions
With no ups and downs, the CT9.1 is a treadmill that we do not, I repeat we do not recommend. It has its advantages, but the Livestrong 13.0T is almost half the price and has more pros than the CT9.1.
Pros
The motor is powerful and helps you keep a fast pace. But the LS 13.0T has a more powerful motor and allows users to outdo themselves.
The belt is reasonable. We felt comfortable during our workouts. But a heavier user can't take advantage of this unit, unlike the LS 13.0T that has a longer belt, therefore more comfortable.
The display is user-friendly and makes it easy for us to check our feedback, especially since there is a Change Display button that allows you to check the desired information.
There are Speed and Incline quick keys, so it's easy to alter speed and incline during tough workouts, which is always an advantage. The array of workouts combines many types of challenges, depending on what your needs are.
We must admit, working out on the CT9.1 is quite intense and we feel we're making progress. And the cushioning system does its thing, so our bodies feel like new at the end. Still, Livestrong LS 13.0T has 2 more workouts, which can make the difference.
Main attraction
The eTrack feature is quite helpful. It's effective to monitor your progress over time. It makes you more aware of your performance and motivates you.
Drawbacks
But on the other hand, the LS 13.0T has a log of its own. It's called Livetrack Interactive System, and not only it tracks your overall performance, but also allows you to download it on the Livestrong website.
Another problem is that it's extremely heavy, so you better do a month of training before taking this unit out of the car and into your house.
Livestrong 13.0T is $ 1100 cheaper and has a more powerful motor, a larger belt, more workouts and more user-friendly features.
All in all, we don't recommend this treadmill, especially since it's guaranteed for only 1 year on parts and labor. Livestrong 13.0T is much better, much cheaper and more aesthetic, which does count.