ProForm XT 70 Incline Trainer (Discontinued)
Overview
UPDATE: ProForm no longer offers Incline Trainers. Check out NordicTrack to see the top incline treadmill on the market.
The XT 70 Incline Trainer is the entry-level treadmill in ProForm's ProShox series with a nice pack of advantages that users will find appealing, but also with a serious set of disadvantages that might make other models in the line a bit more appealing.
Check out our description of the XT 70 and then go to our conclusion for a wider understanding of this unit.
Specifications
Click Specifications to see detailed model info
Speed : up to 8 mph Quick Speed
Incline : up to 10% with 1 user-friendly adjustment to 20%
Motor : 1.75 CHP Mach Z
Belt : 18 x 55 in/ 46 x 140 cm
Absorption System : ProShox
Folding Options : -
Maximum User Weight : 325 lbs/ 147 kg
Unit Dimensions : 61.5 in L x 32.7 W x 59.7 H/ 156 cm L x 83 W x 151 H
Warranty : lifetime for frame, motor, 2 years for parts and 1 year labor
Features
Display Info
The Grafixx LCD display offers multiple displays for users to check workout feedback easily: elapsed time, walked/run distance, no. of vertical feet you've climbed, speed, pace, approx no. of calories burned per hour, approx no. of calories burned.
Heart Rate Readings
Workouts
The XT 70 comes with 16 preset workouts, of which 8 are walk workouts and 8 run workouts.
To start a preset workout, use the increase/ decrease buttons next to the Enter button and highlight Workouts. Press Enter. Then, press increase/ decrease to highlight the desired workout category and press Enter. You can also press Walk or Run. Once the workout is selected, the display will offer name, duration, max speed setting, suggested incline and a profile of speed settings of the workout.
Now, you can adjust the incline level and shock cylinder firmness and then you can enter your weight. Start the workout.
This incline trainer is iFit compatible, but the module must be purchased separately. Once you buy it, to use the iFit feature, use increase/ decrease buttons next to Enter and highlight Ifit training. Press Enter.
Information Mode
With this mode, you can keep track of total distance and total no of hours the belt has moved. Hold down "Stop" for a few seconds and then release.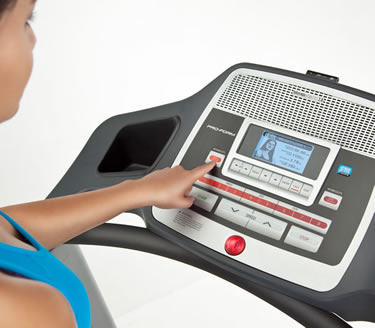 Stereo Sound System with iPod Compatibility
iFit Compatibility
included, but the module must be purchased separately
24 ProShox Intensity Levels
You can customize your workouts and cushioning level. You can opt for a firmer or a lighter cushion.
Conclusion
The XT 70 incline trainer has its good sides, but also several bad sides. There are other incline trainers with more features, more diversity, more user-friendly design that come for the same price. So no, we don't really recommend the XT 70 and here is why.
Pros
Let's get this clear: you will never run on the XT 70. Not because we say so, but because you will not be able to. The motor is powerful enough for walkers and joggers and those who are into high intensity workouts, but for runners not so much.
The cushioning technology is something we are quite fond of. It's adjustable and adjusting the cushion is easy. It's nice to be able to set the cushion as light and as firm as you want, according to the workout that you want. So yes, big ups for ProShox, if you do not weigh over 140-150 lbs.
If you are determined to shed those extra pounds you've been complaining about lately, you can do it on the XT 70, successfully that is. Compared to a typical treadmill, this incline trainer (and incline trainers in general) helps you burn 4 times the number of calories burned on a treadmill. Incline trainer fans know that walking at an incline is a highly effective way of losing weight. Here you have 20% incline to use and abuse.
Also, you get the advanced iFit technology (but for additional costs), the iPod compatibility, a convincing warranty package and a nice advanced display.
Main Attraction
I must say the buzz revolves around the cushion system. It's really that good. Then, the iFit feature is a nice kicker and in addition, a nice pair of speakers give you the entertainment.
Drawbacks
Even so, the belt is narrow. Who wants a narrow belt? This is a problem itself, but even more since the competition offers much larger space for the same money.

The incline is not the greatest. You have no chance of using this incline trainer as a treadmill, because you have no 0%. The incline jumps from 10 to 20%, just like that, so you'll have no 12% or 15% or anything in between 10 and 20. Plus, you will have to dismount the machine to go to 20% incline.
The motor is too small and one other thing that surprised us totally unpleasantly was some iFit issues. It doesn't run smoothly.
If you have $1,500 in your hand and don't know what to do with it, either go for other ProForm incline trainers or put your money in the bank. Whatever you do, don't buy the ProForm XT 70. Quality, functionality and overall performance are not user friendly. At all.
What's the bottom line? Although it has some good features, there are much better choices in the ProForm family.
**UPDATE** The ProForm XT70 is no longer available for sale. It has been replaced by all new models that seem to fix all of the issues we have with this machine. Check out all of the new ProForm treadmills here and decide which one is right for you. The motors are now more powerful, the belts wider, and you have both incline and decline on comparable models.