ProForm SMART Pro 5000 Treadmill Review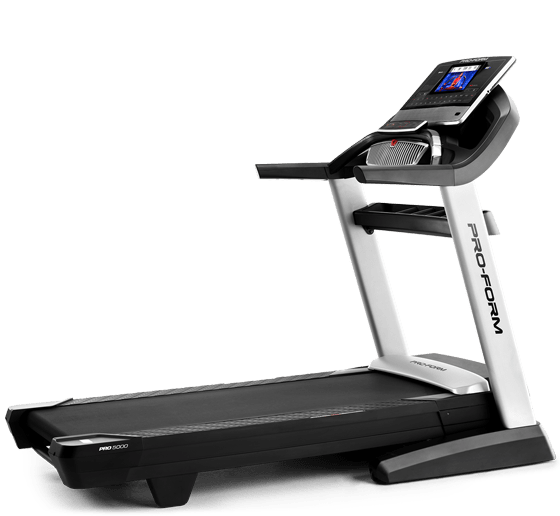 Overview
UPDATE: It looks like the Pro 5000 has been discontinued as of 2021. For a comparable treadmill take a look at the ProForm Pro 9000, which has everything the 5000 had plus a larger touch screen and more advanced features.
——————
The ProForm Pro 5000 is one of the newest treadmills in the company's lineup, joining the 2000 and the 9000 as the mid-range machine in the popular Pro Series.
It features more gym-quality construction than the other models, as well as better cushioning and the ability to incline as well as decline, something you just don't find on treadmills in this price range.
Because of all of the great features and capabilities, it's one of our top rated machines for home use.
Let's take a closer look at the relevant specs and learn more about this machine.
Specifications
Click Specifications to see detailed model info
Speed: : up to 12 mph
Incline: : up to 15%
Decline: : up to 3%
Motor: : 3.75 CHP Mach Z Commercial Grade
Tread Belt: : 22″ x 60″
Rollers: : 2.5″ rear rollers
Cushioning: : ProShox
Heart Rate Monitoring: : EKG hand-grip sensors in the handlebars and Polar wireless chest strap
Display: : 10″ Smart HD full color touch screen
iFit Compatibility: : iFit Ready
Foldable: : Yes
Workout Fan: : Included
Accessory Tray: : Included
Weight Capacity: : 300 lbs
Footprint : : 79″ x 39.15″ x 71.4″
Warranty: : Ten years on motor and frame, two-year parts, and one-year labor
ProForm SMART Pro 5000 - Pros
Incline/Decline Capability
One of the most appealing aspects of the ProForm Pro 5000 as well as the other models in the series is the incline and decline capability.
You can go up to 15% incline, which is better than the typical 10 or 12%, and you can also decline up to -3%. It's nearly impossible to find decline treadmills in this price range, so to get it at under $1500 is a real treat.
As you might be aware, incline and decline allow you to target all different muscle groups, which greatly enhances the effectiveness of your workouts.
iFit Technology
Just like its little sister, the Pro 2000 treadmill, the 5000 has a web-enabled touchscreen, so you can use the included iFit right on the machine itself rather than having to use your tablet or smart phone.
This is a full suite of tools including additional physical trainer designed workout programs on top of the 38 already built into the machine.
You can also track, monitor and share your results to help you reach your fitness goals more effectively.
But perhaps the best part of iFit is the Google map integration…you can choose a destination anywhere in the world and watch it right on the machine.
The SMART Pro 5000 automatically adjusts its incline and decline to match the terrain you choose…a very cool feature that never gets old.
Heart Rate Monitoring
Like the rest of the Pro series including the top-of-the-line 9000 model, you get heart rate monitoring so you can stay in the ideal range throughout your workout.
Note that the Pro 9000 comes with wireless heart rate monitoring and an included chest strap, something the Pro 5000 and Pro 2000 do not have.
More Great Features
In addition to everything above, the ProForm Pro 5000 gives you easy folding capability, iPod compatibility for your music, dual fans, an adjustable tablet holder with Device Grip technology, accessory tray, and a powerful yet quiet 3.75 CHP commercial runner's motor.
There's nothing really lacking on this machine.
ProForm SMART Pro 5000 - Cons
There aren't many negatives to point out on this machine.
It seems to hit all the right marks, with loads of features and capabilities for a very affordable price.
The only thing we might ask for is wireless heart rate capability, which tends to be more accurate than the grip version. But that's really not a deal breaker at all.
ProForm SMART Pro 5000 Review - Conclusion
The new Pro 5000 from ProForm is a great addition to the lineup, with tons of nice features such as incline, decline, iFit, cushioning, professionally-designed workouts and more.
You get things you just don't find elsewhere, even on much more expensive treadmills.
Sure, it's not of the same quality as high-end brands such as Precor or Life Fitness, but keep in mind you'll pay nearly twice as much for those machines.
For the home user who wants a versatile treadmill with loads of motivational features, the Pro series is definitely the way to go.