ProForm Power 995 (Discontinued)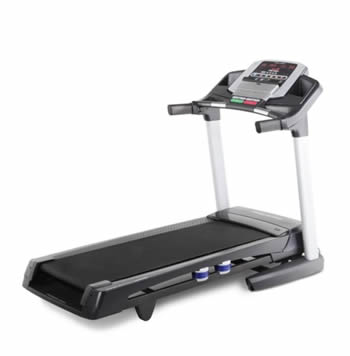 Overview
The ProForm Power 995 is no longer being produced. Click here for reviews of the newest ProForm treadmills on the market.
The 2011 ProForm Power 995 is the new and improved version of the 2010 model. Although it is not dramatically different from the former treadmill, it does incorporate some attractive tricks, innovative technology and all for a decent price of $1,000.
Check out the new 995 model, see how it works and what it has to offer. Finally, skim through Conclusions for a more accurate view on this treadmill.
Specifications
Click Specifications to see detailed model info
Speed : up to 12 mph
Incline : up to 15%
Decline : -
Motor : 2.75 CHP Commercial Plus
Belt : 20 x 60 inches/ 51 x 152 cm
Cushion System : ProShox Elite 2
Folding options : EasyLift Assist
Unit's Dimensions : 70 inches L x 34 W x 59.5 H
Warranty : lifetime for motor and frame, 3 years for parts and 1 year for labor.
Features
Display Info
The Power 995 offers the perk of reading feedback easily with the multiple window LED display. Feedback information regard speed, incline, distance, time, pulse and calories burned.
The display offers a ¼ mile track that lights up as you work out. Each info is affiliated to its own display. Beside the main displays, there is a centered display that shows workout instructions, speed of the belt and incline. iFit Live symbol lights up when connected and also the Nike + iPod symbol when a ProForm Sync is connected.
Heart Rate Readings
Measure your heart rate with the built-in handlebar sensors.
Workouts
This console comes with a pack of 20 onboard workouts, of which 5 calorie workouts, 5 interval workouts, 5 speed and 5 endurance workouts.
When you want to start a preset workout, press Calorie, Interval, Speed or Endure button until you get to the one you want. After choosing the workout, the display gives you maximum incline, duration, distance, name, maximum speed and a profile of speed settings.
Start the workout and select a display mode to track your progress. Turn on the fan when the workout gets tough.
For the iFit Live, you need the iFit Live module that you purchase separately (see ifit.com for price details). Switch between users on the main screen. Press Increase/ Decrease to change user.


To start an iFit workout, press one of the iFit Live buttons. Add your workouts to the queue. Press My Trainer, My Maps, World Tour or Event training buttons to download workouts. The Compete button is for when you want to compete in a race against one opponent or more. Some workouts feature audio coaching that you can set manually.
iFit Live
Compatible (must be purchased separately)
ProForm Sync/ Nike+ Compatible
This is an optional feature. It allows you to stock your workout info on your iPod. Upload info on Nikeplus.com that features a wide range of tools you can use to analyze your performance.
Stereo Sound System with iPod Compatibility
Bolster motivation with the stereo sound system. Music, audio books, TV shows, podcasts, you can enjoy them all and with a nice clear sound.
Information Mode
To select the Information mode, hold down Stop, insert key and release Stop. It shows total no of miles the belt has moved and total no of hours the treadmill has been used. The center display offers the unit of measurement that you can change between English for miles and Metric for km. It also displays info about iFit and Proform Sync workouts.
Folding Options
Conclusions
The Power 995 stands out among some of the best budget treadmills at the moment. The 2011 model replaces successfully the one from 2010. The former version was highly ranked, but the truth is it wasn't worth the $2,000. We recommend this new model that features some new twists and sells for $1,000.
Strong Points
Let's start with those who can benefit from this machine. The spacious deck and the high lbs limit allow a wide range of users to work out on this model. It's one major advantage this one right here.
The motor size is decent and powerful enough to sustain walkers and joggers, regardless of the intensity or incline. As a plus, it's backed up by a lifetime warranty.
When we're on this treadmill, we think "God, this is a comfortable deck!". It's amazing how the cushioning absorbs impact on knees, thighs and ankles. The perk is that you get to adjust the cushioning to match your body and your current exercise. Either firmer or less firm, this cushioning system keeps us away from injury even after draconic workouts.
It offers a serious deal of workouts. iFit compatibility adds up to this workout collection. You have to purchase it separately, but it's worth the personalized workouts variety it brings. We are interested in iFit workouts and the affiliated features, which is one of the reasons for our purchase.

It provides a bigger challenge and accurate tracking. Additionally, the 2011 model enables the ProForm Sync feature that is highly helpful when it comes to monitoring performance. Your iPod stocks the info and you download it on Nikeplus.com. They offer a lot tools that come in handy when you want to analyze your performance.
There is a fan to keep you cool, a patented system to help you fold the treadmill and store it where it won't bother when not in used and you can plug in your player, even iPod and enjoy your all time tunes. And the warranty is generous, given the price.
Main attraction
The ability to track, analyze and monitor workout info is an indispensible tool for improving performance. It's great to have the Nike+ feature. Your iPod stocks workout info, you download it to Nikeplus.com and the site takes care of the rest.
iFit Live compatibility is always an advantage. And in addition, you get adjustable cushioning and easy folding. And all for $ 1000 which is half of the 2010 price.
Drawbacks
To use the ProForm Sync feature you need an iPod nano, which is not something everybody necessarily has. You also need wireless internet connection. And you don't have accurate hear rate readings, if you want to focus on cardio workouts.
But, all in all, the 995 model is a budget machine and for its features, it has a correct price.