The Precor TRM 243 Treadmill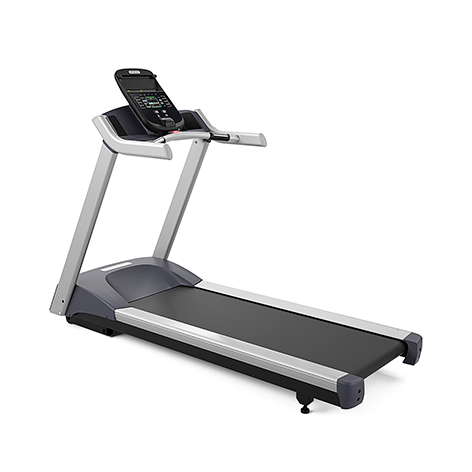 Overview
The Precor TRM 243 is the higher end treadmill in the Energy Series, improving upon the 223 and 211 models with more workouts, touch display and Preva integration for tracking your workout progress.
Check out next the features and specifications and see if this is the model you're looking for.
Specifications
Click Specifications to see detailed model info
Speed : from 0.5 to 12 mph (0.8-19.3 kph)
Incline : up to 15%
Decline : NA
Motor : 3.0 HP Continuous Duty
Belt : 20 x 57 inches/ 51 x 145 cm (Maintenance-free)
Cushion System : Energy Stride Shock Absorption
Maximum User Weight : 350 lbs/ 159 kg
Unit Dimensions : 81 inches L x 33 W x 59 H/ 206 cm L x 82 cm W x 150 cm H
Unit Weight : 238 lbs/ 108 kg
Power : 120v plug in
Warranty : Lifetime for frame, 5 years for parts and wear items and 1 year for labor.
Features
Display Info
The TRM 243 has a 7″ backlit LCD display that is touch-enabled and high resolution. It offers 27 workout metrics including time, distance, speed, pace, calories, watts, heart rate, incline and % completion. You adjust the speed and the incline with lever like controls, which is a nice touch that you don't find often.
Heart Rate Readings
The machine features SmartRate, which enables you to choose which target zone you want to stay in: fat burn, cardio or peak target. All you need to do is enter your age and weight and the machine automatically determines your ideal zones. It is compatible with a wireless chest strap for more accurate readings, but the chest strap transmitter is not included. (Please note it is included on the Precision Series models, the TRM 425 and the top of the line 445 treadmill.)
Workouts
You get 23 preset and 16 personalized workouts, up from 10 presets on the TRM 223 and 6 on the base 211 model. These include interval training, hills, weight loss, fat burner, aerobic, toning, distance and fitness, as well as manual workouts. There are also 4 different user profiles, and each user can create preferences that enable the treadmill to suggest workouts based on your goals.
You can also set your own default workout and retrieve previous workouts. The TRM 243 treadmill also comes with Preva integration, which allows you to track every workout and set goals for yourself, as well as a number of other capabilities including web browsing and watching TV.
Other Features
Some of the other appealing features on the TRM 243 include iPod/iPhone compatibility, a tablet holder, USB port, full length handlebars, water bottle holder and accessory pockets.
Conclusions
The Precor TRM 243 treadmill is definitely a great choice for home use if you can afford the high price tag. You're looking at about $2999 on sale, which is steep, but you definitely get what you pay for here. These are extremely high-end machines, not much different construction wise than the Precor treadmills you find in the gym.
The 243 definitely has advantage over the other Energy Series models, including many more workouts, more user profiles, a touch screen display and Preva integration which opens up a whole new world of interaction and entertainment capability. So it's definitely worth the additional $300 or so to upgrade from the TRM 223.
The only thing missing on the 243 is a decline option, something you get on the Precision Series models (425 and 445) so if that is something you definitely need take a look at those as well. Keep in mind that those will cost an additional $1000-$2000 as they are even higher end models with advanced cushioning, integrated footplant technology (impact reduction/auto adjustment) and wireless chest strap transmitters included.
But all in all, the Precor TRM 243 is a great choice, and our top pick in the Energy Series due to its features and capabilities.