Life Fitness F1 Smart Treadmill Review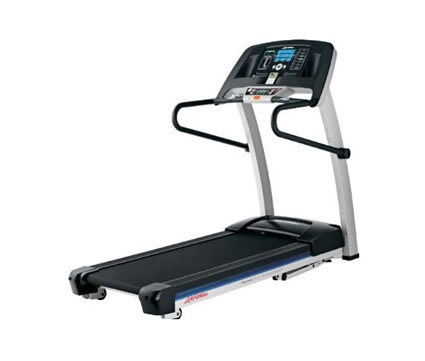 Overview
The Life Fitness F1 Smart Treadmill is an example of the perfect blend of residential treadmill and commercial gym features. It's built strong for runners, joggers and walkers alike, offering everything you need in a compact, foldable machine.
You can check out the specs and features below, then scroll down to our conclusions and the best place to buy this treadmill.
Specifications
Click Specifications to see detailed model info
Speed : up to 10 mph
Incline : up to 12%
Motor : 2.5 Horsepower Continuous Duty
Belt : 55 x 20 inches/ 140 x 51 cm
Cushion System : FlexDeck
Maximum User Weight : 300 lbs/ 136 kg
Unit Dimensions : 77 inches L x 34 W x 59 H/ 196 cm L x 86 W x 59 H
Unit Weight : 259 lbs/ 117 kg
Warranty : Lifetime for frame and shock absorbers, 10 years for motor, 5 years for electrical and mechanical parts, 1 year for labor
Life Fitness F1 Smart - Features
User Friendly Display
The Life Fitness F1 Smart has several display windows showing you all of the important workout information.
It offers feedback on distance, calories, heart rate, incline, pace, speed, target heart rate and time, so you know exactly how you are progressing.
This unit has an Energy Saver feature that decreases energy by about 90% when the unit is not being used. Treadmill restarts quickly, so you won't be waiting too long to start your workout.
Also, the console features a Virtual Trainer which can be used to upload goal-based programs and personalized programs from various apps.
Use the Navigation button for up, down, forward and back commands and also for incline, time and speed adjustments.
The Emergency Stop magnet stops the belt if anything occurs during workout, like stumbling or slipping. The message center coaches the user through setting up a workout.
(Note that the up-level Life Fitness F3 gives you two console choices.)
Heat Rate Monitoring
You have two ways of measuring your heart rate while you train.
You can use the hand grips or if you want a more accurate measurement, you can use the built in wireless monitoring capability with a chest strap.
Diverse Workouts
The Life Fitness F1 Smart comes with a range of different workouts, including Manual, Random, Hill, Fat Burn, Cardio and Fit Test. An additional USB offers a virtual trainer.
To start a workout, all you need to do is select one of the preprogrammed workout buttons. Once the workout is selected, the Message Center displays the first workout set-up.
Random Workouts offer a terrain of different hills and valleys. The workout uses incline adjustments, while speed is controlled by the user.
Hill is an interval workout with two main phases, Plateau and Interval Training. This program offers a great cardio workout and targets different muscle groups in the legs.
Those looking to lose the extra weight can start a Fat Burn workout and users who want to elevate heart rate to a level between 60% and 85% can engage in Fit Test programs.
The Virtual Trainer allows you to set-up workouts and access same workouts on Life Fitness treadmills from health clubs or other locations.
The F1 Smart treadmill also offers a Cool Down mode according to your time, incline and heart rate level. This feature is for you to make sure you end your workout at a normal heart rate level.
Speed, incline, pause, resume, stop and music controls are located in the user's reach.
iPod compatibility
Energy Saver
This feature reduces energy consumption when treadmill is not in use, but is turned on.
Folding Options
Life Fitness F1 Smart Review - Conclusions
Life Fitness F1 Smart treadmill is just what its name says, a smart treadmill.
It offers an affordable way to get a club-quality treadmill into your home.
The feature-packed machine matches power with efficiency, allowing users to benefit from personalized programs.
Pros
If powerful and sturdy is what you're looking for, you should definitely check out the F1 Smart.
No matter how far you want to go with this unit, rest assured it can handle it. This model is also innovative and environment friendly.
When the treadmill is turned on, but not in use, the Energy Saver feature will minimize the use of energy by up to 90%.
We knew this machine was sturdy even before we reviewed it, but weren't quite sure what the cushion system was all about. Now we do and we must say we're quite satisfied.
The shock absorption system reduces impact by up to 30%, which means your joints, knees, ankles, thighs…they all remain injury free even when the toughest workout has ended.
The preprogrammed workouts gave us a serious push. Since you can easily alter speed and incline during workout, we tried to increase our performance day by day.
First of all, this machine can back your darkest fitness desires, which is just great, and second of all, it's amazing how your body remains totally safe.
You get to listen to your iPod music, read anything you want on the Reading Rack and fold the whole thing.
And to back everything up, this treadmill has a solid warranty, although the motor is only guaranteed for 10 years, which is kind of a drawback.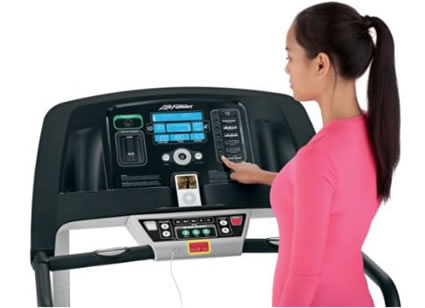 Cons
As mentioned before, the motor is only backed up by a 10-year warranty. Also, there's only one year on labor. It also doesn't have a fan for you to cool off and assembling it is not the easiest thing.
Bottom Line
All told, the Life Fitness F1 Smart treadmill is a solid choice for those looking for a gym quality machine they can use at home.
It is more of an entry level model, so if you think you need a little more check out the F3 as well, which gives you a higher max weight capacity and stronger motor.
If you don't need a folding treadmill and your budget is more open, the Life Fitness T5 is one of our favorites in the lineup.
At the end of the day, you really can't go wrong with any of the Life Fitness treadmills.