Life Fitness Club Series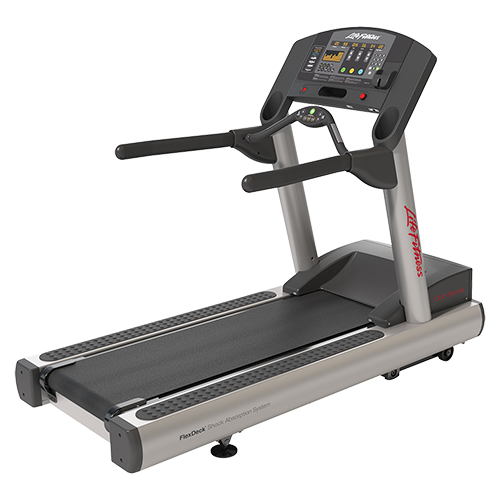 Overview
The Life Fitness Club Series is one of the best elite indoor training machines on the market today.
The quality of its components, the powerful motor and the generous selection of workouts make this treadmill a great choice.
If you're looking for diversity and efficiency, smoothness and high quality the Club Series may be just what you're looking for.
Specifications
Click Specifications to see detailed model info
Speed : 0.5 - 12 mph (max 19 km/h), On the second smaller console you have 3 pre-set speed keys: walk, jog or run speed. You set the value for each option.
Incline : 0-15%, Same as speed you can preset the value of 3 quick incline buttons: low, mid or high incline.
Motor : 4.0 HP AC Commercial-Grade
Belt : 20''x 60'' (51 cm x 153 cm)
Supported User Weight : 400 Ibs/ 182 kg
Technical Dimensions : Length: 83 inches (211 cm), Width: 37 inches (94 cm), Height: 63.5 inches (161 cm), Weight: 431 Ibs/ 196 kg
Unit weight : 431 Ibs/ 196 kg
Unit dimensions : 83" length, 37" width, 63.5" height
Warranty : Lifetime on frame, shock absorbers, motor, 10 years for mechanical parts and 1 year on labor
Best Features
Display Info
The Life Fitness Club Series console is very user friendly. Alongside the Activity Zone, this treadmill offers an easy to use display system that has the following display features:
* Workout Profile Window
* Message Center, that offers you step-by-step information on how to set up a workout
* Arrow keys, that you use to increase/ decrease Speed, Time and Incline
* Numeric keypad, that you use to introduce exercise time, difficulty level, belt speed, weight, distance, goal selection, gender and target heart rate. You also have a clear and enter buttons available.
* Cool Down quick button
* Pause
* Workout Selection
* Go System keys to use during manual workout
* QuickStart
* Stop
The Club Series has a LED display console with a 16 character Message Center.
Heart Rate Readings
You can monitor your heart rate via the grip sensors or wirelessly for more accurate readings.
To use the grip sensors, grasp the stainless steel sensors on the handlebars. Hold them for 20-30 seconds. We recommend you to use this system for speeds below 4.5mph or 7.2 kph.
If you plan to run faster or go through the heart rate workouts use the Polar chest strap which leaves your hands free.

We find the heart rate readings on the Club series to be quite accurate, especially compared with some of the lower priced models.
Workout Diversity
The Club Series comes with a diverse workout selection. 16 different workout programs are available, including:
* Manual, a constant effort workout that the user can adjust at any time
* Random, an interval workout that constantly changes intensity levels
* Hill, an interval workout
The Personal Trainer key gives access to Personal Trainer Workouts:
* Custom workouts, you can customize up to 6 workouts
* Distance Goal
* Calories Goal
* Time in Zone Goal, a workout based on time spent at Target Heart Rate (85% of total heart rate)
* Sport Training 5K, for those who train for 5 Km races
* Sport Training 10K, for those training for 10 Km races
* Sport Training Time, a time based workout
HeartSync Workouts include:
* Fat Burn
* Cardio
* Heart Rate Hill
* Heart Rate Interval
* Extreme Heart Rate
The My Workouts feature allows you to pre-set up to 7 workouts according to personal information, but keep in mind that you can set up other workouts also, such as Fat Burn, Cardio, Heart Rate Hill, Heart Rate Interval, Extreme Heart Rate, 5K, 10K, Time Sport Training, Hill, Random and Manual.
Alongside the 16 pre-programmed workouts, the Club Series gives you the Fit Test workout that monitors your cardiovascular fitness. Every 4/ 6 weeks you can check out endurance increase. The workout lasts 5 minutes with a 5% incline. The score is displayed in the Message Center. In order to get accurate scores, you should perform the test 3 days in a row.
Next to the Fit Test, there are other fitness tests that you can take:
* Army Physical Test, that assesses muscular endurance and cardiorespiratory fitness
* Navy Physical Readiness Test, a distance goal test
* Marines Physical Fitness Test, assesses muscular endurance and cardiorespiratory fitness
* Air Force Physical Readiness Test, with similar goals as Marines PFT
* Gerkin Protocol, a submaximal VO2 test
* Physical Efficiency Battery
The Club Series has a set of workout features that make training fluent and offer great feedback. The InstaPace feature is a feedback system that keeps track of your pace and rate of minutes per mile.
The Cool Down Mode helps your heart return to a normal pace at the end of the workout.
On-the-Fly Programming lets you navigate through workouts without losing your current information.
Other Great Features
The Life Fitness Club treadmill also features FlexDeck shock absorption which minimizes impact on your knees and joints up to 30%, an integrated accessory tray, a powerful yet quiet 4.0 HP motor with Magna Drive and a generous warranty.
Conclusions
The Club Series is an excellent workout machine that we highly recommend to anyone looking for a heavy duty treadmill.
Either at the gym, the club or in your own home, this high quality treadmill will serve any workout need, either staying fit or getting ready for competitions.
The Club series has the same high quality of Life Fitness components that the Platinum series offers.
The powerful 4 horsepower motor will engage you in long and effective workouts, and the great thing about it is that it runs smoothly and quietly.
For a machine this powerful, being able to enjoy the quietness of a good workout is amazing. The main reason is that this treadmill borrows features from commercial equipment, designed for daily and intensive use.
The heart monitoring system is common to Life Fitness commercial models and equally accurate and effective. It was quite a surprise to see how rigorous the Polar telemetry and Lifepulse system can be. This is a great advantage for HeartSync workouts.
All in all, if you can afford it, this is as good as it gets in residential treadmills and the Life Fitness Club is once again at the top of our list in the price category.
There are 16 pre-programmed workouts that you can access on this treadmill, effective and challenging, it depends on your goals.