Life Fitness Club Series + Review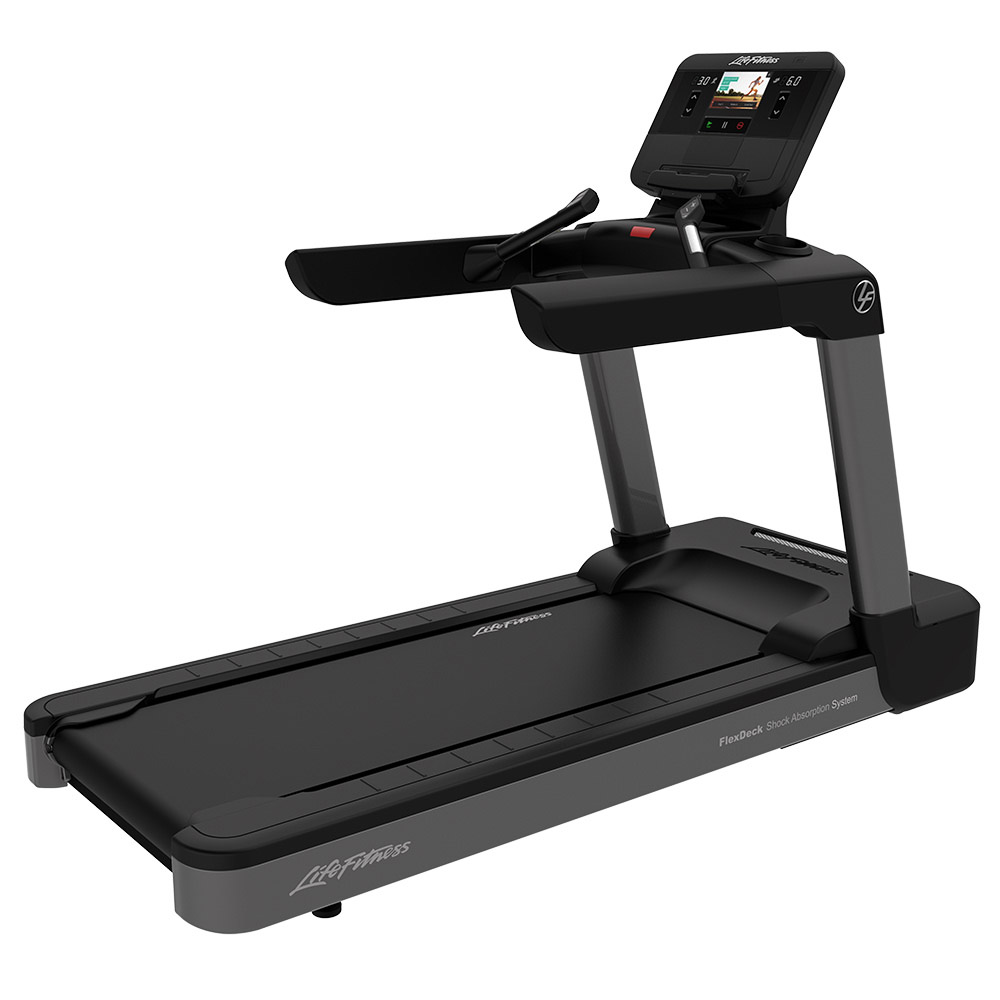 Overview
The Life Fitness Club Series + is the newest treadmill in the high-end lineup, with a sleek, modern look and a touch screen display as well as more durable design and a large well-cushioned runner's deck.
It's the first new release in quite some time, bringing some very desirable features to the home gym market.
Specifications
Click Specifications to see detailed model info
Speed : 0.5 - 12 mph
Incline : 0-15%
Motor : 4.0 HP AC Commercial-Grade
Belt : 22" x 60"
Supported User Weight : 400 Ibs
Treadmill Dimensions : 82" L x 36" W x 56" H
Unit weight : 434 lbs.
Display : 7" LCD Touchscreen
Warranty : Lifetime frame and motor, 10 years parts, 1 year labor
Life Fitness Club Series Plus - Best Features
Strong, Sleek and Durable
The new Life Fitness Club Series + is a completely redesigned treadmill, improving upon the very popular original Club Series model.
It features a modern, sleek design that is different than all of the other Life Fitness treadmills in the series, more streamlined with the same high quality construction that the company is known for.
They have taken the popular base Club Series model and brought it into the future, which is something many users have been asking for.
Touch Screen Display
Another exciting new addition is the 7″ LCD touch screen display, something not available on the base Club Series model. It makes the Life Fitness Club Series + more like a health club treadmill.
The console automatically saves your last workout, so you can challenge yourself to beat your previous time. You can also track your workouts via Bluetooth and sync them with your favorite fitness apps.
This capability was previously only available on the higher end Platinum model.
Larger Running Area
The Club Series + ups the ante with an even larger running deck than the base model, with a 22″ x 60″ belt offering plenty of room for even the tallest of runners.
It also features the patented FlexDeck Shock Absorption System with 8 shock absorbers, significantly reducing impact to your knees and joints and allowing you to run for longer periods of time.
Diverse Workouts
You get a nice array of workouts, 11 in all, including hills, interval, speed, time, calories, distance and more.
That gives you plenty of choices so you can change things up from one day to the next. You can also just use manual mode and up your incline from 0 to 15 degrees to target different muscle groups and up the cardio component of your workout.
Other Great Features
The Life Fitness Club + treadmill also features grip and wireless heart rate monitoring, plenty of workout stats, remote speed and incline control, accessory tray and transport wheels for easier mobility.
Life Fitness Club Series + Review - Conclusions
The new Life Fitness Club + is definitely a big step forward for the company, as they are finally stepping into the future in terms of design and technology.
The treadmill is rock solid with a modern design, a powerful motor, a well cushioned deck, plenty of workouts and a convenient touch screen console with fitness app integration.
If you are looking for a club-quality machine that will fit right into your home gym, this one is certainly worth a look.