Sole F65 Treadmill Review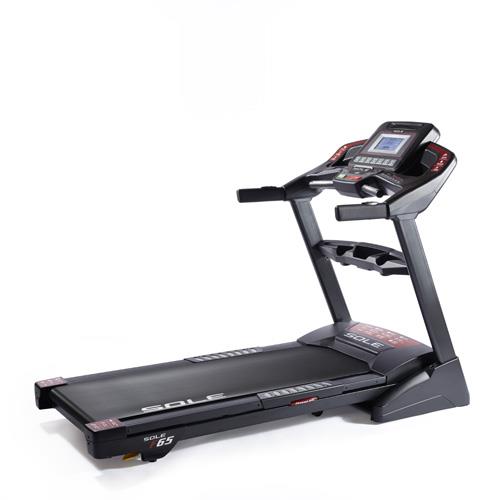 Overview
The new Sole F65 is a well-designed treadmill with features you just don't typically find at this price level, including a powerful motor, generously sized deck, incline capability and workout tracking via Bluetooth technology.
It's one of the best treadmills you can buy for under $1,500, with a compact, folding design that makes it fit in quite well in the home gym.
If you're looking for an affordable, well built machine with advanced cushioning to reduce impact on your knees and joints, the F65 is a very good choice.
Specifications
Click Specifications to see detailed model info
Speed : up to 12 mph
Incline : up to 15%
Motor : 3.25 HP Continuous Duty
Belt : 22 x 60 inches
Cushion System : Treadmill includes a low-impact 1 inch phenolic deck
Maximum User Weight : 350 lbs
Unit Weight : 262 lbs
Warranty : Lifetime for motor and frame, 3 years for deck, electronics, parts and 1 year for labor
Sole F65 - Best Features
Larger Running Deck
One of the best features of the F65 is the large running surface, something typically only found on high-end commercial treadmills.
You get a generous 22″ x 60″ deck, a step up from the 20″ width on the base Sole F63 model.
This gives you much more room to stretch out, and is ideal for taller users who might feel a bit constricted on a less roomy deck.
Appealing Display and Console
You get a 7.5″ LCD display, slightly larger than the one that comes with the base model.
It gives you all of the necessary workout feedback, from time to distance to calories, so you can see how well you are doing.
Everything is conveniently located on the console, so you can change your workout, speed or incline level easily with the touch of a button.
It's quite intuitive and you can figure everything out in a short amount of time.
Heart Rate Monitoring
You have two options when it comes to measuring your heart rate on the Sole F65: grip or wireless.
The hand grips are located right in the center under the console, but if you want a more accurate reading you can use the free wireless chest strap that is included with the machine…a real bonus.
This is great, especially for the included heart rate programs where accuracy is key. That way you can stay in your ideal zone throughout your workout.
Diverse Workout Programs
The F65 comes with a nice variety of built in workout programs, so you can change things up from one workout to the next if you'd like.
Most users note that changing up the programs helps keep things interesting, rather than the same manual run every day.
But if programs are not your thing, of course you can walk, jog or run at your own pace, manually changing the speed and incline to your liking.
Other Great Features
In addition to all of these features, you also get a cooling fan, built in speakers with music connectivity, easy folding capability and a solid warranty covering you for all issues that may arise.
Sole F65 Review - Conclusions
Let's take a look at some of the pros and cons to help you make a more informed buying decision…
Pros
Starting with the motor, the F65 is powerful enough to get you through even the most challenging workouts.
And powerful motors need generous running surfaces, which once again this machine offers.
To tie it all together, Sole introduced a cushioning system that keeps our feet, ankles, hips and spine injury free even during the toughest programs.
A good treadmill should always come with a proper display. The F65 display is built to help users get quick and easy feedback on their performance, but that's not all.
There's a message window that shows workout summaries once you're finished, which is extremely helpful especially for users looking to lose extra weight.
Speed and incline are easy to change. The Sole F65 treadmill incorporates speed and incline controls right in the armrest area. This feature has been very useful to us, especially during high incline and speed interval training.
There are 2 user programs that you can customize according to your needs. And you can make them as tough as you want because not only does this treadmill have quality cushioning, but it also helps you cool off with the easy-to-use cooling fans.
We're always pleased by motors that are as quiet as possible. We were quite satisfied to see that this motor doesn't make the awful noises treadmills sometimes do. Especially since we only have concrete surfaces to place it on. So this is a major plus.
To save space, Sole added the Easy Assist feature into the F65. This feature helps you fold the treadmill easily and just place it somewhere where you won't be needing it until next time.
And the warranty is quite good, especially considering the price.
Cons
The F65 does take a little time to assemble, so it's not ready right out of the box.
Also, the safety handles and manual pulse meter may be too low for taller users.
But those are minor things. All in all, we are very satisfied with the F65, and it is a nice upgrade from the F63. It runs and feels good. And we didn't have to clear our bank account to get it.
Bottom Line
The Sole F65 is one of the best home treadmills on the market today. It is quite affordable, and has just about every feature you could want.
It is a nice step up from the entry level F63 model, and very similar to the up-level F80 treadmill, one of our top overall treadmill picks.
The F65 provides good support and stability, and definitely has the power to push you forward. We recommend this treadmill to users who are looking for effective cardio and fat burn training, including joggers, walkers and light runners.
For the very best deals check out the Sole F65 treadmill at the official manufacturer's site. They often offer free shipping as well as no tax and other special promotions.