Sole F63 Review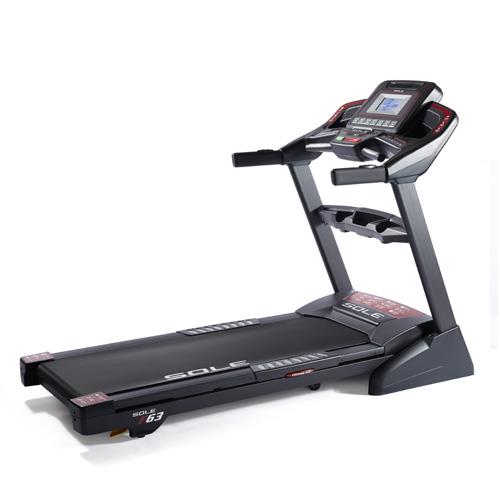 Overview
The Sole F63 treadmill is a highly-rated entry level model ideal for walking and light jogging, and one of the best machines you can buy for the money.
Sole is known for their high quality components and unique designs…something that has earned them multiple awards over the years and added to their popularity.
If you are in the market for a great machine under $1000, the F63 is just about as good as it gets.
Specifications
Click Specifications to see detailed model info
Speed : up to 12 mph
Incline : up to 15%
Decline : none
Motor : 3.0 HP Continuous Duty
Belt : 20 x 60 inches
Maximum User Weight : 325 lbs/ 148 kg
Unit Weight : 254 lbs/ 115 kg
Workout Tracking : Bluetooth via the Sole app
Warranty : Lifetime for motor and frame, 2 years for electronics, parts and deck and 1 year for labor
Sole F63 - Best Features
More Advanced Than Most Entry Level Treadmills
Perhaps the most appealing feature that we came across during our Sole F63 review is the fact that you get so much capability without having to pay for it.
The F63 has a strong and capable motor, 15 levels of incline, heavy duty construction, an advanced running deck and a rock solid warranty to back everything up.
All of the features would typically cost at least $2000, and you are getting it for under $1000.
You would be hard pressed to find all of these features and capabilities elsewhere…it just doesn't exist.
User Friendly Display
The bright 6.5″ LCD blue display on the Sole F63 shows you all of your workout stats in an easy to read format.
You can see your speed, incline, time, distance traveled, calories, pulse and pace.
There are convenient buttons for easily scrolling through the display, adjusting your speed, changing you incline level or choosing from one of the many built in workout programs
Adjust speed by pressing Fast/ Slow keys on the console or handgrip. Also, you can use the keys from 2 to 12. Incline can be adjusted by pressing Adjust Up and Down keys on the console or handgrip (or from the preset keys on the console).
Heart Rate Monitoring
You have 2 options for measuring your heart rate: the steel sensors on the front cross bar or a wireless chest strap.
One of the nice features on the F63 is that the wireless chest stap is included, which is very rare, especially for a treadmill that is under $1000.
Monitoring your heart rate wirelessly will give you a more accurate reading, which is great, especially for the built in cardio programs.
Diverse Workouts
The F63 comes with ten built-in programs: 1 manual, 5 preset profiles, 2 user defined programs and 2 heart rate control programs.
The workouts range from cardio specific to fat burning to time/distance/calorie goals.
So you can change up your routine from one workout to the next, targeting different muscle groups or setting goals for yourself.
And with tracking capability, which we discuss below, you can see how you are progressing from one workout to the next.
Bluetooth Workout Tracking
One of the newest features found on the Sole F63 treadmill is Bluetooth capability, which allows you to transfer all of your workout information to your tablet or phone, and then use the Sole Fitness app or one of your personal favorites.
This allows you to keep track of your progress, set goals and milestones for yourself, and share your information with family and friends to keep you motivated.
It's something found on more and more treadmills these days, but it's rare to have this capability on an entry level model.
Other Nice Features
The F63 is foldable, has a sound system, a nice cushioned deck that reduces impact on your knees and joints and cooling fans to get you through those tough workouts.
Sole F63 Review - Conclusion
To sum up, let's take a look at the pros and cons to help you make a more informed decision…
Pros
There are several reasons why you should check out the Sole F63.
First off, the motor can easily support walking and jogging; it is sturdy and durable.
The belt is more than enough for walking and jogging, but may be narrower than what a runner would need. (Note the up-level F65 has a wider belt)
A major perk of this machine is that it can sustain more weight than other treadmills in the same price category, which is a major plus for heavy users.
You have speed and incline control on the siderails, which is a great advantage during more intense workouts.
It is nice being able to keep up the effort during tough workouts without having to make all kinds of movements to reach the console and alter your speed and incline.
The display makes reading workout information quite easy and it also offers some variety and entertainment.
You get to enter your age and weight which is good for weight loss workouts. We always feel drawn to treadmills that have this option.
The new Bluetooth technology is also a welcome change, as Sole has lagged a bit behind in this category to date. You can track your workout progress via the Sole app which syncs with many of the popular fitness applications.
Cons
The Sole F63 treadmill is definitely a winner, but there are some drawbacks to note as well.
As we mentioned, it is more of an entry level machine so it is not ideal for more serious runners or those that are on the taller/heavier side. You'd be much better served with one of the up-level models.
There's also some entertainment included, but it's not as advanced technology wise as some of its competitors like NordicTrack or ProForm.
Other than that, not really much not to like here.
Bottom Line
The Sole F63 is one of the best treadmills you can buy for under $1000, and is the ideal machine for walkers and joggers.
If you are more of a runner check out our Sole F80 treadmill review.
That model is a Run Reviews top overall pick, and gives you a larger running surface as well as a more powerful motor for more strenuous workouts.
But for walking and jogging, and moderate use, you simply can't beat the F63.