Smooth 5.65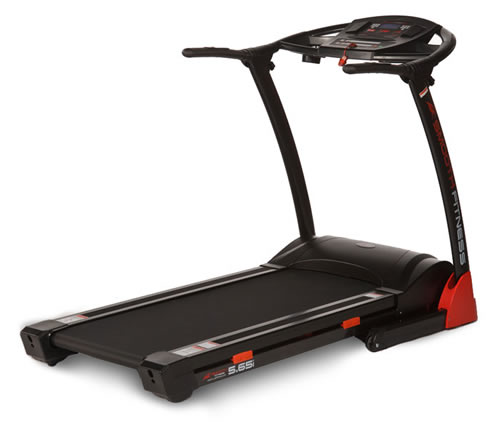 Overview
The Smooth 5.65 Folding Treadmill is a budget treadmill that has received good reviews The 5.65 version is the new 5.45. It retains its basic features, but its innovations make it better than the former one.
This is s good treadmill option for light joggers and casual walkers. It insures comfort, diversity and efficiency. And also entertainment.
Check out more about the Smooth 5.65 and go to Conclusions to see if this is the treadmill you want.
Specifications
Click Specifications to see detailed model info
Speed : 0.5 - 10 mph
Incline : 0 - 15 levels
Motor : 2.75 CHP
Belt : 20" x 55"/ 50 cm x 140 cm
Maximum User Weight : 300 lbs
Unit Weight : 210 lbs
Warranty : lifetime for frame and motor, 5 years for parts and electronics and 2 years for in-home labor
Features
Display Info
This console has 3 window LED with LCD dot matrix display. The central display offers information on your workouts as you exercise, so that you have constant feedback on your performance. Readouts include Speed, Incline, Time, Distance, Calories and Heart Rate. By pressing Mode, you can select the function you want to be displayed on the main display window or you can go to Scan Mode to view all your options.
Speed can be controlled in 3 ways: by using the handlebars, which makes workouts much more fluent and consistent, by pressing Up and Down arrows of the display console or by using the quick buttons that instantly set the speed to 3, 4, 5 and 6 ml/h (4, 6, 8 and 10 km/h) without scrolling. Speed and incline are adjustable by these 3 ways.
Heart Rate Readings
You can either use the hand grips to learn your heart rate or you can use the chest strap for hands-free workouts.
Workouts
This treadmill offers 14 preset programs.
User Setup Programs provide the possibility to customize workouts according to personal preferences. For customized programs, time is set and the 12 segments are set up by the user.
The Target Heart Rate program provides great cardio fitness. To set up a target heart rate program, values for time, age, and target heart rate must be inserted.
For the Body Composition Analysis, you must select the program by using Increase/ Decrease arrows until you reach Body Mass Composition program and press Mode. Select your gender by using Female or Male buttons or Increase/ Decrease until you reach 1 (Male) or 0 (Female). Enter Height, by using Increase/ Decrease arrows and press Mode. Enter Weight and Age. Press Mode and place both hands over the sensors of the handlebars. In about 10 seconds, you should have your readouts. If this doesn't happen, you should walk on the treadmill at an average speed for 3 or 4 minutes in order to increase your heart rate.
Folding Options
Fan
Sound System
You can make your workouts enjoyable during tough times by listening to your favorite music with this sound system that has worked smoothly so far.
Water bottles
Reading rack that can be converted to media rack as well
Conclusions
The Smooth 5.65 2011 treadmill has created some waves amongst light joggers and walkers. This is a rather cheap machine, of good quality and with attractive features. We recommend it to those who want to stay fit, to light joggers and daily walkers.
This model has a pack of advantages that not only make it a good treadmill, but also differentiate it from others.
First off, this is a good quality treadmill. It is very important to go for a treadmill with quality components. The warranty pack is a primary sign of the treadmill's quality. This model has lifetime for frame and motor, 3 years for parts and electronics and 2 years for in-home labor, a satisfying warranty for a treadmill priced under $1000.
The running surface is advantageous, but only for light joggers and casual walkers. Professional athletes will go for some other model, a more appropriate treadmill that can meet their needs. Also, due to the available running surface, very tall users can't decide for this treadmill.
This is a solid treadmill with a quiet motor, which is an important asset and is also surprising for a budget treadmill. And the cushioning system adds up to the comfort that the Smooth 5.65 provides.
Also, the deluxe sound system is a pro. It works great and we haven't encountered any issues yet. It just made tough workouts much more enjoyable.
Another advantage represents the handlebars toggle switches. You can adjust speed and incline without interrupting your workouts. Just grasp the handlebars and set the speed and incline while continuing your workouts. And talking of workouts, there are 13 preset workouts you can choose from, or you can make your own program to greet your fitness requirements.
This is a solid machine, but the advantage is that you can fold it, in order to save the space you use to assemble it. And there is also a two-speed fan available, so that you can cool off at any time during intense workouts.
We haven't encountered any problems so far with this model, as happened with the rest of the Smooth models we've tested to date. The 5.65 is a remake after the 5.45 and it keeps the basic features of the later. The additional features make it the rising star of Smooth that has already been labeled as "Best Buy" by other reviewers. And this really is a best buy, given the balance between the features and the price.