Proform Performance 1450 (Discontinued)
Overview
UPDATE: The ProForm Performance 1450 treadmill is no longer being produced by the company. You can check out all of the latest ProForm treadmills here to find a comparable machine.
The ProForm Performance 1450 treadmill belongs to the the company's Hi-Tech range. Indeed, a hi-tech machine. It incorporates the innovative technology of touch screen based on Android. This machine is worthwhile. Not only it's highly technological, but also it offers quality cushioning and a large range of workouts.
It has its drawbacks, but they are not too serious. Check out our review on Performance 1450 and see for yourself if this is the machine you've been looking for.
Specifications
Click Specifications to see detailed model info
Speed : up to 12 mph
Incline : up to 15%
Motor : 3.25 CHP Commercial pro Motor
Belt : 20" x 60"/ 51 x 152 cm
Cushion System : ProShox Plus
Folding Options : SpaceSaver Design
Maximum User Weight : 350 lbs/ 159 kg
Unit Dimensions : 81 " L x 36.8 " W x 58.5 " H/ 205.7 cm L x 93.5 W x 148.6 H
Warranty : lifetime for frame and motor, 5 years for parts and 2 years for labor
Features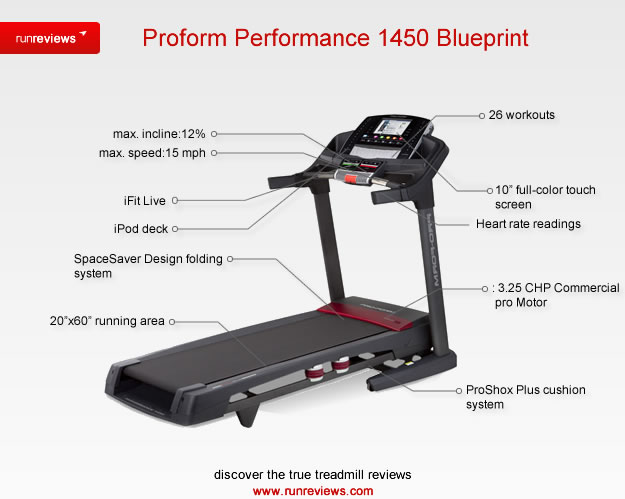 Display Info
The Performance 1450 has a 10″ full-color touch screen with Built-in browser powered by Android. The console offers feedback on incline, elapsed time, approx no of calories, walked/ run distance, speed, a ¼ mile track, pace, current lap no, time remaining, approx no of calories burned per hour, no of vertical feet, heart rate.
To use the browser, you need wireless network. The menu allows you to open a new window, to create bookmarks, refresh, forward, find on page, select text, look up page info, share page, download, personalize settings.
Heart Rate Readings
handlebars sensors
Use sensors built-into the handlebars to monitor your heart rate.
Workouts
This console offers 26 onboard workouts, of which 6 calorie, 7 intensity, 6 speed and 7 incline workouts.
To use an onboard workout, touch Workouts. Then, touch Calorie Burn, High Intensity, Speed Training or Incline workouts. Select your workout and the screen will give you name, duration, distance and approx no of calories you'll be burning.

Start your workout, monitor your progress, measure your heart rate and turn on the fan, if needed.
The console also features iFit Live workouts. Insert the key into the console, log in to iFit official website, select the start-up menu, and select an iFit Live workout by touching Workouts button on the screen. Follow instructions to use iFit workouts.
You can switch users by touching the user button near the lower right corner. Add your workouts to your schedule on the iFit website by touching My Trainer, My Maps, World Tour or Event Training. Touch Compete to compete in a race.
Internet browser
Settings mode
This mode allows you to connect the treadmill to your own wireless network and log into iFit Live account. It allows you to change the unit of measurement and turn on and off the display demo mode.
Stereo Sound System with iPod
AutoBreeze Workout Fan
Conclusions
The Performance 1450 is a good machine with eye-catching innovative technology. It performs well in all departments: functionality, programming, diversity, challenge and quality. It's a powerful machine that stands out from other machines in its category.
Pros
The 1450 is sturdy and yet smooth. It has powerful motor and proper features to pass the test of high performance in vibration and noise. Those who like quiet workouts, that is all of us, can rely on Performance 1450.
Then, there is the large running surface. A large running surface is always a good thing. Taller, heavier, amateur or professional can all benefit from a surface this generous.

By now, we've seen why this is a nice machine. But it's also heavily varied, as far as programs go.
26 workouts offer a wide variety of training. Whether you want to run faster, lose the extra weight, tone your muscles or simply stay in shape, this machine offers you diversity so large that you can't get bored. And when you're done with the onboard workouts, just use iFit Live.
1 touch speed and incline makes it easy for you to perform speed and incline changes. I've always found buttons so bothersome. It's not the first treadmill to replace classic buttons with 1-touch, but it's one of the few and this is a feature we like terribly.
The cushioning is just great. It keeps your body stress-free all the way and makes you feel brand new when you're done. When workout is over, just fold the machine and place it somewhere where it won't bother you until next use.
Highlights
The color display with Android Browser makes this machine quite unique. For the moment. Sure, technology will evolve and soon, all treadmills will have browsers and touch screens. But for now, only few incorporate these features. If you're the kind that likes or needs to surf the internet to stay motivated and entertained, you'll most benefit from this feature.
The 10″ display is user-friendly. It's large enough to help you check out feedback and program info in no time.
This unit has iFit compatibility, which diversifies even more the whole workout range.
A machine this challenging couldn't have missed a workout fan. It works great and keeps us cool until our longest workout is completed.
Drawbacks
But, nothing is perfect. Especially when it comes to technology. The truth is the touch screens don't work excellently. They've failed many times. But then they recovered. It still happens, from time to time. Logically speaking, it's normal for a technology this new to have certain design problems.
For $1,500, the 1450 is a machine that we recommend. It is powerful yet quiet, it is easy to use, it has a large touch screen display, you can surf the internet, it sustains high quality cushioning, you get to fold it and it offers a great amount of workouts plus iFit Live. And all, backed up by a satisfying warranty.