Matrix T50 Treadmill Review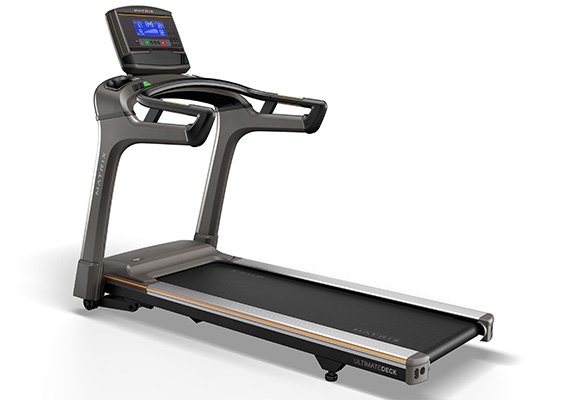 Overview
The Matrix T50 is a gym-quality, non-folding treadmill first introduced in 2016 as part of the company's leap into the residential market. With all of the features and capabilities you would expect from your health club's equipment, this one is a real winner if you can afford the price tag.
Specifications
Click Specifications to see detailed model info
Speed : up to 12.5 mph
Incline : up to 12%
Motor : 3.25 HP Johnson Drive System
Display : Three Console Choices
Treadbelt : 20" x 60"
Cushioning : Ultimate Deck System
Folding : No
Maximum user weight : 400 lbs.
Warranty : Lifetime for frame, motor, cushioning, 7 years parts, 2 years labor
Matrix T50 Treadmill - Pros
Variable Response Cushioning
The Matrix T50 features Variable Response Cushioning, consisting of three different zones delivering the ideal give/support for each part of your stride.
Along with the patented Ultimate Deck System, this is one of the most durable/impact reducing treadmills on the market today.
Choice of Consoles
Just like on its folding cousin, the Matrix TF50 treadmill, you get a choice of three different consoles with varying features.
The base XR is a bright LED display. The mid-level XER is a 10″ touch screen with internet and fitness apps. The top-end XIR is a 16″ HD touch screen with web browser built in and fitness apps.
You just have to choose the one that appeals most to you.
Johnson Drive System
The T50 also features the quiet and durable Johnson Drive System, which is quiet enough to enable you to use the treadmill anywhere without worrying about disturbing anyone.
Other Great Features
The Matrix T50 has a 20″ x 60″ deck, 5 inches wider than the the TF30 model. It inclines up to 15%, has soft touch buttons, water bottle holder, aluminum side rails a very generous warranty.
You also get Sprint 8 interval training workouts, ViaFit tracking and Passport connectivity for watching HD videos on your own TV synced to the speed of your workouts.
Matrix T50 Treadmill - Drawbacks
Consoles Can Be Pricey
A Matrix T50 treadmill with the XR console is $2,699…the XER is $3,199 and the XIR is $3,699. So if you want to save a little money opt for the basic console, unless touch screen and internet are necessities for you.
Matrix T50 Review - Conclusions
The Matrix T50 is a great treadmill for those looking for a gym level cardio machine for their home.
Matrix has been a leader in the commercial space, and now it's looking like they might be making some serious headway in the residential market as well.
The T50 has a generously sized, advanced cushioned deck, console options, solid incline capability, plenty of workouts as well as tracking, durable construction and a very impressive warranty to back it all up.
If you prefer a folding treadmill take a look at the TF50 model as well…it's pretty much the same machine.
If you think you might need a wider deck and an even more powerful motor, take a look at the top of the line T70 model.