LifeSpan TR800-DT5 Treadmill Desk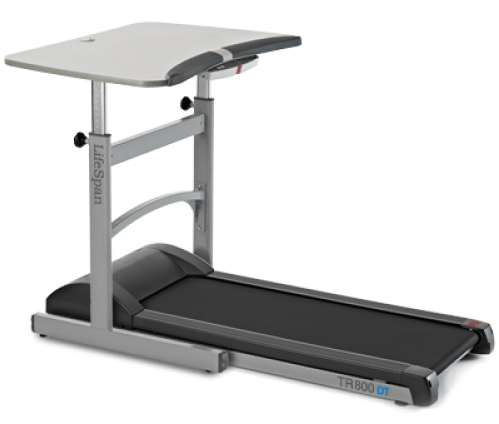 Overview
A few weeks ago we jumped on the LifeSpan TR1200-DT desk and gave it a try. We liked the experienced and so we decided we should compare it to the $100 cheaper version, the LifeSpan TR800-DT5. How did it go? See below.
The TR800 DT is a comfortable and convenient treadmill desk ($1200), designed by LifeSpan. Unlike other treadmill desks out there, this one puts together a sturdy and adjustable work surface which was designed for users to complete both work and workout successfully.
If you want to reduce your work space while talking your daily walk, you should check out our detailed review and in the end, go to Conclusions for a final overview of the TR800 DT Treadmill Desk benefits.
Specifications
Click Specifications to see detailed model info
Speed : from 0.4 to 4.0 mph
Incline : No
Motor : 2 HP High Torque Continuous Duty DC
Belt : 18" x 52"/ 45.7 cm x 132 cm
Deck Suspension : 6 variable density elastomers
Folding options : None
Maximum user weight : 300 lbs/ 136.36
Height Adjustments : 36" - 52"/ users between 4'10" - 6'8"/ 1m47- 2m3
Unit dimensions : 72" L x 46.5" W x 56" H/ 182.9 cm x 118 x 142.2
Warranty : lifetime for frame, 3 years for motor, 1 year for parts and 1 year for labor – for 3 hours maximum of daily usage
Features
Display info
The console of the TR800 DT gives feedback on distance traveled, calories burned and step count. Additionally, the Intelli-Step system counts user's steps while walking.
The Intelli-Guard feature allows the treadmill to stop when you stop moving. It's a safety feature that comes in handy for treadmill desks.
Available keys are Start, Enter/ Mode, Stop/ Pause and Speed up/ down.
Heart rate info
Programs
This treadmill desk comes with only one available type of workout: walking.
To start the treadmill, you must turn on/ off the switch located on the front right corner of the treadmill to the on position. Adjust your weight so that you receive calorie feedback as accurate as possible. Press Start and the console will start counting from 00:00. Press up/ down buttons to adjust speed.
Cable Management system
Foam injected armrests
included
Conclusions
TR800 DT is another treadmill desk version patented by LifeSpan. After introducing its bigger cousin TR1200, LifeSpan decided to try out a unit with a smaller belt, lower weight capacity and a few bucks less. Before going any further, our opinion is that for the extra $100, TR1200 packs a few extra features that treadmill desks are kind of required to have. Let's see what TR800 is all about.
Pros
If you're looking into buying this treadmill desk, it most probably means you have massive work load at the office, and maybe instead of dozing off, you'd like to stay focused, inspired, active and creative. All these are possible, and yes, in the same time.
We first tried a treadmill desk after an awfully busy week at the office. Back pain, fatigue, bad mood, too tired to cook those veggies in the fridge, you name it. The truth is our first attempt at buying a treadmill desk wasn't a success. The belt was too small and it moved with the speed of a snail, the console was impossible to read, anyway, not a treadmill I would ever recommend. But then came LifeSpan and our treadmill desk experience got better.
They really invested serious money into making a comfortable user-friendly unit. The motor is as powerful as it should be on a treadmill made solely for walking. The nice thing about it is that it's whisper quiet, just perfect to complete writing those email and making calls.
Then, we have the walking surface which is not very long, but enough for users up to 2m to be able to walk comfortably. Comparatively, it's a bit shorter than the belt of TR1200, so you may want to think about that, especially if you're taller.
Feedback is as accurate as it can get on a treadmill's console. We believe it's a plus to insert your weight so that the console displays how many calories you've lost in a day. Many treadmill desk users are interested in using the time at the office to lose the extra pounds. Sometimes it's not enough to jog once in a while, especially if you have weight issues. This treadmill desk is a good choice if you want to invest time during the day to work on losing extra pounds.
Of course, you also have to work. The desktop is totally adjustable, to meet your own height. Don't get concerned about body posture. You can position your arms comfortably so that you can write proposals while walking. The foam injected armrests are a top asset.
The warranty isn't that great though. Only 3 years for motor doesn't sound too appealing, so you should consider this aspect too.
Main attraction
If you're planning to lose weight, but still there's a job you have to go to, you should definitely consider the TR800 DT from LifeSpan. It has no thrills and whistles, but it has good quality components and an adjustable pack of features that provide positive results when you need to mix workout with work.
Drawbacks
The thing is the belt is shorter than TR1200, the weight capacity is lower with 50 lbs and the price you'd have to pay for a TR1200 is $1300, only $100 more. The warranty is the same, but you'll have more advantages.
We believe TR800 is definitely worth looking at, but extend your quest before making your final decision.