Lifespan TR1200-DT Treadmill Desk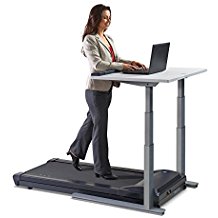 Overview
The LifeSpan TR1200-DT series of treadmill desks consists of the DT3 Under Desk Treadmill, the DT5 manual-height adjustable and the DT7 electric-height adjustable model. All are solid choices from a company that has been leading the way in the category for many years. Well priced and well designed, any of these is a great choice for your home or office.
Specifications
Click Specifications to see detailed model info
Speed : 0.4 mph - 4 mph
Incline : Not supported
Motor : 2.25 HP High Torque Continuous Duty DC
Belt : 20" x 50"
Deck Suspension : 6 compression shocks
Folding options : No
Transport Wheels : Yes
Maximum user weight : 350 lbs/ 159 kg
Desktop Height adjustment : 27" - 50"
Desktop Width : Customizable
Power requirements : 120 Volt (non GFI circuit).
Warranty : Lifetime for frame, 3 years for motor, 2 years for parts and 1 year for labor
Best Features
Choose From Three Options
The advanced LifeSpan TR1200-DT series gives you three different options, depending on what your needs are.
The DT3 is strictly an underdesk treadmill, which means there is no desk included with the unit. It slides underneath the desk that you already use.
The DT5 is the most popular of the three, and comes with a desk included. You can adjust the height manually.
The DT7 is similar to the DT5, except you can adjust the height of the desk with the touch of a button.
So you have three different choices here which is great.
Quiet Motor
All of the TR1200-DT models come with a very quiet 2.25 HP motor, which is ideal especially if you are working out in an office where there are other people.
There are also 6 impact-reducing shocks that enhance the treadmill's ability to dampen the noise.
Sturdy Construction
The LifeSpan desk treadmills are very well constructed, and feel as solid as regular treadmills.
They can support up to 350 lbs., which is a testament to how well they are built.
Model Specific Benefits
DT3
Starting with the DT3, in addition to the benefits mentioned above you it comes full assembled with a compact, low profile design and low step-up height.
Built in technology includes Intelli-Step counting and Intelli-Guard Safety which automatically shuts off when you step off the machine.
DT5
The LifeSpan TR1200-DT5 comes with four different desktop color choices: cool gray (standard), absolute acajou, jamison white and wild cherry. The frame is either silver or charcoal.
As far as the desktop width, you can choose 38″ wide or 48″ wide. Height is adjusted manually as we mentioned, and it ranges from 33.5″ to 52.5″.
The DT5 has a new internal cable management system for all of your cords, plus Bluetooth built in to track and share all of your workouts via the Active Trac app.
DT7
The LifeSpan TR1200-DT7 comes with the same desktop and frame color choices as the DT5.
However there are even more width choices. In addition to the 38″ and 48″, you can choose 60″ or 72″. This gives you plenty of room for your computer, your files and anything else you like to keep on your desk.
Height is adjusted electronically as we mentioned, and it ranges from 27.5″ to 50.5″.
Other than that, the DT5 and DT7 are nearly identical.
Conclusions
Many things can be said about TR1200 treadmill desk series from Lifespan, and the first is that this is a 5 star treadmill desk.
Sure, there are others on the market that are much cheaper than this Lifespan series, but the differences are major. This is the best treadmill desk you can get if you're willing to spend the extra few hundred. We highly recommend this machine and here is why.
Pros
If you're training for a marathon, this is not the treadmill for you. Rather, if you're looking to mix your daily (office) duties with a consistent walking routine, you should definitely keep on reading.
One of the best assets of this treadmill desk is that the treadmill part comes fully assembled. For those who aren't technically savvy, this is a major advantage. You just roll it where you need it.
Once you get on, it feels like a solid machine. You're comfortably walking, while completing your daily office tasks.
The desktop on the DT5 and DT7 is incredibly easy to assemble and the best thing about it is that users of all heights can adjust it to meet their own needs.
There is an elegant system that gathers all the power cords and keeps them safe. It's better than working at your own desk, really. You know how your feet get tangled in all those annoying cords, just because there's no other space for them? Well I do. From this point of view, this treadmill desk is a dream come true.
Since you're supposed to do your work, call your clients, send emails, read the news, write proposals and so on, Lifespan invested in a quiet motor. The operation of this treadmill is so quiet that you'll have no reason not to complete your tasks.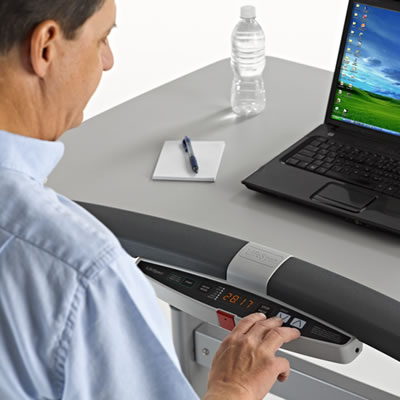 Main attraction
For us, the main attraction of this treadmill consists of the high quality of all components and the smooth and quiet operation. Less expensive treadmill desks feel cheap…this is not the case with the TR1200 DT Series.
Drawbacks
In spite of all of the pluses, it's not a perfect machine. The console beeps every time you change speed settings. Every single time, even after you press Pause and then resume workout. That can be a little annoying.
And here is another aspect you may want to know. If you are an elderly person, the slow start of the belt is a major plus. If you're young and full of energy, well, you may get a bit bored when the belt barely starts moving.
You should take all this information into account before making your decision. But take it from me, apart from these almost insignificant drawbacks, you'll be getting a truly great treadmill desk, one that you can't really find elsewhere.