LifeSpan TR200 Compact
Overview
UPDATE: The LifeSpan TR200 is no longer available. Check out the latest models here.
—————–
We decided to review the LifeSpan TR200 Compact Treadmill because we've heard from many people it's a good machine. We weren't sure what this affirmation stands for as it has a poor motor and it costs $800. So we gave it a chance.
We understood in the end that the detail that interests every possible buyer of LifeSpan TR2000 is that its size is perfect for small apartments, that it folds and unfolds easily, plus you don't need to assemble it when shipped in.
Read more about the TR200 to see what its pros and cons are and if it matches your workout needs also.
Specifications
Click Specifications to see detailed model info
Speed : up to 8.0 MPH
Incline : up to 10 levels
Motor : 1.5 HP Continuous Duty
Belt : 17'' x 48'' (43 cm x 122 cm)
Maximum User Weight : 250 lbs
Unit Dimensions : Length: 60'' (152 cm), Width: 31'' (79 cm), Height: 52'' (132 cm)
Warranty : lifetime warranty for frame, 5 years for motor, 1 year for parts and 1 year for labor.
Features
Display Info
The TR200 is an entry-level treadmill, but don't worry. It will give you the workout information you need nevertheless. The console gives you access to Start/ Stop, Mode, Speed Control, Incline Control and Quick Select buttons which make it easy for you to track down the following workout feedback:
– Time
– Incline
– Speed
– Calories (just the estimated number of burned calories)
– Distance
– Pulse
– Heart rate
– Lubrication
– Maintenance
*The last two alert regard security measures this treadmill offers.
Heart Rate Readings
HandleBars
The treadmill incorporates Contact Heart Rate Sensors that you only need to grasp during workout, and pay attention: dry hands won't provide great results. You need to moister your hands a bit before verifying your heart rate. Keep your hands still for a few seconds and then results will display.
Workouts
The TR200 gives you the possibility to choose between 3 Speed programs and 3 Incline programs:
– Rolling Hills ( Speed)
– Uphill walk (Speed)
-Long Interval (Speed)
– Rolling Hills (Incline)
– Uphill Climb (Incline)
-Long Interval (Incline)
The Custom User Set-up Program allows the user to preset speed and incline for a customized workout. A cool thing about this treadmill is that it comes with a constant heart rate control program. It uses Speed and Incline to keep the heart rate at the pre-set limit. You should use 65% of the maximum heart rate for Weight Loss programs and 80% for Cardio training.
To set up User Mode, press Speed Up/ Down to get to the program. Use Speed Up/ Down to set time. Press Mode to set speed and incline, and then press Start.
You have to set a heart rate for the console to maintain throughout the workout. And note that if the treadmill does not record your heart rate within 30 seconds after warm-up, it will stop for safety reasons.
Folding Treadmill
The TR200 can be folded and stored horizontally or vertically. You can place it either under the bed or in the closet or in any other unused corner. Therefore, if you have a small apartment and you're lusting for some workout, you can opt for this machine with no worries.
Also, it comes fully assembled. All you have to do is take it out of the box, stand it up and lock it in the desired place. Pretty cool, right?
Audio Features
The console has audio in and out jacks that allow you to use an MP3 player or some other preferred audio device with standard input jacks and an output jack to use headphones.
And note that you don't have Volume buttons on the console. You can change it only from the audio device you attach to the console.
""`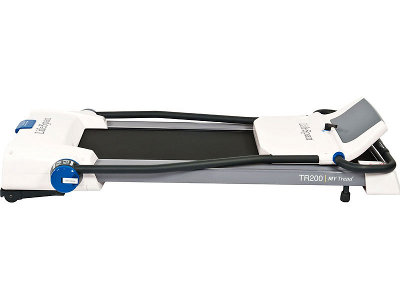 Conclusions
The TR200 Compact Treadmill is a machine that we recommend to anyone looking for compact equipment, easy to manage and easy to store.
But let's start off by clearing up a very important detail: this isn't a treadmill for runners, but for walkers. And not any kind of walkers, but those with weight under 220 lbs and not that tall either. Indeed, this treadmill is very strong for an entry-level machine, but it does have a narrow deck and a motor below 2 HP.
Still, for walkers, the motor is more than adequate and the deck is comfortable. And hear this! It doesn't make terrible noises. Actually, it is a quiet treadmill. So for those enjoying silence while working out, this model may match your desires.
The incline is easy to adjust and provides great Cardio workout. You may be disappointed by the speakers, but you can use your headphones. We believe this is not a deal breaker.
A great thing and I think you all agree with us on this one, is that you receive it fully assembled. You take it out of the box and then jump on it.
This is a sturdy machine, and we are glad to have had the opportunity to review it. It's durable, it provides great workout, you don't have to worry about heavy lifting and last but not least, it is made of high quality components, as we believe all LifeSpan products are.
So think no more, and go for the TR200 if you like its features and the $800 price.