HealthRider R60 SoftStrider
Overview
IMPORTANT: This review of the HealthRider R60 SoftStrider treadmill is obsolete since this model is no longer mass produced and better treadmills are available on the market in 2012.
Read our reviews to learn more about these current models.
The HealthRider R60 SoftStrider is a model that may meet the needs of consistent walkers and light joggers, but strong runners have to look for another machine.
This treadmill offers quite an attractive set of features, but the 2.0 CHP motor can't cope with serious workouts. Although the $ 1.500 price may make you think differently.
Specifications
Click Specifications to see detailed model info
Speed : up to 12 mph
Incline : up to 10%
Motor : 2.0 CHP
Belt : 20'' x 60'' (52 cm x 152 cm)
Maximum supported user weight : 330 lbs
Folding : Yes
Warranty : ONLY 90 days from the day of purchase!
Features
Display Info
HealthRider R60 gives you the opportunity to follow your performance improvement through the LED matrix and the displays. The LED matrix activates when the manual mode or the iFit mode is selected. What it does is that it shows you a ¼ mile track. The matrix will keep track of your performance until the ¼ mile track is completed and then a new lap begins.
This console allows you also to monitor your progress through its displays. The following information is shown during workout:
– Time/ Segment time/ Pace display, which are on during the manual mode and the iFit mode
– Pulse/ Calories/ Fat Calories, which gives you the approximate number of burned calories and fat calories
– Distance/ Incline/ Laps, which gives you the walked distance, the incline level and the number of completed ¼ mile laps
– Speed, which will be displayed in km when the km/h led is on and in miles when the led is off
– Heart rate
If you want to reset the displays, just press Stop, remove key and reinsert the key.
Heart Rate Readings
Handles and Chest Strap
The HealthRider R60 has a heart rate monitoring system similar to other brands, the handgrip pulse sensor, but you have a secondary option, the chest pulse sensor. For the handgrip, you have to stand on the foot rails and grasp the metal contacts on the handgrip pulse sensor. When the pulse is detected, there will be two dashes shown on the Pulse/ Calories/Fat Calories display and then your heart rate will be displayed.
If you want to use a heart rate program, first you must wear the chest pulse sensor. Then, you will select a heart rate program by pressing the Program Select button. During this program, the LED matrix will display a graphic representing your heart rate.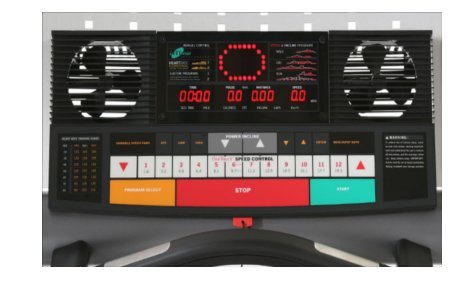 Workouts
This treadmill comes with 10 workout programs divided into: Manual, iFIT, HeartRate Control Workouts, Sped and Incline Programs and 2 Custom&Save Programs.
To use these workouts, first you have to select the one you need. Press Start or Speed to begin workout.
Follow your progress with the available displays and of course, measure your heart rate by using one of the two options or even both if you want accurate readings.
When you're done, just remove the key.
Fan
This treadmill has an advantage that we find very important, respectively an incorporated fan. This is most desirable for those sweaty workouts that make you feel so good.
iFit CDs and VideoCassettes
Optional
This treadmill has an iFit option, obsolete from our point of view.
When you want to use the iFit.com CDs, make sure you connect your treadmill to your portable CD-player/ portable stereo, home stereo or computer with CD-player.
If you want to use the videocassettes, connect the treadmill to your VCR.
If you want to use the website to download workouts, connect the treadmill to your computer.
The iFit CD-s and videocassettes must be purchased separately (and the options are pretty limited).
Read the iFIT Workouts article for more details.
Folding the Treadmill
It's great when treadmills can be folded. They may take up a lot of space when unfolded. But with the folding option, you save all that space whenever you please. This option adds up to this treadmill's advantages.
Information Mode
This is the mode that keeps track of the number of hours spent on the treadmill and the total distance that the treadmill has covered. You may also use this mode to change the measurement unit, from km to miles and the other way around.
Also, it allows you to turn on and off the demo mode.
Conclusions
The HealthRider R60 SoftStrider is a treadmill that we could recommend for walkers or light joggers, but we won't because the warranty disappoints us too much. Serious runners should jump directly to Home and search for another model.
We are not totally negative. We did find some advantages meant to compensate for the weak motor and the poor warranty (a 2.0 CHP motor isn't quite a kicker and it is the first major disadvantage of this treadmill).
A great thing is that it has a generous running surface. This adds up for comfort and so does the fan that keeps your body cool and your workouts long. The 6 preprogrammed workouts, the two pulse programs and 2 custom programs really offer everything that a light jogger needs and the speed and incline are more than easy to change whenever you please.
You have fat burning, heart rate, distance and time workouts that we think are above average and they offer you control over the settings. Still, high performances are never reached and workout feedback is not calculated with the highest accuracy.
The iFit feature gives a certain attraction to this treadmill, but the options are limited and obsolete. If you read the iFIT Workouts article we wrote some time ago, you will understand that CDs and VideoCassettes are not even created any more. The trend today is Jillian Michaels and her SD/iFIT LIVE Module workouts.
Still, as much as we would like to find something good in this treadmill, we can't. This model has the poorest standard warranty we could ever find on a $1,500 model. It really makes you wonder about the quality of the components.
We were offered extended warranty options, but we said NO, thanks! We'd better start saving money for a better model.