Spirit XT685
Overview
If you've been searching for a treadmill, you have been for sure recommended to try a model from the Spirit XT line. All the products from this line are famous for their reliability and high performance, from the low-entry version, XT185 – to the high-end version, the XT685.
The XT685 from Spirit is a sturdy, upgraded treadmill that is definitely worthy of your time, if you're looking for a unit in the $2000-2500 range. It rates well in all categories, so we thought we should definitely try it. There is one uncertain aspect, and we can't seem to shake it off. It's the fact that Spirit is an economic brand, so we ask ourselves "Can we really rely on this unit?"
Specifications
Click Specifications to see detailed model info
Speed : 0.5 mph up to 12 mph
Incline : up to 15%
Motor : 4.0 HP continuous duty AC
Belt : 22 in x 60 in (56 cm x 152.5 cm), 1.5 ply (2.5T)
Cushioning system : 6 cushions with rear rigid mount (same as on all the treadmills in the XT line).
Folding options : No (this is the only non folding treadmill in the XT line)
Maximum user weight : 425 lbs/ 193 kg
Unit dimensions : 80 in x 34 x 56/ 203 cm x 86 cm x 142 cm
Unit weight : 279 lbs/ 126 kg
Power requirements : A minimum of 110 volt AC current is required. NEVER use a ground fault circuit interrupt (GFCI) wall outlet.
Warranty : lifetime for frame, motor and deck, 10 years for parts, 1 year for labor
Features
Display info
The 9" blue backlit LCD display offers feedback on time, distance, speed, elevation, calories, pace, average pace, altitude, laps, segment time, average heart rate and heart rate.
Adjust the speed by pressing Speed+/ – or Fast/ Slow keys or Quick Speed by pressing 0 through 9.
Repeat operation for incline adjustments, only in this case, you should press Up/ Down keys.
The console also offers a Muscle Activation Profile (same as XT485) that keeps you permanently aware of which groups of muscles are activated during workout.
Additionally, a Dot Matrix Center Display keeps you constantly updated on your performance.
The ¼ mile track has the same updating function.
The console also incorporates convenient a Handrail Buttons Disable Switch that allows you to turn off the handrail control.
Heart rate info
The XT685 is equipped with contact and telemetric heart rate reading options, including the heart chest strap.
Workouts
There are 12 built-in workouts that you can choose from: Manual, Hill, Fat Burn, Cardio, Strength, Interval, Calorie, Fusion, 2 User programs and 2 Heart rate programs.
To start a program, press the desired program: Hill, Fat Burn, Cardio, Strength or Interval. Press Enter and program your workout, if desired. If not, simply press Start. Programming options include entering age, weight, time and incline values.
To start a User program, press User 1-2 key once for User 1 and twice for User 2. Repeat programming activity as in the case of preset workouts.
For the Fusion program, press Fusion to select the program.
Programming options include entering age, weight, speed, incline, number of intervals desired, interval time and recovery time.
The program features a 3 min warm-up interval. Use this workout to increase resistance and cardio intensity, as well as strength.
Muscle Activation Profile
included
This is a unique feature that we've had the chance to use only with Spirit Treadmills.
Heart rate % profile
Quick keys
Remote speed and incline adjustment keys
the handrails feature keys that allow you to quickly adjust speed and incline
Other features
-Dual water bottle holders
-MP3 audio jack and speakers
-Swivel Fan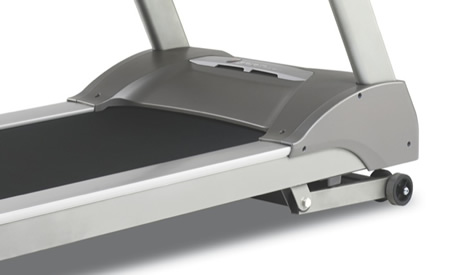 Conclusions
Spirit XT685 receives many points in many departments, such as sturdiness, programmability, functionality, program variety and motivational tools. But there is a question mark in the reliability area, since Spirit is, after all, an economic brand. Even so, we do recommend this high-end treadmill, and here are all the good reasons why.
Pros
When we decide to try a high-end treadmill, we are primarily looking for a strong motor. The XT685 satisfies our expectations with a sturdy, powerful 3.5 hp AC motor that supports our highest demands successfully. We realized even from our first workout that this treadmill is worthy of our time.
Spirit designed a series of similar treadmills. The XT685, XT485, XT385, XT285 and XT185 are almost the same machine. Almost. One of the key differences resides in the belt dimensions. The XT685 unit adds an extra 2", which means taller and heavier walkers and runners can use this treadmill. That's one great perk and also sine-qua-non for high-end units.
Once these very important features were checked, we carried our testing on to the cushioning options. As it turns out, Spirit really put some energy into the entire cushioning strategy and the result is quite satisfactory. We felt no injuries, no stress after an intense Fusion workout. That's quite something, and is available with all the models, even the $1,300 version.
Talking of Fusion, this is one of the highlights of this treadmill. Those of you interested in resistance, cardio and strength workouts will be happy to know that Spirit outdid itself with the XT685 unit (click here for the product page at Spirit website).
Another cool thing is that you get to insert age and weight prior to workout, which means the feedback on calories and heart rate is as accurate as possible. The workouts are quite diverse and programmability options were generously added.
Having a muscle activation profile is greater than we expected. It keeps you constantly aware of which muscle groups are activated and when. It's a great way of keeping track of your performance. We totally love this feature.
We also dig the remote adjustment keys. These keys are incorporated into the handlebars and allow you to adjust speed and incline without having to slow down, lean towards the console, press those buttons and come back. That's a major turn off, but luckily you don't have to think about it when working out on the XT685.
All the extra perks such as the cooling fan that works flawlessly, the speakers that are also quite satisfactory, unlike many other treadmills out there and the warranty that boosts reliability are definitely worth your while.
Main attraction
The main attraction of the XT685 treadmill is the unit itself. It comprises all the benefits of a high-end machine, made of heavy steel and powerful enough to be used at the gym.
Drawbacks
But there is one thing that we can't get off our mind. Spirit remains an economic brand, which means we can't really indulge in 100% confidence that this treadmill is the best choice in the $2000-2500 range. We've received only good comments about it so far, that's why until contrary evidence we have trust in its long-term performance.
All in all, the XT685 is a catch: it's nice to look at, it's sturdy, offers a stable mount, helps you keep cool during toughest of workouts, provides an attractive variety of programs, especially for consistent cardio enthusiasts and offers an abundance of programmability options.