Spirit XT185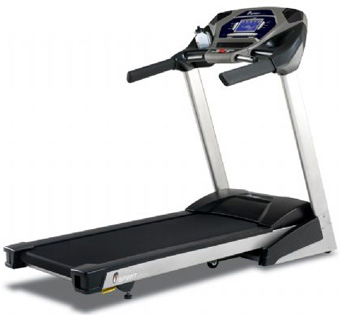 Overview
The Spirit XT185 Treadmill is built for moderate users who search for minimal yet challenging functionality. This treadmill doesn't incorporate any entertainment or motivational kit except for a reading rack. What it does offer are basic settings, features and programs for a satisfying performance outcome.
Specifications
Click Specifications to see detailed model info
Speed : up to 10 mph
Incline : up to 10%
Motor : 2.5 HP
Belt : 20" x 50" / 51 cm x 127 cm
Cushioning System : 6 cushions evenly distributed throughout the unit
Folding Options : included
Maximum User Weight : 275 lbs/ 125 kg
Unit Dimensions : 71" x 35" x 52"/ 180 cm x 89 cm x 132 cm
Unit Weight : 198 lbs/ 90 kg
Warranty : lifetime for frame, motor and deck, 5 years for parts and 1 year for labor
Features
Display Info
The 7.5″ Blue Backlit LCD screen displays time, distance, speed, elevation, calories, pace, altitude, laps, segment time and heart rate.
Quick keys allow users to quickly program a specific incline or speed. There is a Speed and Incline profile graph that lets users monitor their performance. There is also a ¼ mile track that is displayed around the dot matrix window. The flashing signal indicates progress.
Heart Rate Readings
You can monitor your heart rate by using the hand grip contacts.
Workouts
The XT185 comes with 6 built-in workouts: Hill, Fat Burn, Cardio, Strength, Interval and Manual.
In order to select a preset program, press the desired Program key. Press Enter to select the program. You can set your own values or you can press Start to begin the program with default values. The Message Center will allow you to enter age, body weight, time, speed and incline. You can use the Calorie display as reference to monitor improvement.
The Fat Burn follows a quick progression up to the max speed level that is maintained for 2/3 of the workout. It's an effective resistance program that will challenge the ability to sustain energy output for an extended period of time.
The Cardio program builds up heart muscle and increases blood flow and lung capacity. The Strength program was designed for strength and muscular endurance in the lower body and gluts. Those who are looking for intense cardio, the XT185 comes with a challenging Interval program that takes users through high levels of intensity, followed by recovery periods of low intensity.
Cooling fan
Conclusions
The XT185 is mostly the choice of power walkers and joggers, or in other words, users who are looking for minimal programming. For this category of users, we recommend the XT185 by Spirit. It's mostly the quality components and updated look that first determined us to check out this model.
Pros
Have you ever experienced the motor shifting, the drive belt loosing and of course, the belt slipping? Because we did and boy, we did not like it. A lot of money invested into a machine that we finally got rid of. Well, you don't have to worry about any of these motor issues while working out on the XT185. It's a powerful and sturdy motor, and almost quiet, which is more than we hoped for.
One aspect that really caught our eye while reading the technical manual was the ventilation system. As you know, most of the treadmills end up in the dumpster because of the heat. It seems like XT185 bears a certain system that helps air circulate around the motor and electronic parts so that they remain cool. It's more than we needed to know to make sure this treadmill is a keeper.
Then, there is the console that is really easy to use. It may be because of the minimalistic features, but you know, this is a good thing. Because at the end of the workout, you've only used speed, incline, time and sometimes age, weight and calories buttons. So yes, we do enjoy the minimalist console.
The cushioning works smoothly until you finish your workout and when you're done, you just fold it.
The programs range only includes 6 programs, but then again, it's more than enough for walkers and joggers. The warranty is just one more thing you should be happy about, for life.
Main Attraction
To us, the main attraction revolves around the minimalistic console. We enjoy a treadmill that marks 5 stars in quality and functionality. Entertainment is not a priority for us and we believe it's the same with most users.
As an overall conclusion, the XT185 is a treadmill built for walkers and light joggers, therefore users who are not focused on challenge. The features, although few, cover all the basic needs of any users, the programs are motivating and any setting you may want to perform at any time, you can do it easily. And all for $1,599.
For more information about this treadmill you can visit the Spirit Fitness website.