Landice L7 Treadmill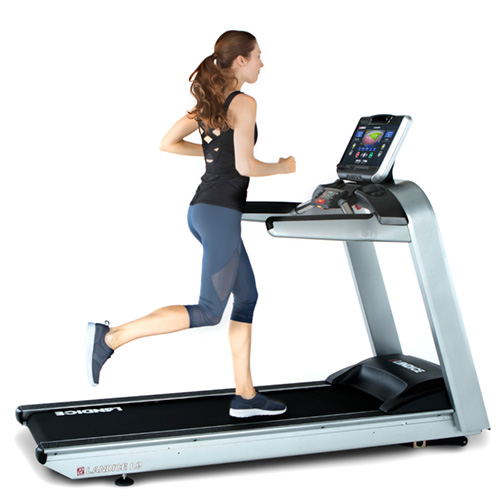 Overview
The Landice L7 is a solid treadmill from a well-regarded company, one of the top rated cardio machines from several leading consumer magazines. The company is known for their advanced shock absorption system, strong quiet motors and solid construction.
Specifications
Click Specifications to see detailed model info
Speed : up to 12 mph
Incline : up to 15%
Motor : 4 CHP drive motor
Belt : 20" x 58"
Cushioning System : VFX Shock Absorption
Maximum User Weight : 400 lbs
Unit Dimensions : 76"L x 35"W
Unit Weight : 400 lbs/ 227 kg
Warranty : Lifetime parts and one year labor
Best Features
Quality Construction
The Landice L7 is one of the finest treadmills on the market, and the company stands behind their products 100%. They have been building exercise equipment for over 40 years.
All of the parts and components are commercial grade, the motors are powerful yet whisper quiet and the frame is aircraft quality.
Console Selection
Something you don't find often, the Landice L7 comes with a choice of four different control panels, so you can choose one that most appeals to you.
You have the Pro Trainer Control Panel, with three LED windows, 5 built in workouts, 2 user programs and contact/wireless heart rate.
The ProSports Control Panel gives you express incline and speed controls and 5 user programs.
The Cardio Control Panel is similar to the ProSports one but adds heart rate programs to the mix.
Lastly, you have the top of the line Executive Control Panel, with a 9″ screen, built in maps, Bluetooth connectivity for fitness apps and increased workout programs.
Power Incline
You get up to a 15% power incline, which gives you the ability to burn more calories and target different muscle groups in your legs.
Incline training is becoming more and more popular these days, and it adds another dimension to your workout.
Other Great Features
The Landice L7 gives you a 4.0 HP motor, maintenance free reversible deck, tablet holder, accessory tray, contact and wireless heart rate monitoring and water bottle holder.
Conclusion
Pros
You get a strong motor, well-cushioned deck, console options, incline capability, rock solid construction and an unrivaled warranty.
Drawbacks
The only real negative on the L7 is the fact that is has a shorter deck that might not be ideal for very tall users. If you are over 6′ you might want to consider the L8 model, which gives you a longer/wider deck, among other advanced features.
Bottom Line
The Landice L7 is a great choice if you are looking for a commercial-grade treadmill for your home. It is perfect for walking, jogging or running, and fits well into a home gym environment.