Bodyguard T280P 2012
Overview
Bodyguard T280P is the upgraded version of the T280C unit. It's got the same attractive features that made the previous model a treadmill hard to beat, and the branded orthobelt on top of it.
The T280P treadmill packs 5 star functionality, versatility and console, but are you ready to spend $4,099 CAD?
Check next our review on the T280P 2012 unit and go to Conclusions for a final overview.
Specifications
Click Specifications to see detailed model info
Speed : 0.5 - 12 mph (with 0.1 mph or 0.1 kmh increments)
Incline : 0 - 15% (with 0.5% increments)
Decline : 0% - (-3%)
Motor : 3.4 CHP Palladium
Belt : 22" x 60"/ 56 cm x 152 cm, 1" thick, 4-way reversible, whisper orthopedic type.
Cushioning system : BDS+
Folding options : No
Step-up height : 8.5"
Maximum user weight : 400 lbs/ 182 kg
Unit dimensions : 78" L x 30.5" W x 54..5" H/ 198 cm x 78 cm x 139 cm
Unit weight : 295 lbs/ 134 kg
Power Requirements : 120 VAC (50-60HZ), grounded outlet only.
Warranty : lifetime for frame and motor, 10 years for parts and 3 years for labor.
Features
Display info
The 6.6" Blue LCD screen gives you feedback on speed, distance, calories, calories/h, elapsed time, pace and elevation. You should use the numeric keypad to enter time, speed, weight, distance and target heart rate.
The readouts summary includes total exercise time, total distance, calories burned and average speed.
The computer of this treadmill allows you to select and modify a series of settings by accessing the Settings menu:
language, weight unit, user ID, distance unit, time, distance or calories, warm up, cool down, heart rate control options, heart rate access options, beeper, speed limits, big number option, learn program, heart rate recovery, pause time, max duration.
Heart rate info
Either use the digital contact heart rate sensors or the wireless chest strap that is compatible and must be purchased separately.
Programs
There are 15 preset programs on the T280P unit: JustGo, Walk, Distance, Speed, Calorie goal, Interval, Random, 3 Heart Rate exercises, 8 advanced running workouts. Plus, 8 Custom Programs and 8 Memory Programs are available.
To choose a workout, press Increase/ Decrease repeatedly until you reach the desired program. Press JustGo/ Enter to confirm.
Up to 8 users can use the treadmill and save data individually, as there are 8 built-in user ID options. The user ID offers access to several options:
activate user ID, create user ID, view statistics, edit user ID, reset statistics and delete user ID. To view user statistics, select View Statistics and press JustGo. Select the ID and you'll receive total distance, total no of calories expended and total time.
Heart Rate Access
During a program, press JustGo and "Heart Rate Control Activated" will be displayed. Your target heart rate will be displayed.
Confirm and the remainder of the selected workout time will be in the form of a normal Heart Rate Control.
iTek Diagnostics menu
Hold down Increase and Decrease simultaneously and turn power On. Release the keys and press JustGo to access Diagnostics items.
This menu allows you to perform a series of tests that will allow you to be aware of any issue that may occur.
Maintenance information
When you're done working out, wipe down the treadmill with a non-abrasive liquid cleanser and a soft cotton cloth.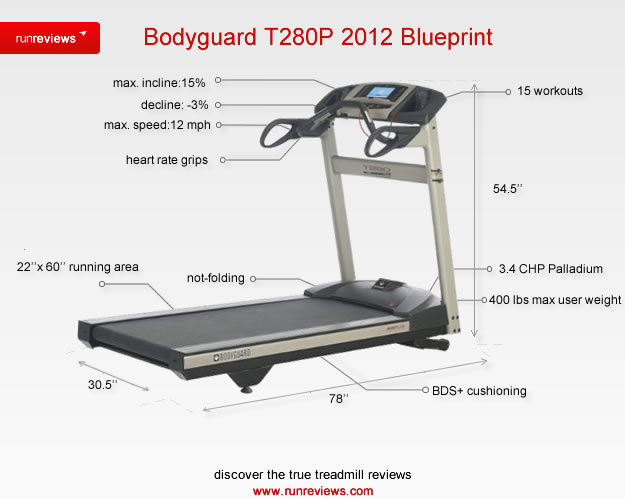 Rollers
Bottle holders
Transport wheels
Conclusions
There are many reasons why T280P is a strong unit in its price range, and for these reasons we recommend it, but not before you go and check out other units that come with the same set of features only for a lower price.
Bodyguard itself has options this kind. But before deciding on whether this unit is good for you or not, let's see what makes it a worthwhile treadmill.
Pros
What happens underneath the running belt of a treadmill? Well, pretty much everything that allows you to enjoy a good workout. We're talking about the motor, which features the legendary Palladium design that insures a lasting lower control board, capable enough to take up the stress ensued by a treadmill.
A motor this powerful is bound to overheat, but seems like Bodyguard took care of this issue also. We've put this treadmill to a huge amount of stress and we felt like this machine was built for this kind of heavy treatment. It may be due to the Advanced Friction Detection System that is always checking the friction between the belt and the deck. An interesting feature is that you can flip the deck so that it lasts longer. I can see now why they chose silicone keys. You don't build a treadmill like this one without caring for the console.
Talking about the console, it has a great user-friendly design. It's easy to insert desired values, to read feedback during workouts, to check your workout summary. You just have to press a button or two for any action you may want to perform. The iTek system is a nice surprise from Bodyguard. This system is great at diagnosing treadmill issues that you may or may not be aware of.
Plus, if you're a heavier user, you'll be glad to know there is another system called Electronic Stride Control that makes sure speeds remain the same, no matter your weight.
It's no surprise T280P received so many positive reviews. It's a 5 star treadmill in comfort, quiet motor, user-friendly design, it's got a fair user weight capacity, a lot of attractive workout options and on top of it all, a very convincing warranty.
Main attraction
As you've already read, we believe this treadmill is really tough to outrank. It's only made of top quality components and is ready to meet our every requirement. Plus, the cushioning system is top notch. It can absorb the shock even when heavy runners are using the treadmill. Comfort is never an issue.
Drawbacks
The orthobelt is definitely an attraction and it's definitely worth trying. But the thing is, if you lose the orthobelt, you may find an equal high-performance unit for less bucks, such as T260P ($3,099.00 CAD). For $1,000 CAD less, you get the same high-end product.
We believe the 280P is a high-end definitely worthwhile treadmill, but you'll be making the same good deal if you decide on a cheaper Bodyguard treadmill.
The price ($4,099 CAD) is listed on the official page in October 2012.