Bodyguard T240 C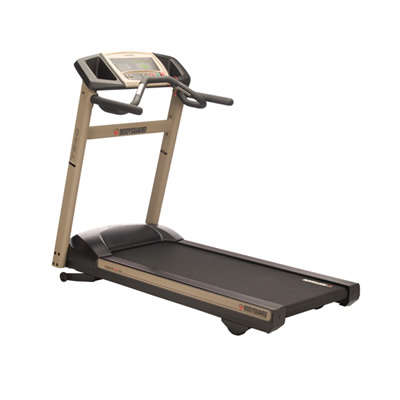 Overview
IMPORTANT: This review is based on the 2008 T240 C model and since its launch other treadmills have replaced it successfully. We invite you to browse through our latest reviews for this brand and its competitors to learn about the current treadmills.
Bodyguard T240 C treadmill is a variation of the T240 version. This new model comes with an orthopedic belt highly appreciated by many runners. Same as the original product this unit is one of the best machines on the market and it's a valuable addition if you consider buying it.
The Bodyguard T240 C treadmill is a little too expensive for the features it comes with and the price of the previous T240 model. But if you like orthopedic belts this machine will not disappoint you.
Specifications
Click Specifications to see detailed model info
Speed 10mph : The T240 C model reaches a top speed of 10 mph adjustable via 2 standard silicone keys.
Inclination 0-15% : This unit can provide a maximum elevation of 15 degrees that can be set via two classic controls.
Motor : This treadmill comes with a 2.75 CHP Palladium motor.
Belt 20''x54'' : The Bodyguard T240 C features an orthopedic belt and a spacious walking area. The unit comes also with the BDS cushioning system that offers additional comfort and joint protection.
Warranty : When you buy this unit you receive: a lifetime warranty for motor and frame, plus 10 years for parts and 3 years for labor.
Features
Advanced Friction Detection System
This system prevents the motor from overheating by checking the friction level between the deck and the running belt in real time.
The Bodyguard T240 C Treadmill
can support a maximum user weight of 350 lbs LB.
The following features and functions are also included
telemetry receiver, JustGo system, CSAFE ready, Heart Rate Access, Cardio Theater Ready, Digital Contact Heart Rate, Silicone keys and Drive system.
Conclusions
As said at the beginning of this article, the main differences between this machine and the T240 model are the orthopedic belt and the price. Some of you will love this belt, others will hate it. That's why we strongly recommend testing this treadmill before the actual purchase.
Also, we think that the price difference is a little too high. The T240 C model costs $550 more than the original T240.
As a conclusion of the Bodyguard T240 treadmill review: the extra money you have to give for this model is the only serious minus of this machine. If you can afford the price and you like orthopedic belts you will not be disappointed.