10 Other Uses Of The Treadmill
Did you know that the first treadmill ever invented was not for human use, but for horses to power devices such as water pumps, threshing machines or butter churns?
75 years later, in 1952, Robert A. Bruce, the pioneer of the cardiac stress test, had the ingenious idea to make the treadmill appropriate for human walk.
By the end of the '60s, the treadmill had become an essential machine in gyms and in homes. People saw it as a revolutionary piece of equipment that allowed them to walk for hours and not leave their houses. The rest is history.
Nowadays, a treadmill is a common machine in our lives. We use it to run on it, to train for races or to keep us fit. Yes, some of us love it, others dread it. But either we like it or not, the evolution of the treadmill has been part of the technological revolution of this century, and this machine's advantages are not just for runners anymore.
Here are the 10 other uses of the treadmill when we don't run or walk on it:
Rehab & Paralysis Research
Photo source: Quest MDA
The most advanced versions of treadmills (also called the hi-tech treadmills) have empowered people with strength or mobility difficulties to exercise in virtually weightless environments and improve their health. According to Quest MDA, underwater treadmills, harnessed based treadmills and air pressure based treadmills (like Alter-G) can and have helped people exercise, without causing more pain and distress to already injured muscles. If you're interested in finding a center near you that has the anti-gravitational treadmill from Alter-G, e-mail the company at [email protected] or visit their website.
Space Training
Photo source: André Kuipers, Flickr
Believe it or not, living in space is not as fun as it sounds. It has been confirmed that, because of the absence of gravity, astronauts lose up to 10 times more bone mass than women in the (post) menopausal period. It's a serious concern that scientists have struggled to solve and, as it seems, training on treadmills helps reduce the impact on the bones.
A study conducted by Peter Cavanagh, a University of Washington professor of orthopedics and sports medicine, has proven that the exercises done on the treadmill by pulling the subject with harnesses towards the belt is effective in this case. Studies continue but, based on the proof we have to date, treadmills are important to astronauts too.
Work & Walk Simultaneously
Left: Trek Desk Treadmill Desk
Right:LifeSpan TR1200-DT Treadmill Desk
Mostly used for walking, the treadmill desk has become a coveted training tool for many people because it indulges us to do two things simultaneously: work and walk. Although it's hard to stand for more than 1-2 hours, it has been tested and proved that practice reduces the discomfort and leads to remarkable results.
A study written by James Levine, professor of medicine at the Mayo Clinic, confirmed that if those with weight problems walked a few hours a day while working, they would lose up to 40 pounds a year.
Skate Training
Photo source: CSE, Skating for Center Excellence Used for professional practice, and with successful results, the blade skating treadmill is an useful support for both apprentices and professional hockey players. If interested in buying one for your training center, this impressive piece of equipment is currently sold by Woodway.
Ski Training
Photo source: oksopodcast If there's no snow, can you ski? As incredible as it may sound, yes, you can, with a ski treadmill. Ski treadmills were created to replace ski slopes and snow, giving the chance to anyone interested in this sport to learn, practice and become better at it. The Swedish Olympic team is renowned for including this innovative training system in the preparation programs, but the ski treadmill is not just for the Olympians. See the Endless Ski Slope that's up and running in Sandyford, Dublin.
Biking
Photo source: Bike Forest Many people dread the treadmill because it's an indoor training machine, forcing runners to give up beautiful scenery, running partners or fresh air. As it turns out, this is not an impediment anymore, not since the treadmill bike was created. A product for the entire family, as it's marketed, the treadmill bike can be fun and challenging. And extremely cool, if you asked us.
Nascar Cars Testing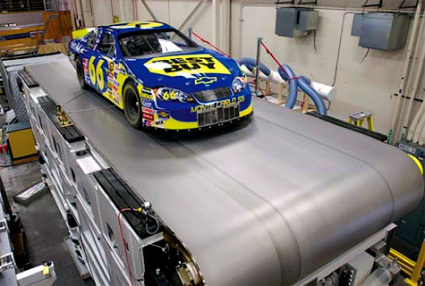 Source: Jalopnik.com It may sound strange, but Nascar, the fastest car on the track, is tested on a huge 180 mph treadmill, with a 5100 horsepower fan in front of it to simulate track conditions. The treadmill belt accelerates from 0 to 180 mph in less than 60 seconds, making it possible for the Nascar car to be tested as if it were driven fast and furious on an outdoor track, but in a controlled and safe environment.
Conditioning & Strengthening for Horses
Photo source: The Equine Center In the 21st century, running on treadmills comes with benefits for both people and horses. Confirmed to provide extraordinary results, the treadmill is used as a tool for rehabilitation, diagnosis, conditioning and strengthening horses. The horse training treadmills are used to exercise and condition true champions, from the young horses that must build muscles symmetrically, to the older horses that must be kept fit, but without the miles.
Training & Rehab for Dogs
Photo source: Fit Fur Life Australia Treadmills are extremely important in post injury treatments for dogs, and they provide a simple and a very effective way to exercise your best friend too. Josiah Neuman, from the Neuman K-9 Academy, shares an efficient training schedule on his blog,  that can be applied on a home treadmill and on a dog specialized treadmill.
Dancing
We saved the best for last. If you don't want to run or walk on the treadmill, train for space, ski or skate, you can always DANCE on it and practice your favorite moves. Take inspiration from the above video and HAVE FUN.
To end this post in a cheerful tone, the treadmill has its advantages for being part of our lives, in all its different (and not dreadful) forms. We just have to choose our favorite way of using it.